Middle East neighbours shamed into helping Syrian refugees
Aid fund increases after Independent on Sunday investigation, but refugees still need food and medical supplies
James Cusick
,
David Randall
Sunday 02 June 2013 00:00 Comments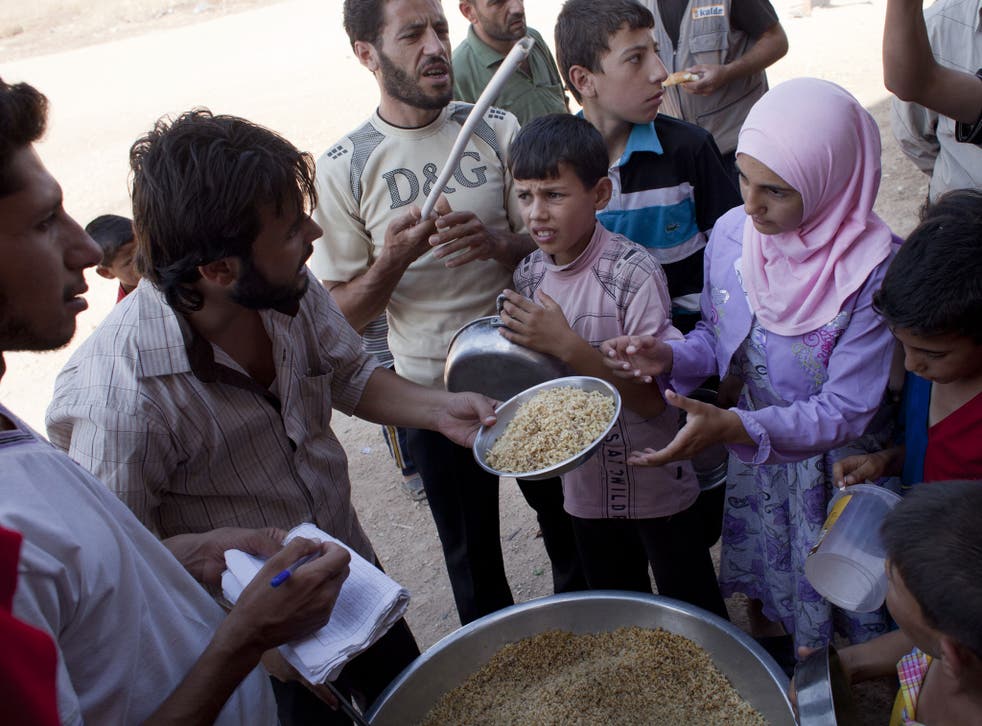 The significant shortfall in the funds for two United Nations aid appeals for Syria has dramatically changed since The Independent on Sunday revealed that Syria's Middle East neighbours had failed to deliver on promises made in Kuwait in January.
Last month around only 20 per cent of a promised $1.6bn (£1.1bn) had been handed to the two funds, one for refugees inside Syria and the other for the growing number of refugees living in camps in neighbouring states.
Pressure from aid agencies, the UN and the media over the shortfall appears to have now produced a dramatic turnaround. According to the latest UN figures, 65 per cent of the aid target for relief work inside Syria has been collected; refugee funding for aid outside Syria has now reached 73 per cent of the agreed target. The combined figures still leave the UN $474m short. However, the prospect of the UN now being able to gather all of the aid funds promised will ease the immediate crisis.
But the growing numbers still fleeing Syria – and new camps already operating at breaking point – mean new appeals by the UNHCR and the World Food Programme are already being worked on. Aid is urgently needed as the situation, both for those inside the camps and for those trying to reach them, seems to be deteriorating. Thousands of refugees stranded near the closed border with Jordan are running out of food and many need medical treatment, aid workers and refugees said a few days ago.
Jordan closed its northern border about two weeks ago after offering refuge to hundreds of thousands of Syrians who have fled violence since the revolt against President Bashar al-Assad's rule began in 2011. Syrians trying to enter through unofficial border crossings have also been turned back. Jordanian officials have given no explanation for the closure.
The kingdom – where about half a million Syrians have sought sanctuary – has since allowed only a handful of refugees across. Even civilians seeking medical treatment have been turned back and only critically wounded people have entered, according to aid workers.
Hundreds of refugees from areas as far north as Homs and from Damascus still arrive daily at the border villages of Nasib and Tal Shehab in southern Syria, a few kilometres from the main routes for entry into Jordan. YouTube videos have shown refugees, including mothers and babies, who waited for hours in sweltering heat but were then refused entry by Jordanian army officers.
The UNHCR's head of mission in Jordan, Andrew Harper, said the plight of the refugees showed the need to step up aid support inside Syria to relieve the pressure on the kingdom.
Meanwhile, according to Médecins Sans Frontières, the situation facing 100,000 Syrians stranded in Zaatari camp in Jordan, near the Syrian border, seems to be worsening, with MSF medical teams seeing a rise in respiratory and diarrhoeal infections as summer approaches. Antoine Foucher, the MSF's country manager in Jordan, said: "Thus far, the Jordanian government has made significant efforts to host refugees. But the pressure caused by the massive influx has resulted in an increasingly difficult situation." The camp has exceeded its capacity and tensions are running high, he said, adding: "There is no sustainable solution for hosting refugees, due to a lack of long-term financial support."
Claudia Truppa, an MSF doctor in Zaatari, said: "Our staff are witnessing more and more cases of diarrhoea and respiratory infections, reflecting the precarious living conditions of the refugees in this overcrowded camp, and we expect to see an increase in dehydration cases over the summer."
MSF said in a statement: "Jordan's healthcare system is also under strain. MSF refers the most severe cases to Jordanian public hospitals outside the camp. These hospitals are nearing full capacity, and insufficient funding threatens the ability of the country's healthcare system to treat Syrian refugees properly."
Mr Foucher said: "The Jordanian government risks resorting to drastic measures: permanently blocking refugee access to the country or restricting access to care in public facilities, undermining the already precarious living conditions of hundreds of thousands of Syrians. Jordan urgently needs greater international support if it is to sustain a real open-door policy."
Register for free to continue reading
Registration is a free and easy way to support our truly independent journalism
By registering, you will also enjoy limited access to Premium articles, exclusive newsletters, commenting, and virtual events with our leading journalists
Already have an account? sign in
Join our new commenting forum
Join thought-provoking conversations, follow other Independent readers and see their replies