Middle East peace talks: Tension flares as Israel authorises new West Bank settlements
Approval of project to build 1,200 new settler homes threatens to derail peace talks with Palestinians
Ben Lynfield
Monday 12 August 2013 09:53 Comments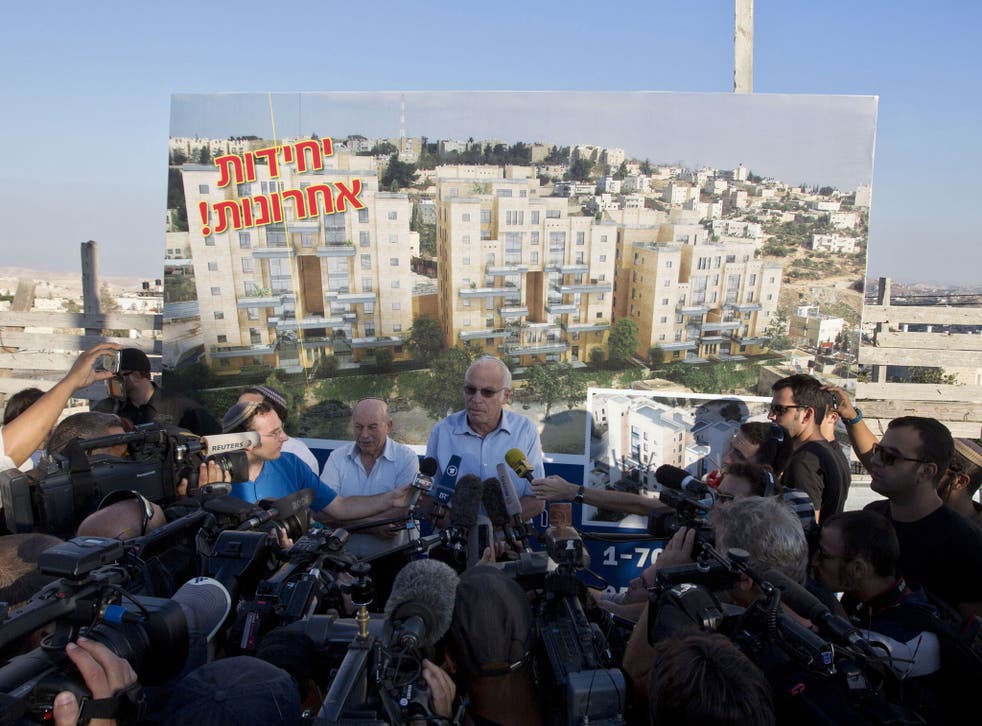 Just days before the resumption of long-awaited peace talks, Israel today authorised the construction of 1,200 new settlement units in the West Bank – a move that is likely to reinforce doubts among Palestinians about the Israeli government's commitment to a viable Palestinian state.
Hours after the announcement, Israel's housing minister, Uri Ariel, visited a settler housing project that juts into an Arab neighbourhood in east Jerusalem in a show of support for the project. Palestinians envision east Jerusalem as their future capital,
As the two long-term rivals prepare to sit down at the negotiating table for the first time in three years on Wednesday, continued Israeli settlement growth in the West Bank has provoked anger among Palestinians and threatened to derail the talks before they have even begun.
Palestinian leaders blasted the latest expansion of settlements as an attempt to "sabotage" the renewal of talks. But significantly they gave no indication it would stop their participation in the diplomacy patched together by US Secretary of State John Kerry during six visits to the region. The talks are due to take place in Jerusalem after a release of a first batch of 26 long-held Palestinian prisoners Tuesday.
In the view of the UN and EU, settlement construction contravenes the Fourth Geneva Convention's prohibition on an occupying power moving its nationals into occupied territory. It is seen by Palestinians as a takeover of the remaining part of their historic homeland on which they are seeking to establish their state, while right-wing Israelis see it as an expression of Jewish ties to biblically resonant land. Palestinian President Mahmoud Abbas failed to keep a promise not to return to negotiations without a settlement freeze, and now the thorny issue once again threatens to unravel the careful diplomacy that made this current round of talks possible.
Mr Ariel, from the far-right Jewish Home party, a coalition partner of Prime Minister Benjamin Netanyahu, said in a statement that 1187 new homes were approved. Seven hundred and ninety three are slated for East Jerusalem, which was annexed by Israel in 1967 when it comprehensively defeated the armies of surrounding Arab countries and occupied the West Bank and Gaza Strip. About 560,000 Israelis have settled in the West Bank and East Jerusalem since 1967. Three hundred and ninety four apartments are to be built - settlements including Maale Adumim, Efrat and Ariel, according to Mr Ariel. The latter community cuts deep into the heartland of the West Bank, leaving scant room for Palestine unless it is dismantled. But Mr Ariel's party rejects the idea of a Palestinian state and it is unclear whether Mr Netanyahu's commitment extends beyond lip service.
"No country in the world takes orders from other countries on where it can build and where it can't. We will continue to market housing and build in the entire country," Mr Ariel said.
Mohammed Shtayyeh, a senior Palestinian negotiator, said: "It is clear that the Israeli government is deliberately attempting to sabotage US and international efforts to resume negotiations. Israel continues to use peace negotiations as a smokescreen for more settlement construction."
Mr Ariel attended a construction project that will see the Israeli settlement of East Talpiot jut into the midst of the Palestinian neighbourhood of Jebel Mukaber in East Jerusalem. Sixty three units for Jewish Israelis are under construction there. Imad Sbeih, a Palestinian construction worker who lives in Jebel Mukaber, said it was a "definitely negative" development. "For sure it's part of transforming this into a Jewish area where the Arabs will become a minority so of course I'm concerned," he said. "The whole world has asked Israel to stop settlement but it hasn't happened. Israel doesn't want negotiations, just time to build more settlements. It would be better if Mahmoud Abbas goes home because there can be no result to these negotiations."
Register for free to continue reading
Registration is a free and easy way to support our truly independent journalism
By registering, you will also enjoy limited access to Premium articles, exclusive newsletters, commenting, and virtual events with our leading journalists
Already have an account? sign in
Join our new commenting forum
Join thought-provoking conversations, follow other Independent readers and see their replies