Middle East violence: Anger in East Jerusalem points towards further rise in Palestinian unrest
As Israel walls-in Palestinians in occupied East Jerusalem to separate them from Jewish citizens, Ben Lynfield reports from Jabal Mukaber, a neighbourhood which has spawned more attackers in the latest round of violence than any other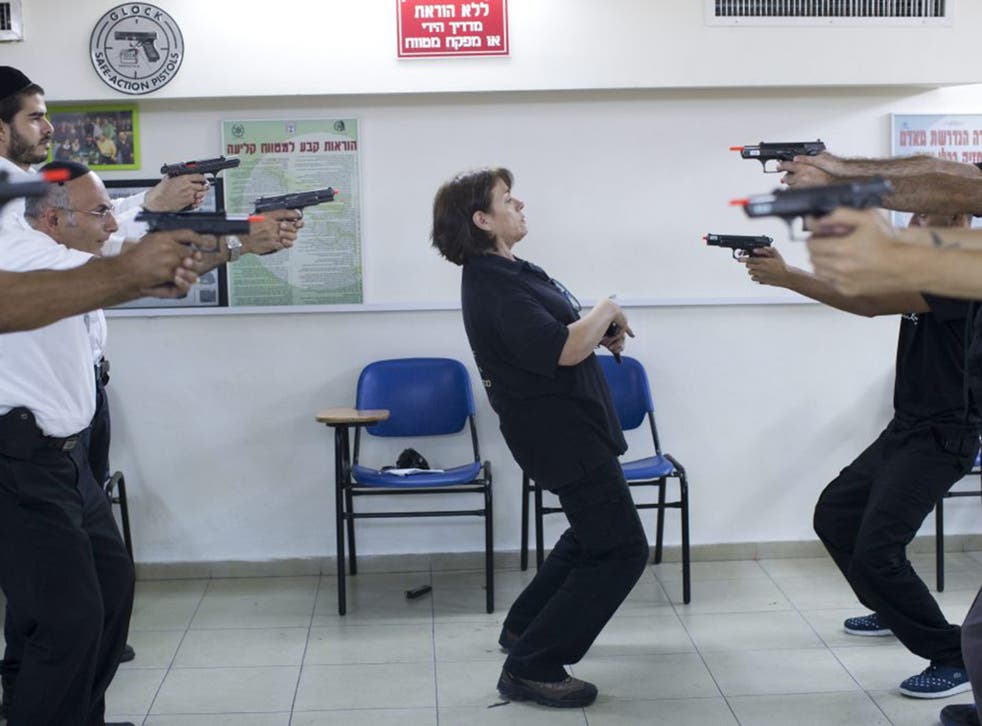 There are new checkpoints, troop reinforcements and the beginnings of a wall to close residents in, but the Palestinian neighbourhood of Jabal Mukaber in occupied East Jerusalem remains defiant, portending a protracted period of Palestinian unrest ahead.
Ahmed Aweisat, 21, drives his car up to one of the positions Israeli paramilitary border police have erected to clamp down on the neighbourhood, an epicentre of the unrest that started three weeks ago and which is, in his view, nothing less than the third Palestinian intifada. His message to the troops is simple: he loves those carrying out attacks against them and Israeli civilians. He conveys this by blasting from his car a song that extols two Jabal Mukaber residents who died carrying out a deadly synagogue attack last year. "They are the martyrs of freedom", the song proclaims, as Aweisat drives repeatedly up and down the street.
"I hope it will be war," he tells The Independent. "We don't want peace. I hope there will be more attacks because our religion is being desecrated and we live in a box. We can't live like this."
Jabal Mukaber has spawned more attackers in the latest round of violence than any other area. Five residents have been killed while carrying out attacks, according to Israeli police. And that toll seems certain to climb as the anger stoking the violence intensifies, with each fatality planting the seeds of the next as fury builds over what are portrayed in Palestinian mainstream and social media as unprovoked Israeli executions of Palestinians.
"I can't speak about whether I'll do it or not," Ahmad, a 14-year-old, says when asked if he would carry out an attack. "My father has warned me not to do it."
Regarding an attack last week in which local resident Alaa Abu Jamalran over and then stabbed Israeli civilians, killing one, Ahmad says: "This is something good. I am raising my head high because of this. He did his duty. He was defending the Palestinians and al-Aqsa," referring to the third holiest shrine in Islam which Palestinians widely believe is being threatened by Israel. Israel denies making or planning any changes to the area, revered by Jews as the Temple Mount.
Asked why he was so angry at Israelis, Ahmad says: "Because of the martyrs. They killed Mutaz Aweisat."
Mutaz, 16, from Jabal Mukaber and a cousin of Ahmed Aweisat, was shot dead by Israeli border police on Saturday in the neighbouring Jewish Armon Hanatziv area. Israeli police say he had pulled a knife and tried to stab a border guard.
But accounts in the Palestinian media did not mention this, saying he carried schoolbooks in a bag but no knife.
Much of Palestinian media has depicted Palestinian deaths as the result of unprovoked attacks from Israeli forces, driving tensions. The Gaza-based Shehab news agency, which operates a popular Facebook page, spoke of five "executions" of Palestinians on Saturday, showing corpses of some of the fatalities. Sunday's edition of the most widely circulated Palestinian newspaper al-Quds showed on its front page the body of Omar Faqiya, 23, at the West Bank's Qalandiya checkpoint with the caption explaining he was shot "under the pretext of attempting to stab a soldier." In all six cases either the security forces, or in one instance a Jewish settler, had first come under attack, say Israeli authorities.
In pictures: Israel-Gaza conflict

Show all 124
Ziyad Mashahra, a bus driver, said Facebook, on which youths rely for their information, is fuelling the anger. "The problem is with Facebook," he said. "Young people view it with their friends and when they see pictures and videos of executions, this provokes them."
The attackers have so far acted as lone wolves, without overt political affiliation. But that hasn't stopped politicians from praising the violence. A leader of Palestinian President Mahmoud Abbas's Fatah movement, Jibril Rajoub, on Saturday said: ''Clearly these are individual attacks but they are heroic, characterized by self control and a value system.''
Israeli authorities have so far seemed confused about how to handle both Jabal Mukaber and the wider unrest. On Sunday authorities began erecting a wall to separate the neighbourhood from Armon Hanatziv. But then Prime Minister Benjamin Netanyahu suspended the work after politicians in his Likud party voiced concern it could be interpreted as dividing Jerusalem, which they still insist, despite all evidence to the contrary, is a united city.
.
Collective punishments aren't working either. Early this month, Israeli authorities demolished the home of Ghassan Abu Jamal, who attacked a synagogue last year, killing four. That did not deter his cousin Alaa Abu Jamal from carrying out the deadly attack in which he ran over, and then stabbed, a pedestrian.
Some have decided to take things into their own hands. Today, police were searching for civilians who attacked an Eritrean refugee after apparently mistaking him for an Arab in the aftermath of an attack in Beersheba. Haftam Zarhum, 29, died in hospital after being shot by a security guard and being beaten by the mob.
If part of the Palestinian aim is to frighten Israelis, they are succeeding. Armon Hanatziv resident Molly Livingstone says "no one goes out now. You drop your children off at school. You pray all day they will be safe, then you pick them up and go home."
While she believes increasing the number of checkpoints helps, she adds that walling Jabal Mukaber in would be counterproductive. "I don't get it. Will they shut them all in? I feel it will just cause more aggression."
Join our new commenting forum
Join thought-provoking conversations, follow other Independent readers and see their replies