Mike Pompeo lays out Trump's vision for Middle East, blaming Iran and Obama for region's ills
Secretary of State listed a number of dubious successes under President Donald Trump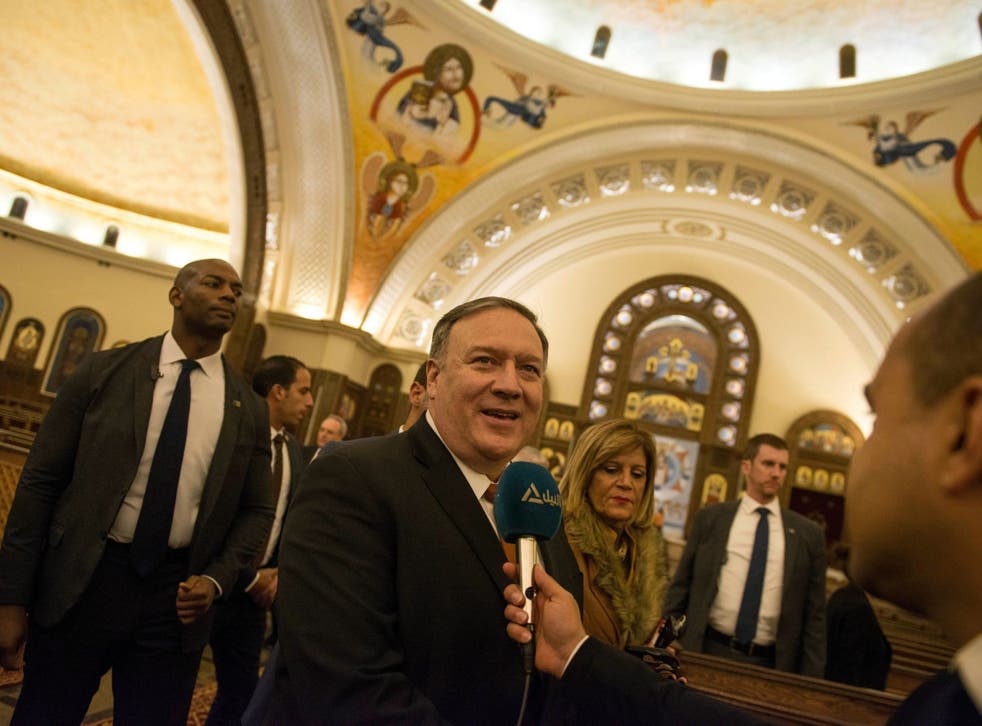 US Secretary of State Mike Pompeo sought to lay out a vision for America's relationship with the Middle East at a time of widespread confusion over Washington's policy on several key matters, and what analysts called huge gap between America's ambitions and its willingness to act.
Mr Pompeo spoke Thursday on the campus of the American University in Cairo, the same city where President Barack Obama delivered a landmark Middle East speech a decade ago.
The longtime Republican Party foreign policy hawk sought to distance the administration of President Donald Trump from what he called the mistakes of his predecessor, vowed to fight Islamic extremism, confront Iran, and stay true to Washington's longtime allies — Israel, and the autocracies in Saudi Arabia and Egypt.
"In just 24 months, the United States under President Trump has reasserted its traditional role as a force for good in this region, because we've learned from our mistakes," he told the audience. "We have rediscovered our voice. We have rebuilt our relationships. We have rejected false overtures from enemies."
But Mr Pompeo cited dubious successes under Mr Trump. Isis has largely been defeated, but by pursuing a strategy begun under Mr Obama. The White House strengthened partnerships with old Middle East allies, but emboldened autocrats and alienated much of the population. It has contributed humanitarian aid to Yemen, but also helped exacerbate the crisis there by giving the Saudi-led coalition free reign. It bombed Syrian government positions after its use of chemical weapons, but launched limited airstrikes that barely changed the calculations of the regime of Bashar al-Assad.
And while the White House has scuttled the Iran nuclear deal forged by Mr Obama and other world leaders in 2015, Tehran has yet to give in on any of Mr Trump's demands to roll back its support for militant groups and scale back its missile programme. Iran's president Hassan Rouhani on Thursday announced the impending launch of two new satellites using multi-stage rockets that could also be used to refine military aims.
"Nations are rallying to our side to confront Iran in the region like never before," Mr Pompeo said.
The speech comes weeks after Mr Trump upended the calculations of regional players in the Middle East by abruptly announcing a withdrawal of American troops from Syria, which he called a land of "sand and death," and launched a drawdown of US forces in Afghanistan.
It also corresponds with what scholars have described as a disconnect between the administration's rhetoric and willingness to commit resources in the region at a time of a long-term strategic shift by Washington away from the Middle East under several US presidents. Two years into Mr Trump's administration, more than 40 of 188 ambassadorial posts remain unfilled, many of them in the Middle East.
"The United States was on a trajectory to do less in the Middle East, and that was true before 9/11," said Tamara Cofman Wittes, a senior fellow at the Brookings Institute and a former State Department official specialising in Middle East affairs.
"Some of it is driven by the fact by that the Middle East is less important than it used to be, partly because of energy markets, and new opportunities in East Asia and the America," she told The Independent. "The opportunity costs of being deeply invested in the Middle East are rising, and that's just an objective fact."
Mr Pompeo warned that despite the pullout from Syria, the Trump administration would be willing to use force against the the Syrian regime if it again resorted to chemical weapons in its war against rebels. But he spent much of the speech taking swipes a two of Mr Trump's favourite punching bags: Iran and Mr Obama. He accused Tehran of being behind much of the ills in the Middle East, but did not mention any new policies or initiatives.
Obama's best speeches: addressing the Muslim World, June 2009
Without naming him, Mr Pompeo blamed Mr Obama for betraying America's longtime allies and ignoring the threat of radical Islamists while making a nuclear deal with Iran, describing the moves as retreats caused by self-doubt about America's inherent positive role.
"When America retreats chaos follows," Mr Pompeo said. "When we ignore our friends the resentment builds. When we partner with our enemies, they advance."
Rob Malley, a former Obama administration official and now head of the International Crisis Group, described Mr Pompeo's speech as "delusional," and "self-congratulatory."
"Listening to Secretary Pompeo's speech is like listening to someone from a parallel universe — in which the war in Iraq or Abu Ghraib, US indifference to its allies' human rights violations, or Washington's own complicity in the humanitarian catastrophe in Yemen never occurred," he said.
More explicitly than previous US administrations, Trump has sought to cozy up to the Arab world's autocrats while ignoring both public demands for accountability and the region's track record on democratic advancement.
Though Mr Pompeo made a gesture towards US humanitarian aid in the region in his 25-minute speech, he said not a word about human rights, including the dungeons into which the Egypt's President Abdel Fattah Sisi has thrown his opponents since he took power in a coup more than five years ago.
President Obama, in Cairo a decade ago, fielded questions from students and hobnobbed with civil society officials during his visit. Mr Pompeo instead was scheduled to meet with the Abbas Kamel, director of Egypt's notorious mukhabarat, the domestic spy service accused of abducting, torturing and murdering dissidents and even foreign nationals such Italian researcher Giulio Regeni and several US nationals held in Egyptian prisons.
Instead of focusing on Mr Sisi's track record, Mr Pompeo praised his treatment of Egypt's religious minorities after the opening a new church in a new desert satellite city outside Cairo in a location that critics say is too expensive and unsustainable. Meanwhile the government has been accused of looking the other way as Egypt's Coptic Christians and members of other small faiths are brutalised or blithely discriminated against on a daily basis. "All Sisi has to do is open a new church in a city where no one lives," said Ms Wittes.
Register for free to continue reading
Registration is a free and easy way to support our truly independent journalism
By registering, you will also enjoy limited access to Premium articles, exclusive newsletters, commenting, and virtual events with our leading journalists
Already have an account? sign in
Register for free to continue reading
Registration is a free and easy way to support our truly independent journalism
By registering, you will also enjoy limited access to Premium articles, exclusive newsletters, commenting, and virtual events with our leading journalists
Already have an account? sign in
Join our new commenting forum
Join thought-provoking conversations, follow other Independent readers and see their replies