'You're next': Former Miss Iraq flees country after spate of killings
Beauty queen says she has moved to Jordan, fearing for her life after four prominent Iraqi women were killed or died in mysterious circumstances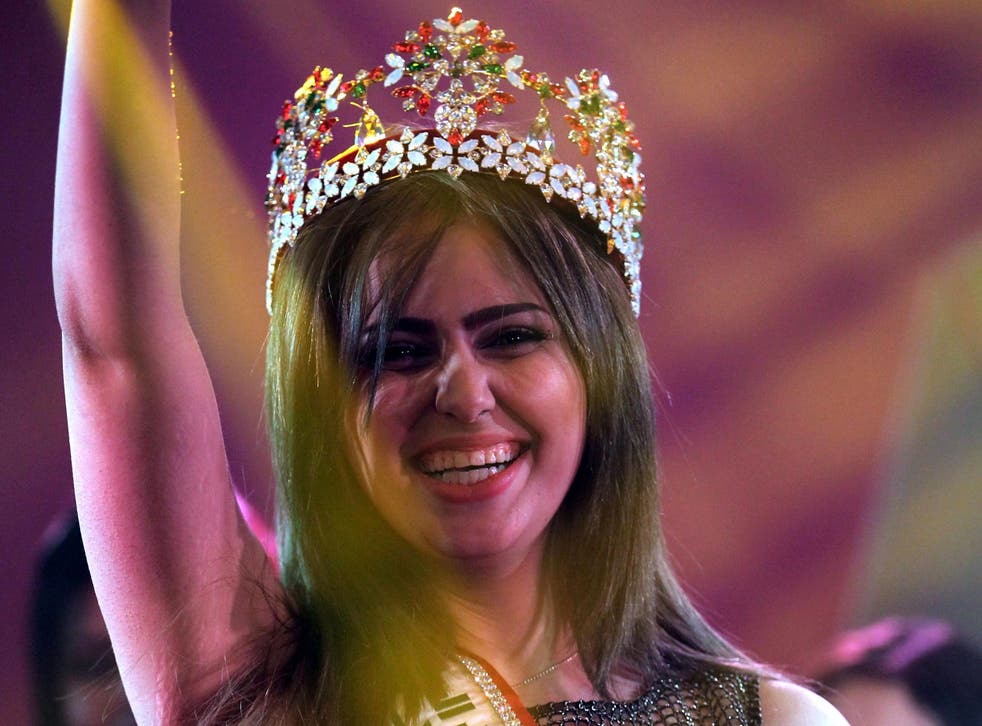 A former Miss Iraq beauty queen said she has fled to Jordan after being told "you're next" following the fatal shooting of Iraqi model, Tara Fares last month.
Shimaa Qasim Abdulrahman, who won Miss Iraq in 2015, said she has been repeatedly threatened by Isis, who vowed to kidnap her if she refused to join the extremist group.
But she decided to flee to Jordan shortly after Tara Fares, 22, voted one of Iraq's most followed social media stars, was shot dead in Baghdad on 27 September.
Fares's murder followed the deaths of at least three other prominent women, two of whom were beauticians and moved in the same social circles as Fares.
Ms Qassim told Rudaw News, an Iraqi outlet, that the spate of killings was the tipping point.
"I was threatened with murder. My life was in danger. The killing of this many people scared me. I wasn't comfortable living there anymore. That is why I left Iraq and came to Jordan," she said.
"They said they would kill me ... I initially thought about going to live in Erbil. But the situation wasn't right," she added, referring to the capital of Iraqi Kurdistan.
She said that she was so afraid she hid at home.
"During the last few days I was in Baghdad, I didn't dare to even go out of my house. I was scared even at home. What is the difference between a serious threat and frightening someone?" the beauty queen added.
Many fear the murders are linked and part of a new trend that will see ultraconservative factions in Iraq increasingly target women deemed to be going against traditional societal norms.
Shortly after Fares's killing, Ms Qassim published a tearful video on YouTube saying women in Iraq were treated worse than "slaughtered chickens" and that she had been told she would meet "the same fate".
Fares, who was voted Miss Baghdad in 2015, and had nearly 3 million followers on Instagram, was shot dead in broad daylight at the wheel of her Porsche. The assailants, who attacked her in Baghdad's Kam Sara neighbourhood, leaned through the car window and opened fire three times before escaping on a motorcycle.
The 22-year-old lived in Erbil but regularly visited Baghdad. A few months before she was killed she had written on Instagram she was "really afraid".
Iraq's Interior minister Qasim al-Araji said on Monday that an unnamed extremist group was behind the murder.
"Security forces are making efforts to arrest the killers and reveal them to the Iraqi people," Kurdistan 24 reported him as saying.
Tara Fares death: Iraqi model and Instagram star shot dead in Baghdad
Days before Fares was murdered, Suad al-Ali, an Iraqi human rights activist and mother-of-four, was shot dead in similar circumstances in the southern city of Basra.
Grainy CCTV footage purporting to show Ali's killing showed she was gunned down seconds after she got into her car, parked to a supermarket.
And in August, two prominent beauticians in Baghdad who may have known Fares died in mysterious circumstances within a week of each other. Rafif al-Yasiri, owner of the Barbie beauty centre, and Rasha al-Hassan both died in their homes. Little evidence has been made public as police investigations go on.
Ms Qassim told Rudaw she had reached out to Iraqi security forces "several times" but had no concrete proof of who was threatening her.
"They killed many people in broad daylight. I couldn't wait to be killed, and then say 'Oh, that was a serious threat?'"
Join our new commenting forum
Join thought-provoking conversations, follow other Independent readers and see their replies