'Prince Mohammad bin Salman welcomed to London': Saudi media reports on controversial visit
​No mention of opposition or protests on first day of heir to the throne's state visit to UK in heavily censored national media 
Wednesday 07 March 2018 16:43 GMT
Comments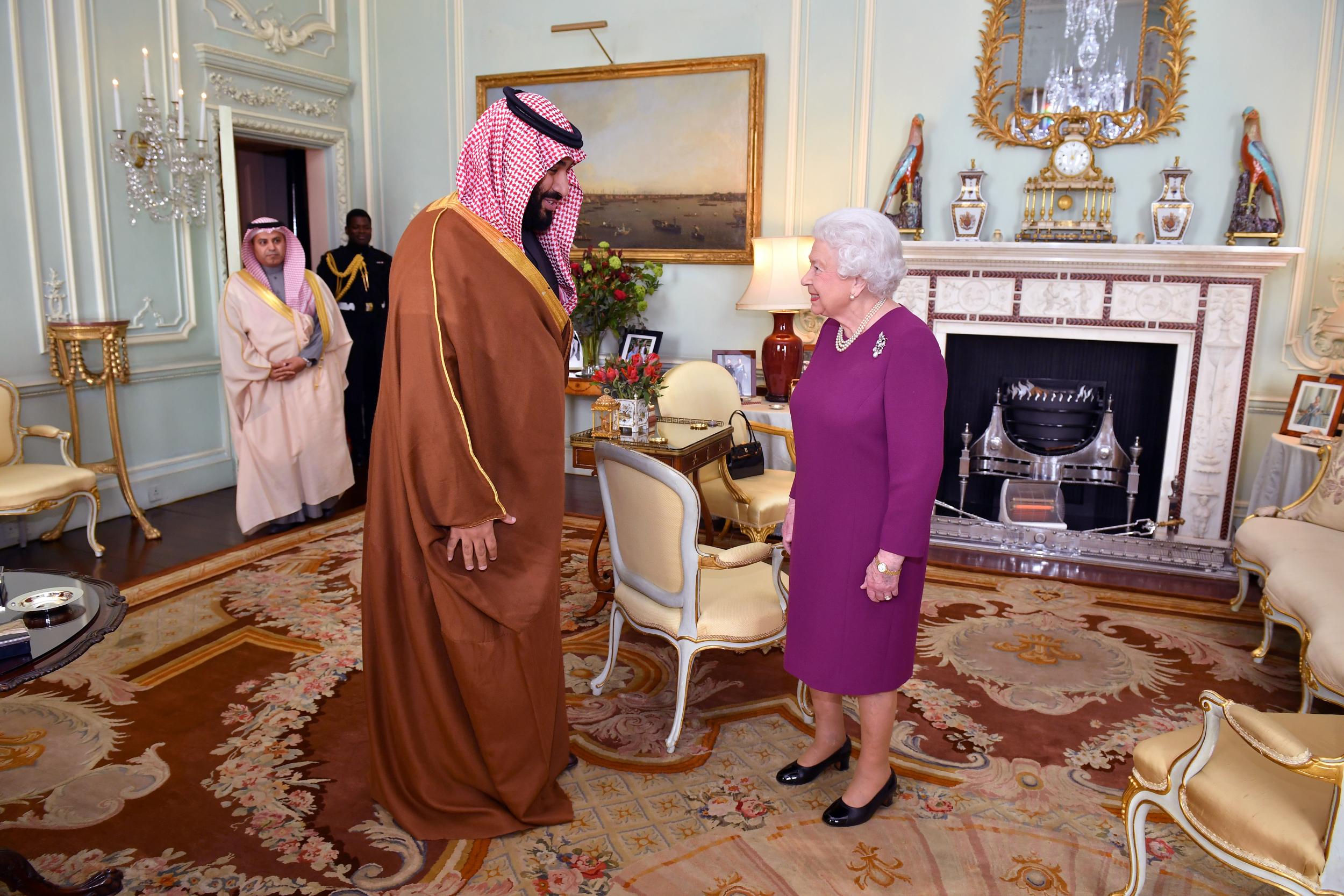 As Saudi Arabia's Crown Prince Mohammad bin Salman landed in London for the start of a three-day state visit, Saudi newspapers, radio and television channels carried almost as much coverage of the trip as UK outlets.
Several news organisations made mention of the billboards and posters bearing the leader's face and slogans such as "Welcome crown prince" and "He is changing Saudi Arabia" seen around London on Wednesday, on which The New Arab reported the Saudi government is rumoured to have spent around £1m.
Saudi state news channel Al Ekhbariya ran footage of both the charm offensive and the prince's arrival at Stansted and meeting with Queen Elizabeth II on its news bulletins.
Massive PR billboards appear before Mohammed Bin Salman's UK visit
Arab News, an English language newspaper and website, called MbS' (as he is known) first visit to the UK as heir to the throne "landmark" and "highly anticipated" by British officials.
It also included a write up of Prime Minister Theresa May's response to opposition leader Jeremy Corbyn at Prime Minister's Questions, without including the wording of Mr Corbyn's challenge - in which he urged Ms May to halt British arms sales to the country which rights groups say are destined to be used in Yemen.
The prime minister "defended Britain's links to defence and security ally Saudi Arabia in parliament... saying cooperation had helped save the lives of hundreds of people," the paper said.
The situation in Yemen
Show all 14
Most reports focussed on business opportunities for the two kingdoms as a result of "increased ties", as well as "Syria and Yemen, Iran's role in the region, and the role of the international coalition against the [Isis] terror group," the Saudi Gazette said.
The crown prince is meeting with Ms May and several other government figures to discuss increased trade between the two countries.
Asharq Al-Awsat, a Saudi-owned paper published in London, ran a story discussing British media's reaction to the trip, stressing that left wing outlets such as The Independent and the Guardian see the visit as "one of the most important diplomatic visits this year" and MbS' "has achieved… of many young Saudis dreams" with social reforms such as allowing women to drive.
No outlet mentioned the fact MbS' visit has also been met with much negative media coverage from campaigners and MPs criticising the prince's crackdown on political opposition and free speech as well as Saudi involvement in the war on Yemen.
Nor did they mention the counter-billboards and other stunts such as a Save the Children statue of a child representing Yemeni children killed by bombing and protests outside parliament and Downing Street organised by rights groups such as Stop The War Coalition and Campaign Against the Arms Trade.
While most media outlets in the Kingdom are privately owned, they are heavily regulated and often censored by the state.
Freedom House, a freedom of expression watchdog, rated the media and internet "not free" in a 2014 report.
On Twitter, which is used regularly by at least 4.6 million Saudis and is a major source of news and opinion in the country, reaction was much more mixed.
Several users called the billboard campaign "embarrassing" and "unsubtle".
Join our commenting forum
Join thought-provoking conversations, follow other Independent readers and see their replies