More than a million need aid in Syria
As refugees stream across the border, Jordan issues appeal for international assistance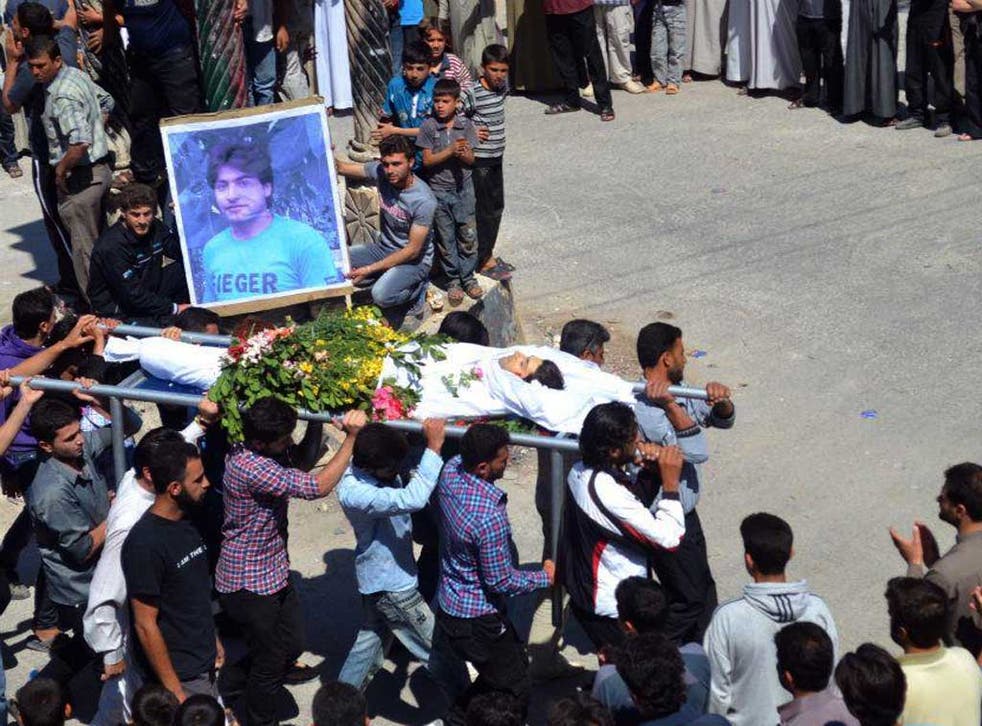 At least 1.5 million people need urgent humanitarian assistance in Syria, aid agencies said yesterday – evidence that the impact of what is now a civil war goes far beyond the probable 10,000 dead reported since the insurgency and protests began.
More and more civilians are fleeing their homes on a daily basis to escape the fighting, and the International Committee of the Red Cross (ICRC) said that those caught in the violence find getting medical treatment, and basic food items, increasingly difficult.
An ICRC report stated: "The situation in many parts of Syria is very tense... The number of displaced people has been growing day by day. Many of the displaced have seen their assets looted or destroyed. Many are staying with family members or friends, others in public structures,[which often] lack basic services such as water and electricity."
The ICRC and the Syrian Arab Red Crescent, the only international aid agencies with access to many affected areas, have delivered aid to around 300,000-400,000 people since June last year. Kristalina Georgieva, the European Commissioner for Humanitarian Aid, said on Friday that "200,000-400,000" people had been displaced internally. The ICRC spokesman, Hicham Hassan, said many of the displaced were staying in schools, mosques and churches, and much of the infrastructure needed urgent repairs.
Satellite images obtained by the BBC on Friday showing a dried-up reservoir and water canal 2kms south-west of Homs, and amateur video footage of shrapnel-damaged roof-top water tanks, suggest a campaign of sabotage has accompanied the violence.
With about 95,000 Syrian refugees having found their way to Turkey, Lebanon and Jordan, the humanitarian crisis could easily spread to other countries in the region. The largest number are in Jordan, and that country is now appealing for assistance.
The past 36 hours have seen shelling in the southern city of Daraa, which has killed at least 15 people, and, in Damascus, a night of shooting and explosions, described by residents as the worst so far in the capital. Government troops clashed with rebels from the Free Syrian Army in Damascus's Kfar Souseh district – a clear sign that the ragtag group has succeeded in taking its fight to the regime's powerbase. Until now, Damascus had been relatively quiet.
Maath al-Shami, a Damascus resident and activist, said via Skype: "Yesterday was a turning point in the conflict. There were clashes in Damascus that lasted hours." He added that troops shelled the city's Qaboun and Barzeh districts from tanks until after midnight on Friday, and that at least four people had been killed. The tanks reportedly withdrew before sunrise on Saturday, and the area then became relatively quiet.
The nearly 12 hours of fighting in the capital suggests a new boldness among armed rebels, who previously have kept a low profile there. It also showed a willingness by the regime to unleash the sort of elevated force against restive areas which it has used to crush opponents elsewhere. For the first time in the uprising, witnesses said regime tanks opened fire in the city's streets, with shells slamming into residential buildings.
The latest escalations in different parts of Syria are another blow to the peace plan devised by the international envoy, Kofi Annan. Mr Annan brokered a ceasefire that supposedly came into effect on 12 April, but which in reality has been violated nearly every day since then. Yesterday, UN observers, who are in the country ostensibly to monitor the ceasefire, issued the first independent video images from the scene of a reported massacre last week in a remote farming village. Activists say up to 78 people, including women and children, were shot, hacked or burned to death in Mazraat al-Qubair. The video, taken during the UN visit a day earlier, showed blood splashed on a wall pockmarked with bullet holes and soaking a nearby mattress.
After the observers' visit, the UN spokeswoman, Sausan Ghosheh, said there was evidence of a "horrific crime", and the team could smell the stench of burned corpses and see body parts strewn around the now deserted village. She said residents' accounts were "conflicting", and the team was still cross-checking the names of the missing and dead with those supplied by nearby villagers. Opposition activists and Syrian government officials blamed each other for the killings.
World opinion seems to be having little effect so far on the brew of sectarian animosities that complicate the struggle against President Bashar Assad's repressive regime.
Who are the 'shabiha'? The pro-Assad militia blamed for the worst atrocities
Today's feared death squads came from humble beginnings as a smuggling and blackmail racket, set up by President Assad's relatives in the coastal city of Latakia. The present armed insurgency against 42 years of family rule by Bashar al-Assad and his late father pits a Sunni-led protest movement against a ruling elite from the country's minority Alawite sect, an offshoot of Shia Islam. As Mr Assad increasingly turned to his relatives to strengthen his grip on the country after inheriting power in 2000, the shabiha began appearing in Latakia and the nearby mountains.
Cousins of Mr Assad drove blacked-out Mercedes S-class cars, nicknamed "shabbah" – ghosts – forcing their way through traffic with an arsenal of rifles aboard. The name caught on and was adopted by the gunmen to describe themselves as they expanded. After the uprising, they swiftly developed with state support into a fully fledged militia. Directed by the security forces or ruling Baath party officials, they put down demonstrations in cities across the country, often by shooting demonstrators dead. At pro-government rallies in Damascus and other cities earlier this year, shabiha members carried banners that read: "Assad: We are your shabiha for ever," and "Assad: Your name is etched on our AK-47s."
At the beginning of the revolt, security forces recruited thousands of Sunni Muslims to reinforce the shabiha's Alawite core, especially after Mr Assad released thousands from jail in a general amnesty last year. The shabiha, however, became more dependent on recruitment from the Alawite community as the revolt became more militarised and rebels began targeting government forces The massacres – and the increasing risk of being assassinated by rebels – have also put off many Sunnis, although their pay at one point reached $100 a day, a fortune in a country where average salaries are $200 to $300 a month.
Fawaz Tello, a veteran opposition activist who fled Syria last year, said: "The shabiha are driven by a feeling of impunity – that they can kill as many Sunnis as they can while Russia's support for the regime removes any possibility of international intervention." But the militia is taking hits. Lack of Sunni support has all but forced it out of the city of Deir al-Zor, where it helped to put down demonstrations against Mr Assad last year.
However, in the Sunni city of Hama, just 12 miles east of the location where activists reported a massacre on Wednesday, a force of about 3,000 shabiha remains in position. Reuters
Join our new commenting forum
Join thought-provoking conversations, follow other Independent readers and see their replies