US-led coalition 'probably' had role in Mosul air strikes that killed 200 civilians, says general
'My initial assessment is that we probably had a role in these casualties,' top commander of US forces in Iraq says, in most extensive US explanation for deadly strikes to date 
Wednesday 29 March 2017 15:00 BST
Comments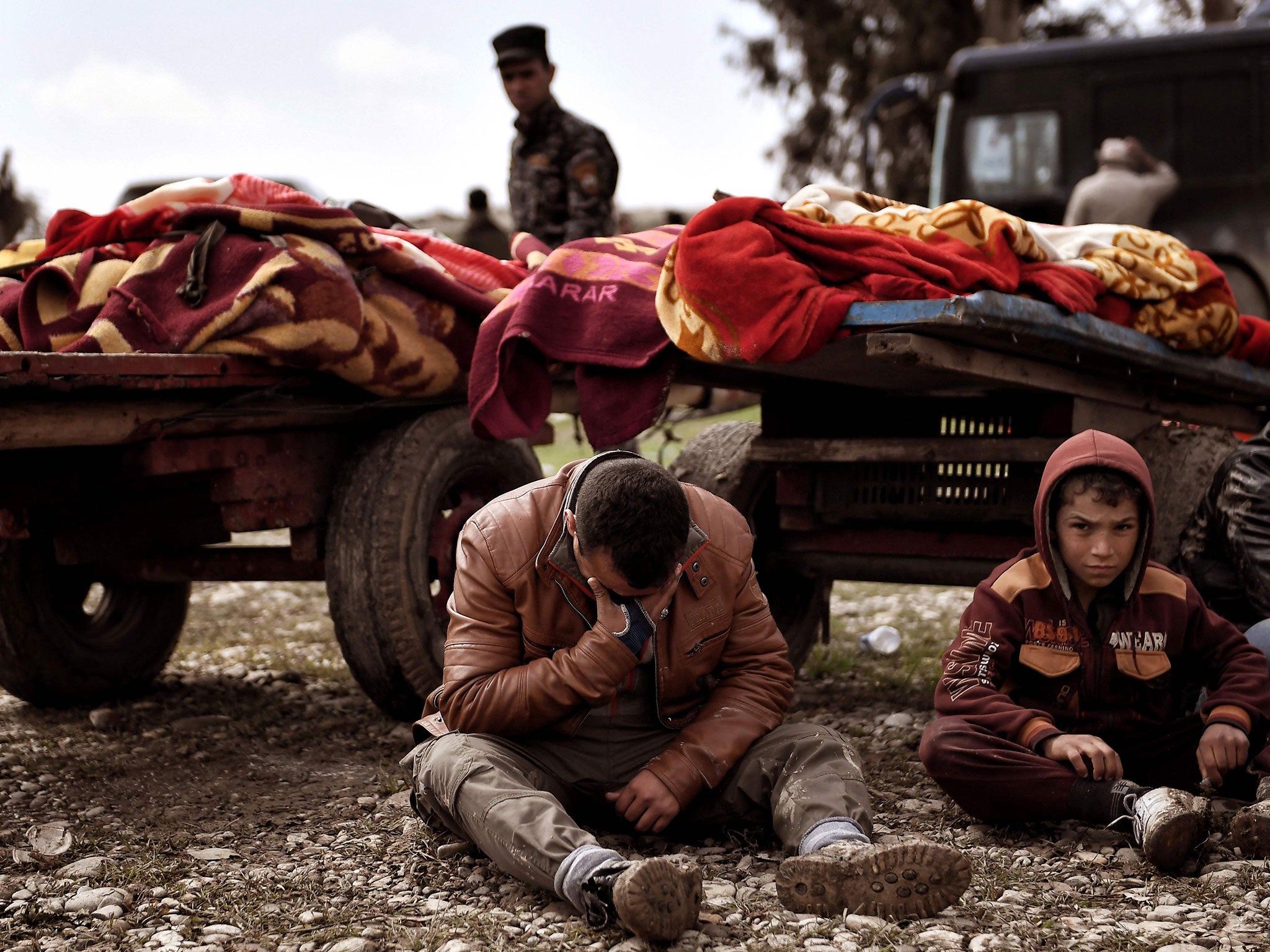 Air strikes carried out by US warplanes were most likely involved in the deaths of around 200 Iraqi civilians last week in the fight to reclaim the city of Mosul from Isis, a top US commander and Iraqi sources have confirmed.
Dozens of people were reported killed after sheltering from bombing in a large basement in al-Jadida neighbourhood on 17 March in an incident with which the US had previously denied any involvement.
The exact number of casualties reported has varied widely, but rescue workers are still sifting through rubble almost two weeks later.
Iraqi forces launch push to retake western Mosul from IS
Addressing a media briefing at the Pentagon via satellite link from Baghdad on Tuesday, Lt Gen Stephen Townsend said of an investigation by US technical experts on the ground: "My initial assessment is that we probably had a role in these casualties.
"If we did it – and I'd say there is at least a fair chance we did – it was an unintentional accident of war."
The US has faced overwhelming criticism for its alleged involvement in the al-Jadida incident, which, if carried out by US forces, ranks among one of the worst US bombing of civilians in decades.
This week Amnesty International accused the US-led coalition of not taking "adequate precautions" to protect Mosul's residents as it struggles to wrest back the city in a gruelling house-by-house battle.
Lt Gen Townsend, however, denied that there has been a change in US policy towards civilian collateral or rules of military engagement, despite a recent spike in civilian deaths.
In pictures: Mosul offensive
Show all 40
Washington had "not decided to tolerate greater risk of civilian casualties", he said, adding that the particularly high toll of the al-Jadida incident could be due to Isis rigging the buildings with explosives or purposefully using residents as human shields.
US munitions used in Mosul should not have been capable of bringing down an entire building and a fuller and more complicated explanation would be available in time, he said.
"It is very possible that [Isis] blew up that building to blame it on the coalition in order to cause a delay in the offensive into Mosul and cause a delay in the use of coalition air strikes," US army Chief of Staff General Mark Milley echoed in a visit to Baghdad, admitting that "It is possible the coalition air strike did it".
The Iraqi authorities have blamed an Isis explosive-laden tanker truck which was targeted by a strike for causing a huge explosion and such a high civilian death toll.
Militants planned the incident to "impact the civilians, to inflame the public and to convey a wrong message to the world that the joint forces and the international coalition are behind the killing and bombings", Brig Gen Yahya Rasool told reporters.
Iraqi coalition ground forces, backed by a US-led coalition bombing campaign, began the colossal Operation Inherent Resolve to remove Isis from Mosul, Iraq's second largest city, in October 2016.
Six months later, jihadi fighters now hold onto just a quarter of the city on the western bank of the River Tigris that cuts through Mosul from north to south, but the fighting has come at a heavy price for both civilians and ground troops.
Speaking to reporters in Geneva, Rupert Colville from the UN's human rights office said the agency has tallied the deaths of at least 307 people between 17 February and 22 March, including 140 from the 17 March air strike.
Around 400,000 people are thought to still be trapped by fighting, the UN says, and the battle is expected to continue for several more weeks.
Join our commenting forum
Join thought-provoking conversations, follow other Independent readers and see their replies