Mosul offensive: Turkey joins battle against Isis despite Iraqi counterclaims
Iraq denies Turkish artillery fire kills at least 17 militants as Kurds launch second attempt to liberate town just eight miles away from the Isis-held city
Monday 24 October 2016 18:41 Comments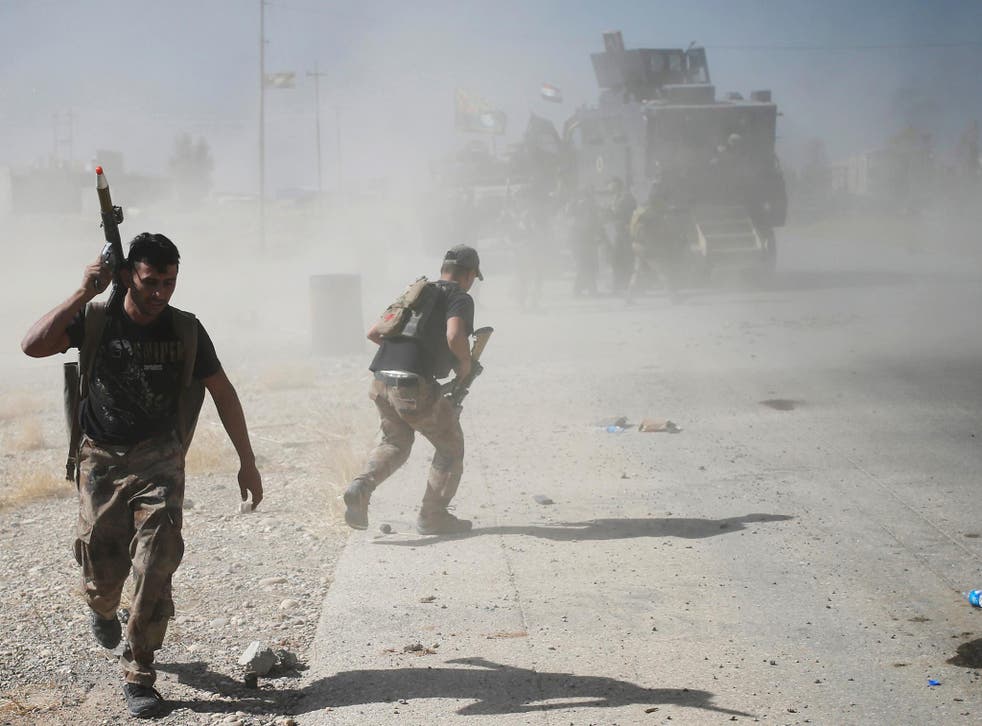 The Turkish foreign minister has said that Turkish artillery fire has killed 17 Isis fighters in its first foray into fighting in the US-backed operation to free the city of Mosul, which has entered its second week.
Artillery fire had been used near the town of Bashiqa north of Mosul at the request of Kurdish Peshmerga forces on Sunday, Mevlut Cavusoglu said in a media conference in Ankara, adding that four Turkish F-16 fighter jets remain on standby.
Turkey is adamant that it wants to play a central role in the US-backed coalition forces' attempts to recapture Mosul, Iraq's second biggest city, which has been held by Isis since 2014.
Ankara currently has a small number of Turkish trained Sunni tribal fighters and Turkish support troops at a base north of the city, despite strong objections from the Iraqi government.
Many in Baghdad see their presence as intruding on Iraqi sovereignty. The Iraqi military's joint operations command denied there had been "Turkish participation of any kind in operations for the liberation of Nineveh [province]", despite eye-witness reports of artillery fire from the Turkish base.
On Monday, Iraqi Prime Minister Haider al-Abadi reiterated that the offensive is "something Iraqis can handle", despite repeated suggestions from US Defence Secretary Ash Carter and the Pentagon that the in-fighting should be addressed before it jeopardises the success of the overall mission.
Mosul battle: Civilians flee ahead of fighting
Also on Monday, Kurdish Peshmerga forces managed to besiege Isis fighters in their second assault on the Isis-held town of Bashiqa, north of Mosul. Senior Peshmerga commander General Said Hazhar told local news that Bashiqa had been "encircled" on three sides on Monday, and the main road to nearby Mosul cut off completely, although Isis suicide bombers mean troops are proceeding with caution.
The long-anticipated assault on Mosul began last Monday. Around 30,000 allied Kurdish, Shiite and Sunni fighters, as well as the Iraqi army's forces, have made slow but steady gains despite the use of suicide bombers, landmines and diversion attacks by the jihadi fighters.
Aid groups warn that the operation could put Mosul's 1.5 million residents in grave danger as the around 4,000 fighters prepare for battle by taking human shields.
Between 200,000 and 700,000 people are expected to flee the city when fighting reaches its outskirts, but humanitarian agencies are not prepared to cope with more than around 100,000 people thanks to a severe funding shortage, the UN says.
Register for free to continue reading
Registration is a free and easy way to support our truly independent journalism
By registering, you will also enjoy limited access to Premium articles, exclusive newsletters, commenting, and virtual events with our leading journalists
Already have an account? sign in
Join our new commenting forum
Join thought-provoking conversations, follow other Independent readers and see their replies