Iraqi and Kurdish forces feel let down by US air support in fight to reclaim Mosul from Isis
There is support, but a lot of the time it's delayed,' says one general
Loveday Morris
Kanhash
,
Thomas Gibbons-Neff
Saturday 22 October 2016 20:31 Comments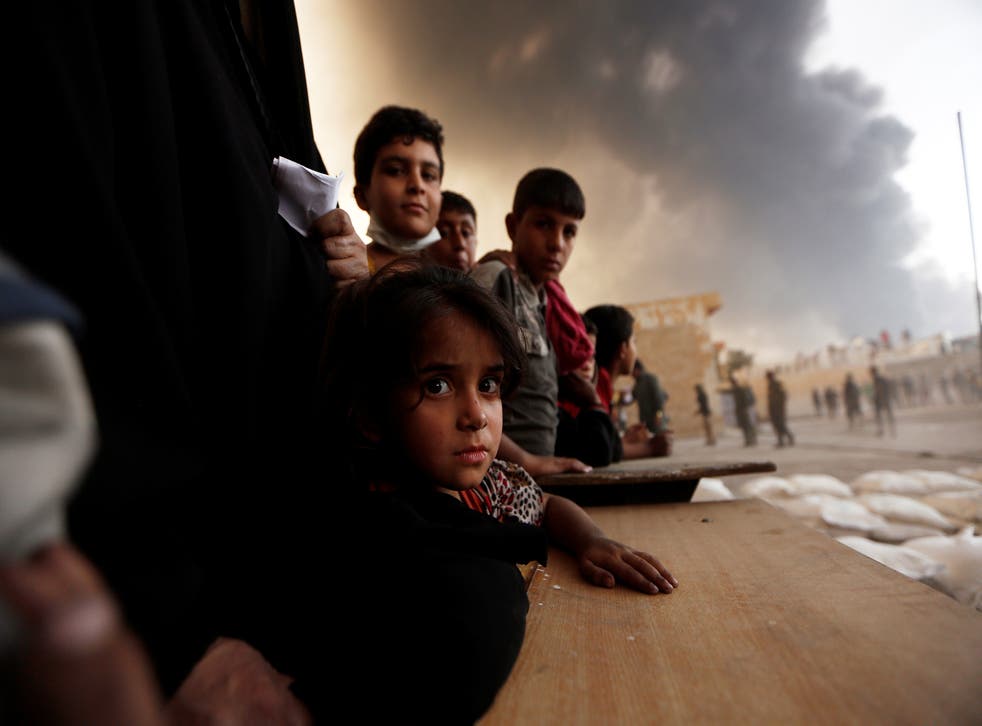 Iraqi and Kurdish forces, who have relied heavily on US-led coalition jets to win back territory from Isis, say the air support they were promised has dried up as they engage in the country's largest offensive since the 2003 invasion.
Iraqi army commanders advancing from the south-east have complained that they have been forgotten, while members of the counter-terrorism forces, who have been working closely with the coalition, described air cover as disappointing on their first day in the fight.
A Kurdish security official, who spoke on condition of anonymity because of the sensitivity of the topic, said air support was "very limited" and that Kurdish forces had taken heavy casualties as a result when they opened a new front on Thursday.
US officials say they have large amounts of air power backing the push for Mosul, which was launched on Monday, but there are more fronts to support than ever before in an operation against the militants. Tens of thousands of Iraqi troops are closing in on the city from the north, south and east, and coalition jets are also bombing militants across the border in Syria.
In previous offensives in Fallujah, Ramadi and Sinjar, Iraqi forces have become accustomed to close air support, with coalition jets clearing the way for their advance by flattening enemy artillery and mortar positions as well as eliminating car bombs that speed toward their lines. The heavy air backing has boosted the confidence of Iraqi and Kurdish forces, but it has also has left them dependent on the help.
"Mosul is the largest operation conducted to date; there are a lot more targets, more axes of attack," said Colonel John Dorrian, spokesman for the US military in Baghdad. "One of the immutable truths of air support is that there will always be more demand than supply."
The coalition is working with Kurdish and Iraqi forces to better "sequence" operations to resolve the issue, he said.
In pictures: Mosul offensive

Show all 40
About 25 miles south-east of Mosul, on the front lines near the town of Gwer, there were steady complaints from soldiers from the 9th Armored Division of Iraq's army, which has been grinding north up the eastern bank of the Tigris River.
One radio report, heard in a Humvee touring the area, voiced regular pleas for strikes. "American support is bad, bad, bad," said Sergeant Marwan Abbas.
In a temporary headquarters in the village of Kanhash, the division's commander, Lieutenant General Qassim al-Maliki, chose his words carefully at first.
"There is support, but a lot of the time it's delayed," he said. But then a call crackled through on the radio from a soldier requesting air strikes after a rocket-propelled grenade hit his tank.
Lt Gen Maliki sighed and turned.
"There is no support," he said. "Do you see any planes in the sky?"
It is unclear how many aircraft from the United States and its coalition are dedicated to the fight in Mosul, but a senior defense official said the number was "significant".
Dramatic footage shows Elite Iraq forces battle on road to Bartella in fight for Mosul
Footage of the battle has shown an array of US aircraft flying overhead, from B-52 bombers to Apache gunships.
The targeting process for air strikes in Iraq can be unwieldy as requests for air support need to flow from local forces on the ground to a joint US-Iraqi command centre. From there, aircraft need to verify the targets before striking.
Lt Gen Maliki said the two observation drones used by the coalition to spot targets were not sufficient for his sector of the Mosul battle, which includes 40 villages and towns that need to be cleared.
His deputy, Brigadier General Walid Majid, complained to joint operations command in Baghdad.
"If they are not going to support us, it would be better if they just told us," he said.
The militants have put up a ferocious defence for villages and towns outside Mosul. On Friday, they also staged a brazen attack on the northern Iraqi city of Kirkuk, in what local officials said was an attempt to divert attention and the resources of the security forces.
The Kirkuk governor, Najmiddin Karim, said Kurdish helicopters were called in to put an end to the incursion. Coalition jets also struck in the area.
In Mosul and the surrounding province of Nineveh, the targets destroyed by coalition strikes on Thursday included 23 militant fighting positions, nine car bombs, six buildings, a headquarters, seven vehicles, two staging areas, two checkpoints and five Isis tactical units, the coalition said.
But stretched across such a wide area of battle and enemy-held territory, the support still felt sparse or slow to some.
The Kurdish official said air support was "virtually non-existent" in some areas as around 10,000 Kurdish soldiers known as Peshmerga launched a new offensive from the north. "This is ridiculous," he said. "We expect much more from the coalition."
Peshmerga forces released a pointed statement noting that an unspecified number of troops had "paid the ultimate sacrifice" and that coalition air cover was "not as decisive as in the past".
A senior defence official, again speaking anonymously, said commanders are "aware of the concern".
"It's something we're talking [to the Peshmerga] about to examine the situation to see what resources we do have and if there are opportunities to provide support in additional ways."
Brett McGurk, the State Department's envoy to the coalition, said that there had been a large number of airstrikes the day after the Kurdish complaint.
"Massive coalition airstrikes today on the #Mosul fronts," he tweeted on Friday. The coalition was also supporting the Peshmerga and assisting to "wipe out" infiltrating Isis cells in Kirkuk, he added.
Colonel Falah al-Obedi, whose elite counter-terrorism forces entered the battle for the first time on Thursday in the town of Bartella, said coalition support "was not at the required level."
"It wasn't at the level of Fallujah, it wasn't the level of Beiji or Qayyarah," he said, listing previous offensives. "They let us down."
© Washington Post
Register for free to continue reading
Registration is a free and easy way to support our truly independent journalism
By registering, you will also enjoy limited access to Premium articles, exclusive newsletters, commenting, and virtual events with our leading journalists
Already have an account? sign in
Join our new commenting forum
Join thought-provoking conversations, follow other Independent readers and see their replies