The bombed Mosul bridge still providing a lifeline to civilians after Isis
Fawaz had crossed the river earlier in the day to buy supplies and check in with his old workplace but was returning before nightfall to his neighbourhood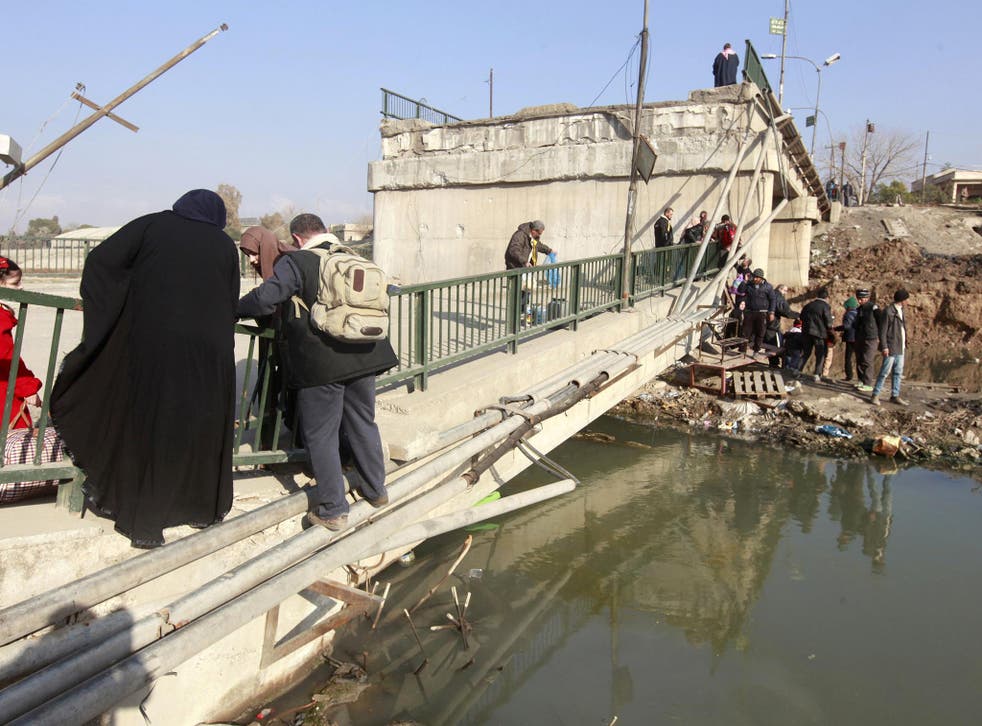 The rubble of a bridge blown up by Isis in Mosul to block advancing Iraqi forces has become a lifeline for civilians as more and more of the northern city breaks loose from the grip of the ultra-hardline militants.
Men and women, children and the elderly scramble down the banks of the Khosr River, a tributary of the Tigris some 30 metres wide and a metre deep which counter-terrorism forces crossed last week in a night-time raid.
Lumbering over ladders and pipes, civilians crawl onto the span of the bridge, which has collapsed into the murky water, and shimmy up the opposite bank along a dirt path.
Those escaping east to Zuhur district drag suitcases along with strollers and wheelchairs. Those returning west to Muthanna carry sacks of rice, potatoes and onions, cartons of eggs and packs of baby diapers. The journey in either direction is usually several kilometres.
"Now there are people entering and people leaving," Major General Sami al-Aridi said this week after touring both sides of the river on foot.
"The ones who left are returning, and those who are leaving now are coming from ... neighbourhoods where there are currently clashes."
He said he expected the latest evacuees to return in a day or two as Iraqi forces pushed further west.
The United Nations had warned that the US-backed campaign to kick Isis out of Mosul, their largest urban stronghold in Iraq or Syria, could displace up to 1.5 million people.
But with much of the eastern half of the city now under government control, most residents have stayed in their homes or moved in temporarily with relatives in other neighbourhoods.
That has complicated the task of the military, which must fight among civilians in built-up areas against an enemy that has targeted non-combatants and hidden among them.
The offensive, involving a 100,000-strong ground force of Iraqi troops, members of the autonomous Kurdish security forces and mainly Shi'ite militiamen, is the most complex battle in Iraq since the US-led invasion in 2003.
When it launched the offensive in October, the government hoped to have retaken the city by the end of 2016 but Iraqi Prime Minister Haider al-Abadi said in December it could take another three months to drive the militants out.
Fawaz, a 46-year-old schoolteacher going back across the ruptured bridge to his family's home in Muthanna on Monday, held a jerry can filled with fuel in one hand and a bag of fresh food in the other.
"We spent two months without food, just what we had stored up," he said, describing the harsh conditions that many residents faced after the Mosul campaign began in mid-October. Fawaz said he lost some 30kg (66lbs) in that period.
He crossed the river earlier in the day to buy supplies and check in with his old workplace but was returning before nightfall to his neighbourhood, where Iraqi forces are now in charge but mortars fired by Isis still land.
He shrugged off the danger with a laugh and, expressing the deep faith that Mosul residents say sustained them through two-and-a-half years of brutal Isis rule, said: "God is present."
Along a road running west towards the city's ancient ruins, black armoured Humvees race down one side, transporting soldiers to and from the frontline where they're fighting Isis suicide attackers with machine guns, rockets and air strikes.
Civilians, including infants and the disabled, pad along the other side. Many are fleeing clashes with only their most prized possessions but others are pursuing more mundane tasks such as shopping for groceries or reconnecting electricity cables.
A Humvee rushes down the road to reinforce the troops. Behind, a man wearing a grey hoodie bicycles in the dust kicked up by the vehicle. Two more Humvees pass in the opposite direction carrying disabled civilians in their open beds.
"You see with your own eyes: one hand fights, one hand helps," said a soldier guarding a forward command post.
A corner grocery has opened on the street and a school-age boy sells packets of sunflower seeds to soldiers.
Young children, one grasping a Barbie doll, play in side streets where orange trees hang low under the weight of ripened fruit. A general clad in black uniform hands out chocolates.
The kids do not flinch at the sound of explosions or gunfire. During a particularly heavy spell of clashes nearby, two boys no older than 10 stop in the road where stray bullets occasionally land. They scan the skyline.
"There, there is the Apache [attack helicopter]. There, it's coming! It's going to work them in," said one, turning to add: "We've become accustomed."
Mosul residents say that despite the obvious dangers, they prefer their homes to camps outside the city where conditions are austere and movement heavily restricted.
About 135,000 people have fled to camps outside Mosul run by the government and aid groups. Rapid advances have accelerated displacement in the past two weeks but the figures are still a fraction of the total population.
"We haven't stayed in our homes and endured all this bombardment and everything just to live in tents," said Abu Ahmed, visiting his family in Zuhur at the weekend.
The war raging just down the road doesn't worry him.
"God willing, there is nothing," he said before dropping to the ground and running for cover at the buzz of a missile overhead.
The street he was standing in suddenly clears of civilians and soldiers. Fifteen seconds later, the rocket explodes about a kilometre away sending a plume of grey smoke into the sky.
Cracks of gunfire replace the greetings and serendipitous reunions that had filled the street just moments earlier.
Abu Ahmed stands up again with a chuckle and brushes himself off. "A rocket," he said. "Thanks and praise to God."
Reuters
Register for free to continue reading
Registration is a free and easy way to support our truly independent journalism
By registering, you will also enjoy limited access to Premium articles, exclusive newsletters, commenting, and virtual events with our leading journalists
Already have an account? sign in
Register for free to continue reading
Registration is a free and easy way to support our truly independent journalism
By registering, you will also enjoy limited access to Premium articles, exclusive newsletters, commenting, and virtual events with our leading journalists
Already have an account? sign in
Join our new commenting forum
Join thought-provoking conversations, follow other Independent readers and see their replies