Mosul: Around 300 Isis fighters remain in tiny section of the Old city, says Iraqi commander
Senior commander says militants' hold has shrunk to a 500 square metre area
Wednesday 05 July 2017 13:38 BST
Comments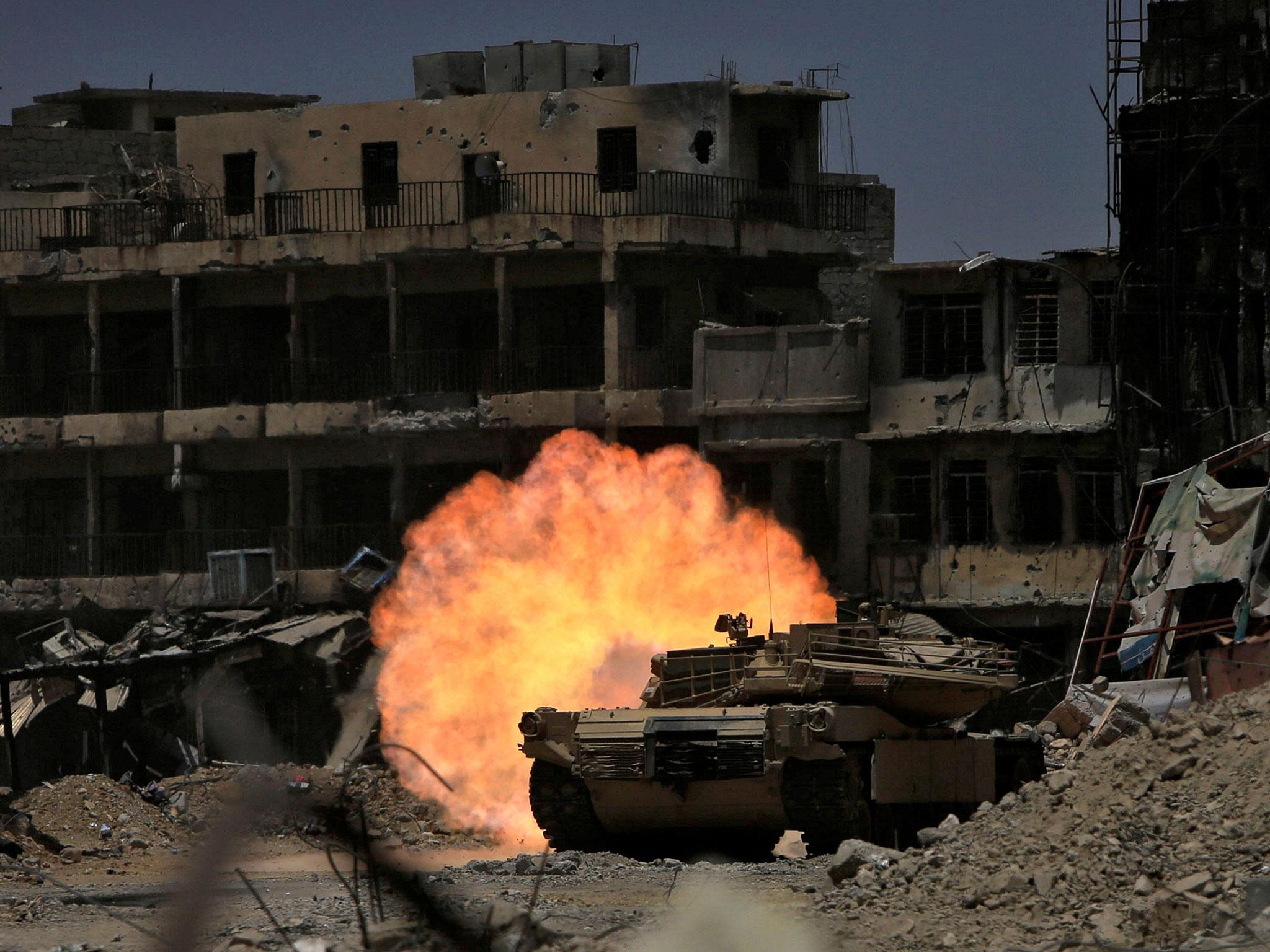 Some 300 Isis fighters remain in the small patch of territory still controlled by the group in Mosul's Old City, according to a senior Iraqi commander.
Lt Gen Sami al-Aridi of Iraq's special forces said that the militants' hold on Mosul has shrunk to a 500 square metre (600 sq yard) area. Tens of thousands of civilians are believed to be trapped in the Isis-run enclave, with around 1,500 fleeing with every 100-metre advance by Iraqi forces.
Iraqi forces moved to besiege the Old City before launching their attack in order to prevent Isis fighters from fleeing to neighbouring Syria, but Lt Gen Aridi said hundreds of militants still managed to escape from the Old City alone.
"They just shave their beards and walk out," he said. "Just yesterday we captured two among a group of women and children."
Late on Tuesday, Iraq's Prime Minister Haider al-Abadi congratulated the armed forces on a "big victory" in Mosul, despite ongoing clashes. The prime minister declared an end to the extremist group's self-styled Islamic caliphate in June.
Isis captured Mosul in a matter of days when it swept across northern and central Iraq in the summer of 2014. Iraqi forces backed by a US-led coalition launched a major operation to retake the city in October.
Meanwhile, aid charity Doctors Without Borders (MSF) is warning that Mosul's civilian population has endured huge suffering during the battle to retake the city, with trauma cases among the population rising sharply in the last stages of the mission.
Civilians who have managed to get medical treatment are suffering from burns, and shrapnel and blast injuries, while many women and children are in need of critical care and are under-nourished, a MSF officials said. But there was concern that only a small proportion of the civilian population were managing to get the medical attention they required.
"Really, (there is) a huge level of human suffering," Jonathan Henry, MSF emergency coordinator in West Mosul, told a news briefing in Geneva after spending six weeks in Iraq.
"This is a massive population that has been traumatised from a very brutal and horrific conflict," he said.
Iraq PM Haider al-Abadi hails 'big victory' in Mosul
Iraqi commanders have predicted final victory in Mosul this week after a grinding eight-month assault on the once two-million-strong city which has pushed Islamic State into a rectangle no more than 300 by 500 metres beside the Tigris.
The militants' brutality and the US-backed war to end their three-year rule has created an "extremely traumatic environment for people to flee from and to return to," affecting their mental health on a large scale, Mr Henry said.
"The west (of the city) has been heavily destroyed. It's really mass destruction ... similar to the blitz of the Second World War, hospitals have been destroyed, neighbourhoods are in ruins."
The battles in the Old City's maze of narrow alleyways is fought house-by-house in streets packed with civilians and planted with multiple explosive devices by the militants, who are also using drones and suicide bombings.
In pictures: Mosul offensive
Show all 40
Schrapnel and blast injuries, broken bones from collapsed buildings and burns are the main type of wounds seen by the MSF team of surgeons in west Mosul, said Mr Henry.
"One of our major concerns is we feel only a small percentage of the patients are reaching medical facilities," he said.
Half of the 100 war-wounded over the past two weeks at the MSF 25-bed hospital were women and children in need of critical care and many were malnourished, he said.
"But the most urgent patients we feel are not able to leave the conflict area."
About 900,000 people, nearly half the pre-war population of Mosul, have been displaced by the fighting, taking shelter in camps or with relatives and friends, according the aid group.
AP/Reuters
Join our commenting forum
Join thought-provoking conversations, follow other Independent readers and see their replies