US-backed forces push into Mosul in final stages of battle against Isis
Fresh tactics result in liberation of 90 per cent of city, as fears for remaining trapped civilians grow amid reports militants are trapping starving families in their homes by welding doors shut Comments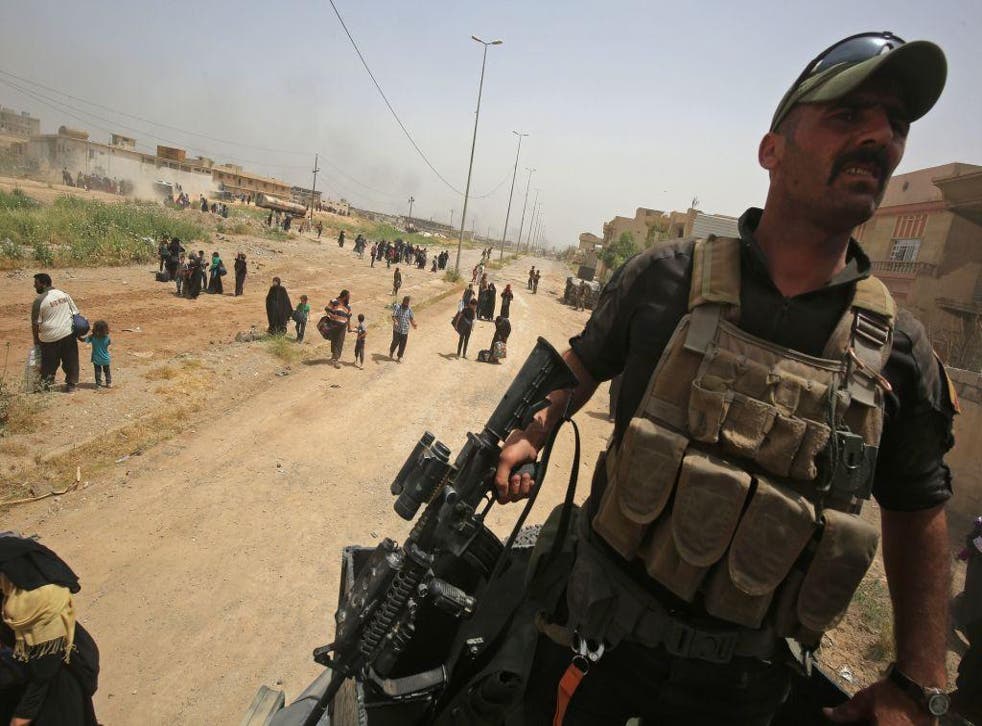 Wave after wave of people continue to flee Mosul as the last gruelling stages of the fight to free the Iraqi city rage on.
While US-backed Iraqi troops have forced the last of Isis' hardened fighters into a handful of neighbourhoods on the side of the city west of the Tigris River, the campaign stalled last week as attempts to open a new front on the narrow streets of the Old City from the south failed.
A new battle plan involving a northwest advance has seen swifter success, said Iraqi special forces Lieutenant General Sami al-Arathi in a statement on Thursday, after a week in which more than 11,000 people risked sniper and mortar fire as they poured out of the city.
Children of Mosul describe life under Islamic State
"[Isis] didn't have any real defences prepared there for this new thrust and its manpower was depleted [...] That has led to a quick advance and now the army and police have connected with the Counter Terrorism Forces in the centre," said Iraq analyst and author of 'Musings on Iraq' blog Joel Wing to The Independent.
"Together they are now pushing on the last section of Mosul. The city will probably be freed by the end of the month or early June at the latest."
Federal police chief Shakar Jadwat also confirmed that elite rapid response force units managed to make incursions in al-Ektesadiyn neighbourhood on Thursday - just a few hundred metres away from the Grand Mosque in which Isis leader Abu Bakr al-Baghdadi announced the creation of the Isis caliphate.
Mosul became the jewel in the militants' crown after its forces blazed through Iraq from Syria in the summer of 2014, at one point laying claim to more than one third of the country.
Nearly three years after the city's 1.5 million citizens were first subject to Isis' brutal rule, and eight months after Operation Inherent Resolve to drive the militants out was launched, the end of the jihadists' control appears to be in sight.
A map released by the Iraqi military on Thursday which was not verified by US counterparts, showed that the security forces are now in control of 90 per cent of the city.
But for the estimated 350,000 people who remain trapped in West Mosul neighbourhoods, help cannot come too soon. The Independent spoke to civilians in Dibaga camp for Internally Displaced Persons (IDP) who had managed to flee in recent weeks. They say that food had all but run out in several areas, sending the price of basic goods such as sugar soaring to 35,000 dinars (£23) a kilogram.
According to AFP, residents of the last Isis-held areas have sent desperate WhatsApp messages to relatives in freed neighbourhoods saying that Isis is in some cases booby-trapping homes or welding doors shut in order to keep starving families from escaping.
Yusof, a 12-year-old who has been living in Dibaga since the campaign for West Mosul in March triggered a new exodus from the city, said he was worried for his friends who remain either trapped or unwilling to leave homes behind the front line.
"When we played outside we would run away whenever someone from Isis appeared," he said. "My family are here but I miss my friends. I don't know what has happened to them."
Several NGO sources The Independent spoke to on background said they feared that a siege-type situation could develop in the Old City, which would put enormous pressure on the already limited resources. Running water and electricity have been bombed out of use by coalition forces in daily raids which by most estimates have killed more than 1,000 civilians.
"Militarily we have almost defeated Isis in Iraq, but it is not the end of the fight," said Falah Bakir, head of the Foreign Relations Department of the Kurdistan Regional Government, which neighbours Nineveh province where Mosul is located, and has sent thousands of peshmerga troops to aid the battle.
"Baghdad, Irbil [Iraq's Kurdish capital] and Nineveh will have to coordinate how we defeat extremist ideology. We cannot allow organisations like this to reemerge, but to do that we need to address the root causes of the problem in Iraq and Syria."
Even when the city has finally been cleared of militants, it may remain dangerous; in the battle so far, Isis has managed to carry out rear guard attacks, retaking some neighbourhoods completely, or insurgents have cut their beards and donned civilian clothing, creating sleeper cells in government-controlled areas. Around 1,000 fighters are currently left in the city, the US military estimates.
"Once the last piece of territory is taken the operation will switch to a police and intelligence effort hunting down [Isis] members and weeding those out that have melted back into the population," analyst Joel Wing said.
Register for free to continue reading
Registration is a free and easy way to support our truly independent journalism
By registering, you will also enjoy limited access to Premium articles, exclusive newsletters, commenting, and virtual events with our leading journalists
Already have an account? sign in
Join our new commenting forum
Join thought-provoking conversations, follow other Independent readers and see their replies