Benjamin Netanyahu says friendship has 'blossomed' with Philippines
The Philippine president, who likened his country's war on drugs to the Holocaust, eyes arms deal with Israel during a four-day tour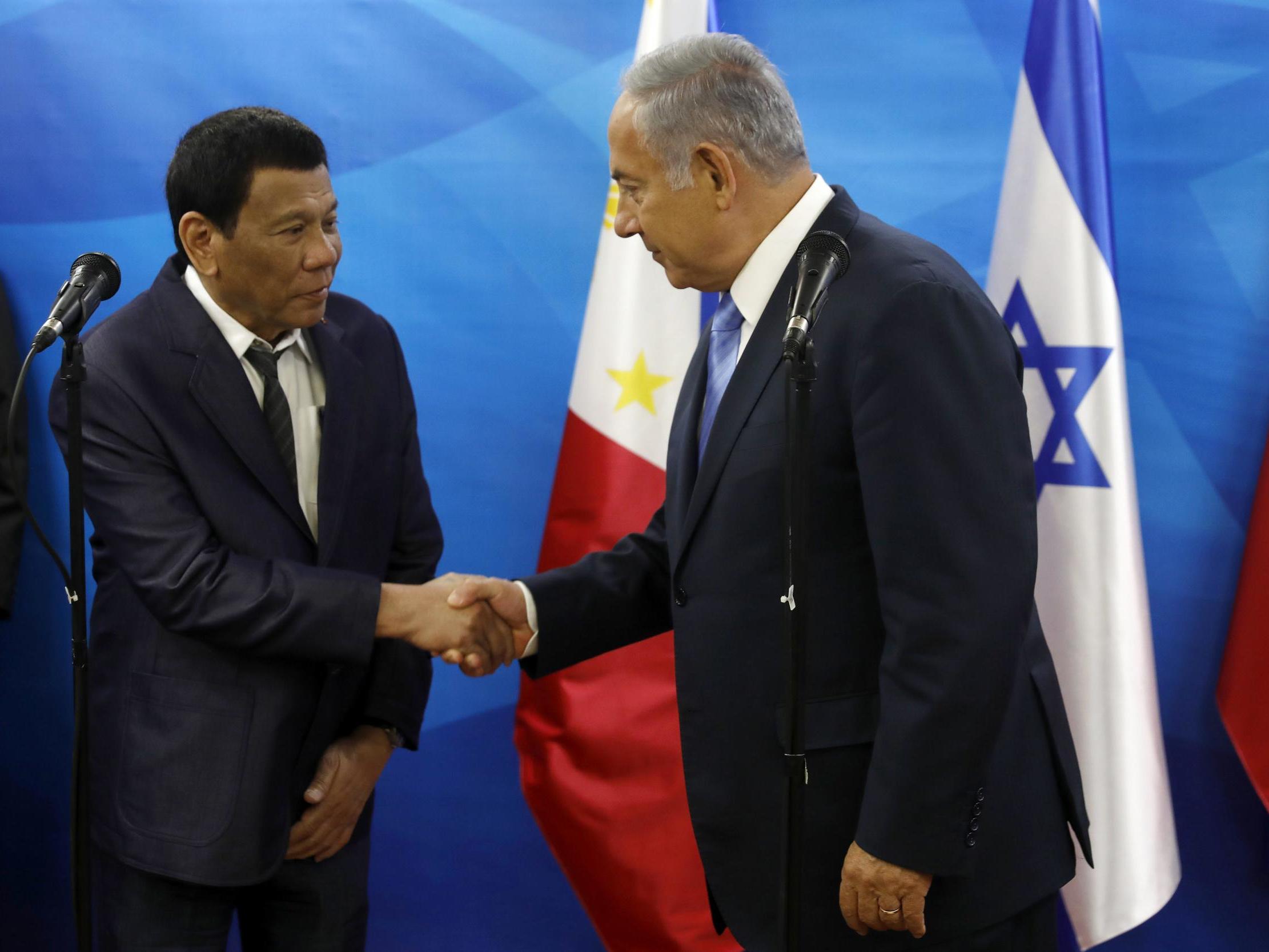 Benjamin Netanyahu has warmly welcomed the controversial Philippine president, who once compared himself to Hitler, adding to mounting criticism of the Israeli prime minister's close ties with authoritarian world leaders.
Rodrigo Duterte, who is in Israel for a four-day tour, is the first Philippine leader to visit the country since the two nations established diplomatic relations 60 years ago.
The firebrand president is expected to sign a major oil deal with Israel and to purchase Israeli arms, during the short tour in which he has been accompanied by an entourage of security forces.
Mr Duterte has faced widespread criticism for his deadly crackdown on drugs back home which has left thousands dead and for several foul-mouthed comments, including comparing his war on drugs to the Holocaust, and most recently joking about rape.
Despite the many controversies, on Monday Mr Netanyahu highlighted the two country's historical friendship, including the Philippines' decision to vote in favour of Israel's establishment in 1947, becoming the only Asian country to do so.
"We remember our friends and that friendship has blossomed over the years and especially over the last few years," Mr Netanyahu said, after signing three agreements on trade, science and care-giving.
Mr Duterte, who later visited the country's Yad Vashem Holocaust memorial and met top officials including President Reuven Rivlin, said they "share the same passion for peace".
"Israel can expect any help that the Philippines can extend," he added.
The Philippines has enjoyed increasingly strong ties with Israel over the years. In December it abstained from a vote at the United Nations General Assembly rebuking the US for moving its embassy from Tel Aviv to Jerusalem. Washington's controversial decision recognised Jerusalem as Israel's capital despite the fact it is contested city claimed by both Israelis and Palestinians.
The Philippine president is also seeking new sources of military hardware and emerged as a significant new customer in 2017 for Israel, with sales of radar and anti-tank equipment worth $21m.
Mr Netanyahu has been praised for forging ties with new allies abroad, where Israel has often lost support for its occupation of the Palestinian territories.
However, in recent months the Israeli leader has come under fire for the choice of those partners.
Mr Duterte's visit comes just weeks after Netanyahu welcomed Viktor Orban, Hungary's four-time prime minister who was criticised last year for praising Miklos Horthy, Hungary's World War II-era ruler and a Nazi collaborator.
Mr Orban was also accused of employing anti-Semitic tropes against George Soros, a Jewish Hungarian-American billionaire philanthropist, during his re-election campaign. During Mr Orban's visit to Israel in July, Mr Netanyahu praised him for combatting anti-semitism.
Mr Netanyahu was also criticised for striking a deal with Polish President Andrzej Duda over his country's controversial Holocaust speech law, which would have criminalised blaming the Polish nation for crimes committed against Jews during World War II.
Mr Duterte, who assumed power 2016, did little to assuage fears on Sunday when he kicked off his four-day tour of Israel with a rambling expletive-ladened speech to members of the Filipino community in Jerusalem.
During the hour-long talk he justified comments made on Thursday that the high rape rate in a Philippine city was due to the number of "beautiful women". And he apologised for calling former US president Barack Obama a "son of a whore".
Rape joke made by Philippines president Rodrigo Duterte defended by spokesperson
In 2016, Mr Duterte drew worldwide anger when he said he would kill as many drug addicts as Hitler did Jews, adding "I'd be happy to slaughter them".
In the same speech he had also claimed three million Jews were killed in the Holocaust, half the number agreed by historians. The president later apologised, saying he had been misunderstood.
But his comments were not forgotten in Israel. Left-leaning daily Haaretz on Monday published an editorial headlined "A Hitler admirer at Yad Vashem," while The Times of Israel asked why Israel was "opening its doors" to Mr Duterte in a piece entitled "this man has no place in our country". Left-wing politicians, meanwhile, questioned why Mr Netanyahu wanted to "whitewash an illegitimate leader".
He "took pride in massacring his citizens and violating human rights… so why?" Tamar Zandberg, head of the leftist Meretz party, wrote on Facebook.
"Because Duterte is willing to support the occupation (of the West Bank)," she said.
The most controversial quotes from Rodrigo Duterte
Show all 9
On Wednesday, Mr Duterte is set to inaugurate a memorial near Tel Aviv commemorating the Philippines' acceptance of 1,300 Jews fleeing the Holocaust.
"We assign great importance to this visit, which symbolises the strong, warm ties between our two peoples as well as the enormous potential for developing and strengthening the relations," Israel's foreign ministry said.
Mr Duterte heads to Jordan on 5 September, where he is expected to meet King Abdullah II.
Mr Duterte has long faced backlash for his word and actions. In the past he has joked about wanting to rape an Australian national who was killed during a prison riot in 1989, he called Pope Francis a "son of a whore" for causing a traffic jam in the capital Manilla, and labelled God a "son of bitch".
He has also advised citizens not to wear condoms despite an HIV crisis, forcibly kissed a woman on stage and told soldiers to shoot female rebels in the vagina.
Join our commenting forum
Join thought-provoking conversations, follow other Independent readers and see their replies