Netanyahu to be indicted on corruption charges by Israel attorney-general pending hearing
Likud Party dismissed the announcement as 'political persecution' ahead of crucial elections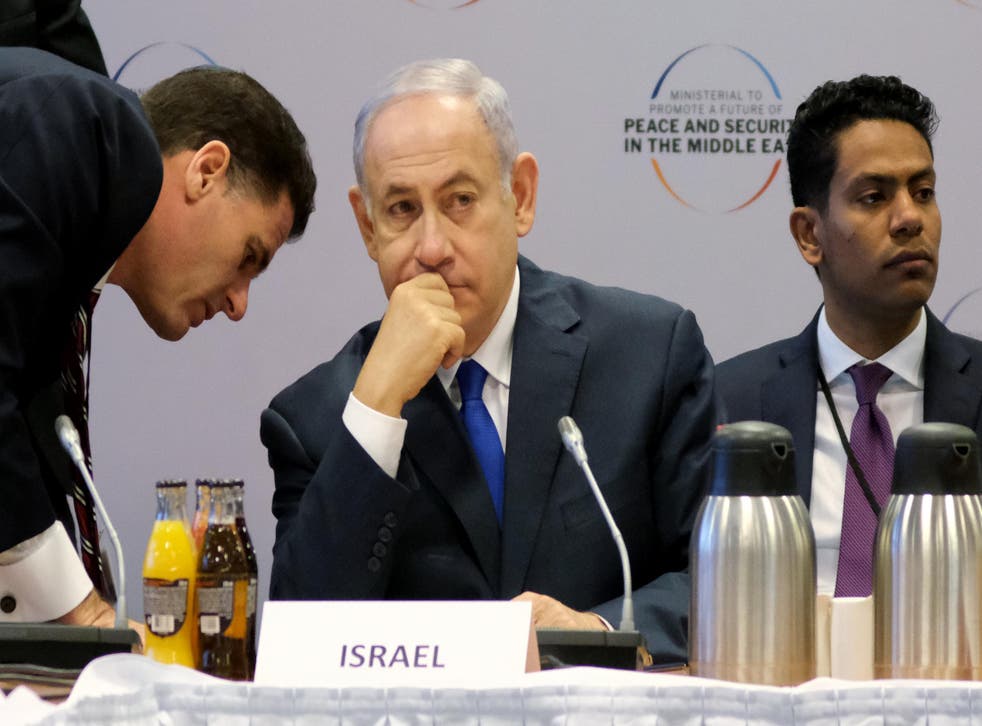 Israel's attorney general has said he plans to indict Prime Minister Benjamin Netanyahu on graft charges, dealing a damning blow to the premier ahead of general elections.
Avichai Mandelblit is set to charge the embattled leader in three corruption cases, dubbed 1000, 2000 and 4000, pending a hearing, which would mark the first time in Israeli history that a serving prime minister is indicted.
Mr Netanyahu, 69, who is hoping to secure a fourth consecutive term in office, has repeatedly denied any wrongdoing. His Likud Party dismissed Thursday's announcement as "political persecution", after submitting a last-minute petition to the High Court that morning to delay the decision.
The release of the long-awaited statement is a dramatic game changer in the upcoming Israeli elections on 9 April, in which Mr Netanyahu is facing a powerful centrist alliance.
With a potential trial hanging above his head, it is unclear if his right-wing coalition partners will stick by his side through the polls.
World news in pictures

Show all 50

Under Israeli law Mr Netanyahu will attend a pre-trial hearing in the coming months to put forward his defence, after which the attorney general will issue his final decision.
The actual filing of the reported charges, which include bribery, fraud and breach of trust, will depend on the outcome of that hearing which will probably take place after the elections.
But analysts predict there is little doubt that the trial will go ahead. The corruption case was filed by police last year after a 16-month intense investigation.
The Likud Party said it came after "three years of tremendous pressure exerted on [the attorney general] by the media, the left and the legal officials".
"The hunt against the prime minister began with an attempt to frame him with four bribery cases. Even before the hearing, three of them had collapsed. The rest of the claims will also collapse like a house of cards when the prime minister confronts the state's witnesses," the statement read.

The party concluded by saying it was an attempt to topple a right-wing government under Mr Netanyahu in place of a left-wing administration.
Just hours before the announcement, President Donald Trump – deemed to be Mr Netanyahu's most loyal ally – defended the leader, saying he had "done a done a great job as prime minister".
"I can say this, he's done a great job as prime minister," the US leader said speaking from the Hanoi summit with North Korean leader Kim Jong-un.
"He's tough, smart, and strong. He's very defensive, his military has been built up a lot," Mr Trump said.
In Case 4000, police allege that Mr Netanyahu granted regulatory favours to Israel's leading telecommunications company, Bezeq, in return for more positive coverage on Walla, a news website belonging to Bezeq's owner Shaul Elovitch. Mr Netanyahu's wife Sara was also embroiled in the accusations.
In Case 1000 he is set to be charged with allegedly receiving gifts from Hollywood mogul Arnon Milchan and Australian businessman James Packer, in return for political favours.
In Case 2000, Mr Netanyahu is accused of negotiating a deal with the Yedioth Ahronoth newspaper to limit the coverage of rival newspaper Israel Hayom, in return for better coverage.
Mr Netanyahu's lawyers unsuccessfully pleaded with the top prosecutor to delay his decision until after the elections, saying it will unfairly impact the results.
The night before the attorney general's announcement Mr Netanyahu had dismissed the accusations as "ridiculous" saying it was "legally unprecedented" to be indicted for "two-and-a-half articles on the internet".
"The house of cards will soon collapse," he added.
There are no legal ramifications if Mr Netanyahu runs in the election with an indictment over him, but several coalition partners have baulked at the idea of forming a coalition under those circumstances.
Mr Netanyahu had hoped he would be re-elected to serve a fourth consecutive term, making him the longest serving prime minister in Israel's history.
The popularity of his right-wing Likud party has plummeted in the polls, particularly after the creation of Blue and White Party, an alliance of popular ex-army chief Benny Gantz, and one of Israel's main opposition leaders, Yair Lapid.
In the latest poll released by Times of Israel on Thursday it showed the Likud party would lose four seats securing just 25 places in the 120-seat Knesset if charges are announced.
The Blue and White party, Mr Netanyahu's chief rival, meanwhile would soar dramatically from 36 to 44 seats, giving them the clear lead.
But the key as to whether the premier can stay in office is over his ability to form a coalition. Until very recently Mr Netanyahu's right-wing coalition was still larger and more powerful than a potential centrist one sculpted by Blue and White.
Nevertheless, the Times of Israel's polls showed that future criminal charges resulting from the indictment would blast Netanyahu's ability to form a right-wing Ultra Orthodox bloc big enough to form a majority coalition.

Coalition partners will have to decide in the coming weeks whether they would be happy to pair up with Mr Netanyahu ahead of the pre-trial hearing which will probably take place after the elections.
Mr Netanyahu's defence has argued in Case 4000 that there was no connection between his actions with Bezeq and what occurred in Walla's editorial offices, and his decisions were reasonable as he was communications minister at the time.
He defended himself in Case 1000 saying it's permissible to accept gifts from friends.
Alan Dershowitz, a prominent US lawyer, has come to Mr Netanyahu's defence, publishing an open letter to attorney general Mr Mandelblit in which he warns that an indictment against the prime minister ahead of elections would undermine the democratic process.
"I'm very worried for freedom of the press and freedom of government in Israel if they start indicting people for trying to get good coverage from the media," he told Israel's Army Radio.
"I don't know of any other country that has criminalised trying to get good coverage and make that a basis of bribery or any other corruption investigation."
Register for free to continue reading
Registration is a free and easy way to support our truly independent journalism
By registering, you will also enjoy limited access to Premium articles, exclusive newsletters, commenting, and virtual events with our leading journalists
Already have an account? sign in
Register for free to continue reading
Registration is a free and easy way to support our truly independent journalism
By registering, you will also enjoy limited access to Premium articles, exclusive newsletters, commenting, and virtual events with our leading journalists
Already have an account? sign in
Join our new commenting forum
Join thought-provoking conversations, follow other Independent readers and see their replies