Israel's Netanyahu criticised for wooing Hungary's far-right prime minister Orbán
Israeli politicians denounce two-day visit of Hungarian leader to Jerusalem amid concerns over his antisemitic statements 
Bel Trew
Jerusalem
Thursday 19 July 2018 17:21 BST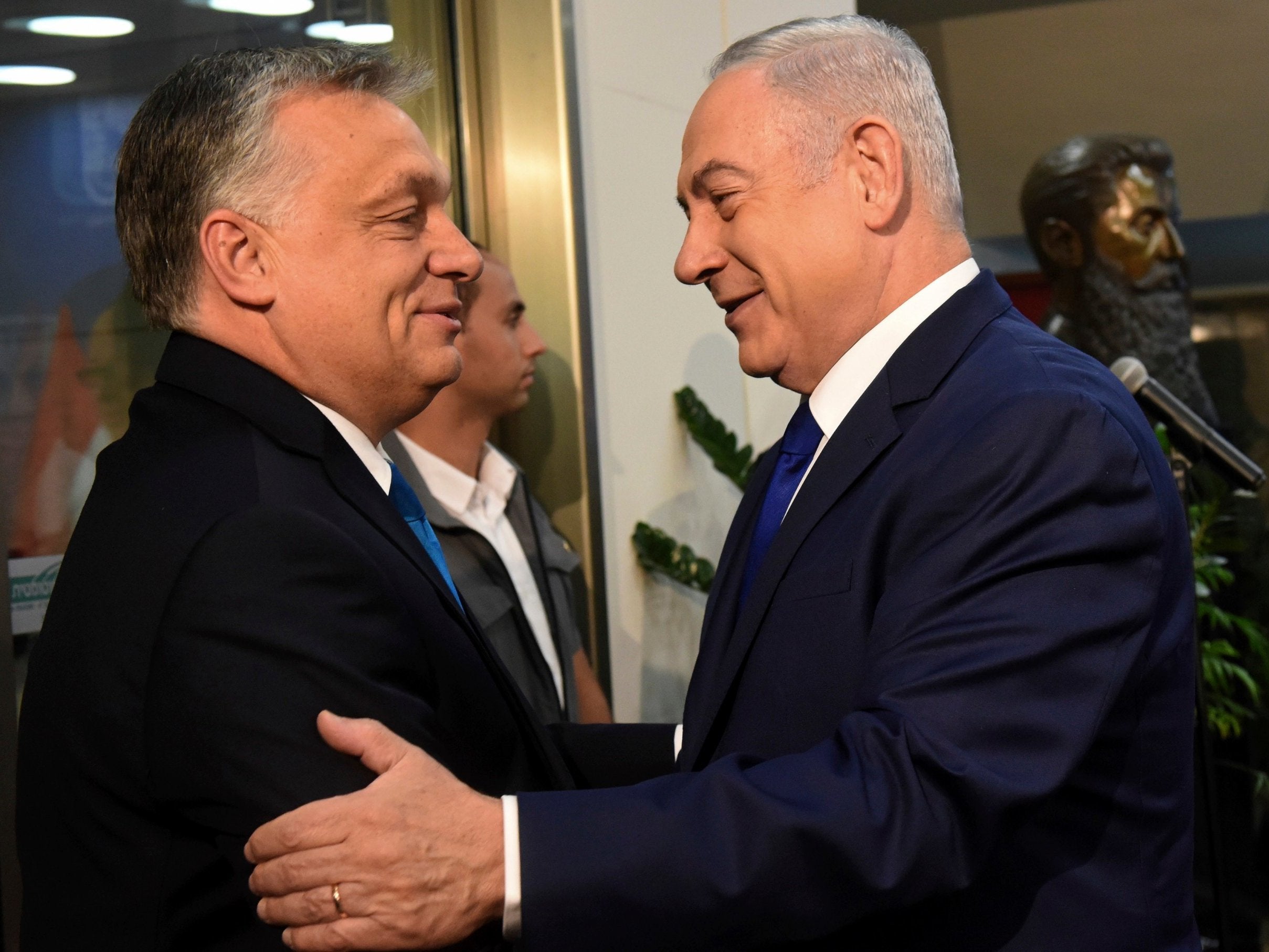 Israeli prime minister Benjamin Netanyahu has welcomed his Hungarian counterpart as a "true friend of Israel" at the start of a controversial two-day visit that has sparked widespread outcry over Viktor Orbán's praise of Nazi collaborators.
Politicians and party leaders had urged Mr Netanyahu to cancel the trip after the Hungarian leader last year drew criticism for praising Miklós Horthy, Hungary's Second World War era ruler, who introduced antisemitic laws and collaborated with the Nazis.
Far-right populist Mr Orbán, re-elected in April, also put Jewish-Hungarian philanthropist George Soros on an anti-immigration billboard campaign and appeared to evoke antisemitic language in denouncing the Budapest-born billionaire. The posters featured a grinning image of Mr Soros with the words: "Don't let Soros have the last laugh."
But speaking in Jerusalem on Thursday, Mr Netanyahu thanked Mr Orbán for "defending Israel".
Hungary in December abstained when the United Nations General Assembly voted overwhelmingly to reject the US recognition of Jerusalem as Israel's capital.
The nation also joined the Czech Republic and Romania in blocking a European Union statement criticising Washington's decision to move its Israeli embassy to Jerusalem.
"You have stood up for Israel time and time again in international forums. It is deeply appreciated, and it is important… on this Hungary has led the charge many, many times, and I thank you for it," Mr Netanyahu said, at a joint press conference with the Hungarian leader.
"I heard you speak, as a true friend of Israel, about the need to combat antisemitism," he added.
Mr Orbán for his part pledged "zero tolerance" for antisemitism and to cooperate "in the war against" it.
"All of the Jewish citizens in Hungary are under the protection of the government," he said.
Yet the visit has sparked uproar in Israel, where there were calls for it to be cancelled.
After praising Horthy last year, Mr Orbán denounced Mr Soros as one of Hungary's enemies that "do not believe in work, but speculate with money".
Using language that was antisemitic in tone, Mr Orbán added: "They have no homeland but feel that the whole world is theirs."
Opposition MP Yair Lapid, head of the centrist Yesh Atid and a potential rival to the Israeli prime minister, labelled Mr Orbán's visit a "disgrace".
"Today Netanyahu will give honour to Prime Minister Orbán of Hungary, who praised the antisemitic ruler [Horthy] who collaborated with the Nazis in the extermination of Hungarian Jewry. A disgrace!" he wrote on Twitter.
Tamar Zandberg, an MP in the left wing Meretz party, tweeted in Hungarian that Mr Orbán was not welcome in Israel.
Mr Orbán, who landed in Tel Aviv on Wednesday evening, met Israeli president Reuven Rivlin and one of Israel's chief rabbis, and later took a tour of the Yad Vashem Holocaust memorial.
On Friday he is set to visit the Western Wall before departing.
Viktor Orban re-elected as Prime Minister of Hungary
The visiting leader has no scheduled talks with Palestinian leaders, breaking usual protocol for visiting EU leaders. Only his deputy, Zsolt Semjén, will visit Bethlehem's Church of the Nativity in the occupied West Bank.
Mr Orbán has cast himself as a champion of Christian Europe and faced fierce protests from within Hungary's 100,000 strong Jewish population back home for his apparently antisemitic viewpoints.
Mr Orbán has also faced criticised from within the EU over a proposed law which would criminalise those who offer help to migrants. The legislative package was dubbed the "stop Soros" laws by the Hungarian government as it targeted Soros's open-border values and advocacy. Pro-government media said the bills could see Mr Soros banned from Hungary.
But despite accusations Mr Orbán had stoked antisemitism in Europe, he has taken a firm stance in support of Israel at a time when Mr Netanyahu is increasingly looking to European allies as he faces mounting criticism from the EU.
Mr Orbán's brief stay comes a year after a landmark visit by Mr Netanyahu to Budapest, the first visit to Hungary by an Israeli premier since the fall of Communism in 1989.
At the time, Mr Netanyahu praised the Visegrád Group, which includes Hungary, Poland, Slovakia and the Czech Republic, and whose nationalist stances have been a thorn in Brussels' side.