Netanyahu rejects plea from former security and intelligence officials not to annex West Bank
Prime minister's comments signal he will push ahead with pre-election promises of annexation as US is poised to unveil peace plan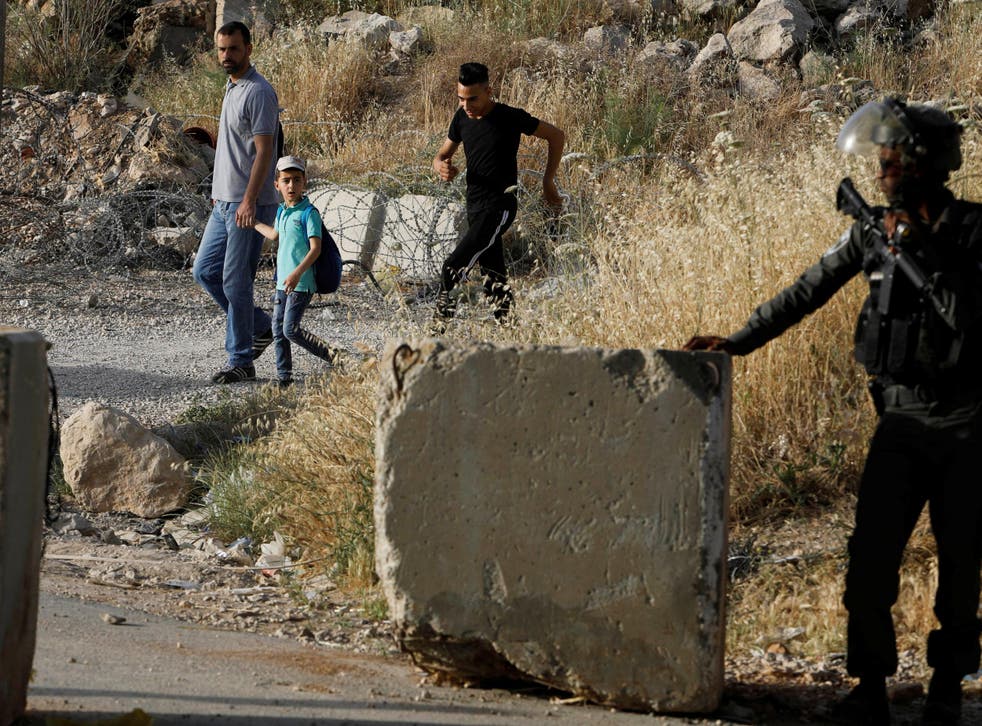 Israeli prime minister Benjamin Netanyahu has dismissed an urgent call from former security and intelligence officials to halt the unilateral annexation of the West Bank, saying the occupied Palestinian territory is the "heritage of our forefathers".
Over 200 Israeli former army, security, police and intelligence officials, who are part of non-partisan movement Commanders for Israel's Security (CIS) sent a letter to the premier warning that such an action would "endanger" Israel and damage its "economic, regional and international standing".
In the run-up to last month's general election, Mr Netanyahu, who secured a record fifth term in office, promised his right-wing supporters he would annex Jewish settlements within the West Bank. He also said he would prevent the establishment of a Palestinian state.
CIS, which supports a two-state solution, said that even imposing sovereignty over parts of the West Bank would lead to the entire territory being annexed, meaning nearly 3 million Palestinians would be absorbed into Israel.
They said this would paralyse the Palestinian Authority, leaving a security vacuum for armed terror groups. It would also place a massive financial burden on Israel. Annexation is illegal under international law.
Trump backs Israel's annexation of Golan Heights

Show all 7
"A decision by the Knesset to pass legislation for annexation, however partial, can only be interpreted in the territories, the region and the world as a national decision to slam the door on any future arrangement," the officials claimed.
"It is not possible to assess whether the Palestinian response to the collapse of hope for an agreement will be violent," they added.
Mr Netanyahu hit back, saying the West Bank was "not just a guarantee for Israel's security, it is also the inheritance of our forefathers" – signalling he would push through with his election promise.
He added: "These 'experts' supported the nuclear agreement with Iran and warned: Bibi [Netanyahu] is making a mistake in navigation and is destroying the alliance with the US."
Mr Netanyahu was joined by a chorus of members of his right-wing Likud party.
According to The Times of Israel, public security minister Gilad Erdan also dismissed the CIS letter, saying that applying Israeli sovereignty over the West Bank was a "natural and moral" step.
"We're tired of hearing time and again of former senior defence officials using the ranks on their shoulders to push their political viewpoints," he said in a statement. "Tell the public the truth: you are leftists who oppose our presence in Judea and Samaria," he added, using the biblical term for the West Bank. "And don't hide behind such doomsayings."
Parliamentarian Tzipi Hotovely from Likud said that the majority of Israelis "favour sovereignty".
Mr Netanyahu's comments do not bode well for a peace plan that the United States has vowed to roll out next month, during a two-day economic conference in Bahrain.
On Sunday, Washington and Manama announced the joint "Peace to prosperity" economic workshop, which the White House said will focus on achieving a "prosperous future for the Palestinian people and the region".
While Saudi Arabia and the UAE have said they will participate, the conference has been rebuffed by Palestinian officials and business leaders who said the US was offering them the choice of securing political rights or economic rights.
The Palestinians cut diplomatic ties with the US in 2017 after President Trump announced he would recognise the contested city of Jerusalem as Israel's capital. Mr Trump later sparked further anger when he severed all funds to the United Nation's Palestinian refugee agency and slashed other Palestinian aid.
Mohamed Shtayyeh, the Palestinian prime minister, said at a cabinet meeting this week that Palestine's economic crisis was "a result of a financial war waged against them" and they would not "trade [their] national rights for money" at the conference.
"Any solution to the conflict in Palestine must be political ... and based on ending the occupation," he added.
In a rare agreement between Palestinian rivals, Hamas, the militant group which runs Gaza, also called for an Arab boycott.
"Hamas hopes Bahrain and its noble people will reject their soil being defiled," said a statement by the militant group.
Protests held outside Eurovision Tel Aviv's Expo centre
It comes just a few weeks after Israel and Gaza appeared to be on the brink of another war, during one of the most ferocious exchanges of cross border fire since the 2014 war.
A tense Egyptian-brokered ceasefire deal remains in place.
Register for free to continue reading
Registration is a free and easy way to support our truly independent journalism
By registering, you will also enjoy limited access to Premium articles, exclusive newsletters, commenting, and virtual events with our leading journalists
Already have an account? sign in
Register for free to continue reading
Registration is a free and easy way to support our truly independent journalism
By registering, you will also enjoy limited access to Premium articles, exclusive newsletters, commenting, and virtual events with our leading journalists
Already have an account? sign in
Join our new commenting forum
Join thought-provoking conversations, follow other Independent readers and see their replies