New Dubai tower set to be 'a notch' above world's tallest building Burj Khalifa
The exact height of the new tower is not known, but it will be higher than Burj Khalifa's 2,717ft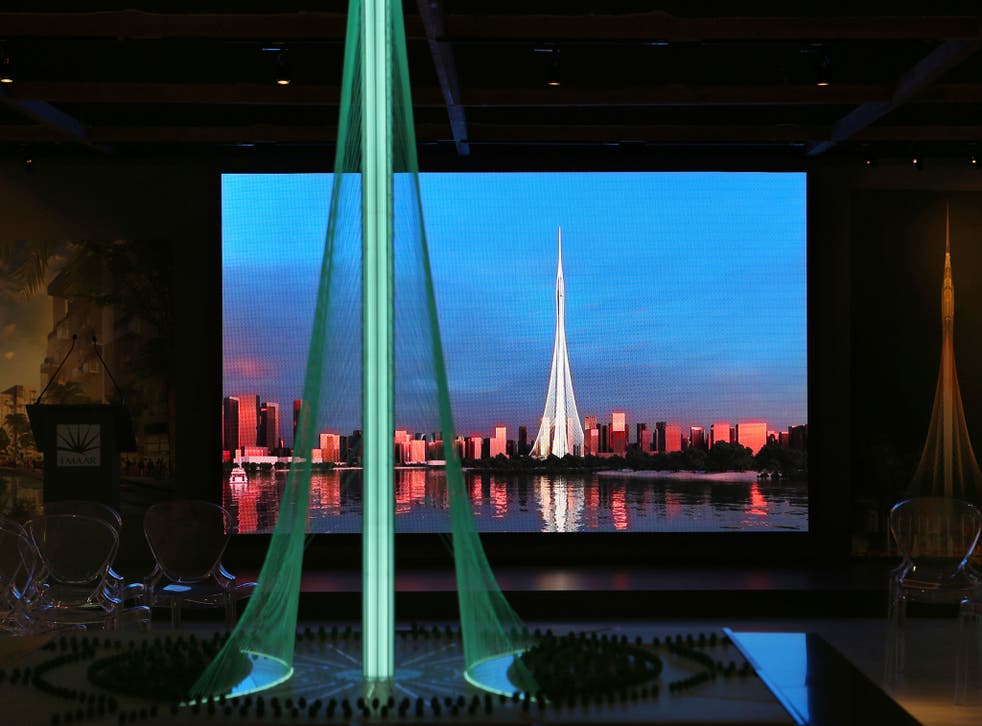 A proposed new tower in Dubai in expected to be the world's tallest building when it is completed.
The new tower, the height of which has yet to be revealed, promises to be "a notch" taller than the current record-holder, the Burj Khalifa, also in Dubai, which stands at 2,717ft.
Emaar Properties, the developer behind the Burj Khalifa, says the new building will be bedecked with rotating balconies and elevated landscaping inspired by the mythical hanging gardens of Babylon.
The $1bn (£700m) tower will not be a traditional skyscraper but will instead be a cable-supported spire containing "garden" observation decks with trees and other greenery. Opening in 2020, it is also expected to house a boutique hotel, restaurants and glass balconies that rotate outside the wall of the tower.
Designed by Spanish-Swiss architect Santiago Calatrava Valls, the tower has been likened to a modern-day Eiffel Tower that can act as a magnet not just for tourists but also for property buyers willing to pay a premium for nearby apartments with a view.
Eagle flies from Burj Khalifa
But while Mohamed Alabbar, chairman of Emaar Properties, has said the tower will be "a notch" taller than Burj Khalifa, it may not be recognised as the tallest building in the world.
At least 50 per cent of a structure's height needs to contain usable floor area in order for it to be considered for the world's tallest building rankings, according to the Council on Tall Buildings and Urban Habitat. This rule typically disqualifies telecommunications and observation towers, which only have a small number of floors.
The question of which building is taller will eventually become redundant when the Jeddah Tower – a skyscraper in Dubai expected to reach 3,280ft – is completed, and then again in 2045, when the Sky Mile Tower – measuring at twice the height of the Burj Khalifa – in Tokyo is due to be finished.
Additional reporting by Associated Press
Register for free to continue reading
Registration is a free and easy way to support our truly independent journalism
By registering, you will also enjoy limited access to Premium articles, exclusive newsletters, commenting, and virtual events with our leading journalists
Already have an account? sign in
Register for free to continue reading
Registration is a free and easy way to support our truly independent journalism
By registering, you will also enjoy limited access to Premium articles, exclusive newsletters, commenting, and virtual events with our leading journalists
Already have an account? sign in
Join our new commenting forum
Join thought-provoking conversations, follow other Independent readers and see their replies