New Zealand Isis jihadist accidentally tweets location from Syria
Mark John Taylor's Twitter account has since been suspended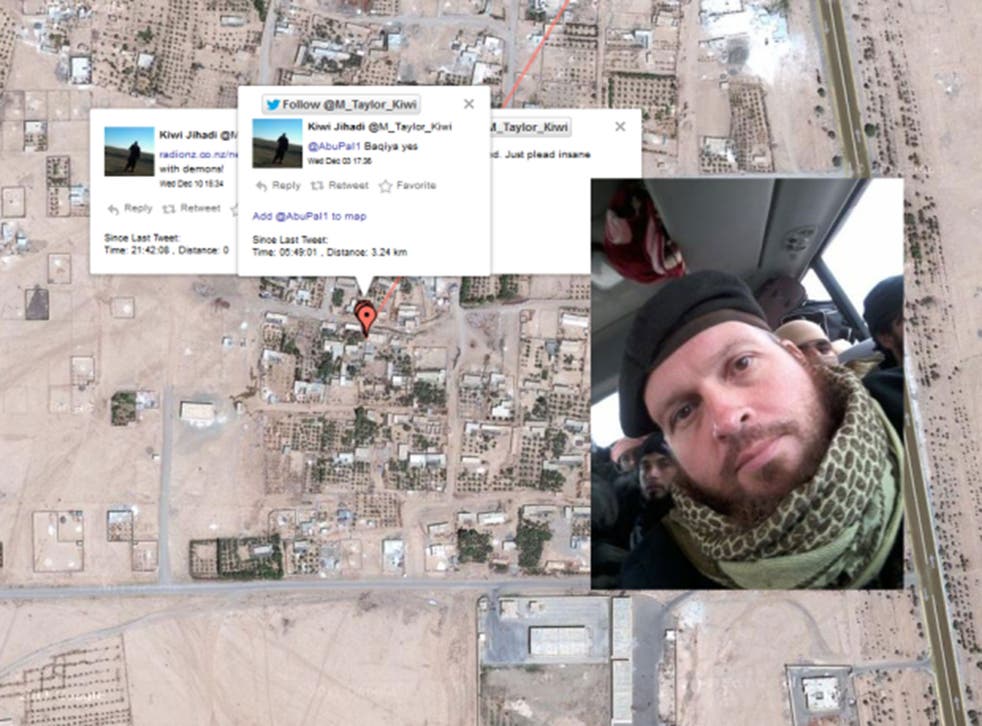 A suspected Isis militant from New Zealand has suspended his Twitter account after mistakenly tweeting his location from Syria.
Mark John Taylor, who reportedly now goes by the name of Mohammad Daniel or Abu Abdul Rahman, failed to turn off the location service on his Twitter account, thereby identifying his whereabouts every time he tweeted.
Realising his mistake, Taylor, who is known as @M_Taylor_Kiwi on the social media site, deleted 45 tweets - but not before screen shots had been captured by iBrabo, an open source intelligence research group located in Ontario, Canada.
On their blog, iBrabo wrote that they had been able to track Taylor's activities via his Twitter account, as he moved from Kafar Roma to the desert and then to Isis stronghold Al Tabqah at the end of last year.
The research group was also able to pinpoint a specific house Al Tabqah where Taylor stayed between 3 and 10 December 2014.
"Taylor eager for the fame of being a violent jihadist took to twitter to get attention for his exploits. His statements and twitter missteps have solidified his involvement with ISIS and will provide the evidence should he ever try to return to New Zealand," iBrabo said.
"His ignorance and the ignorance of others has been an advantage to intelligence agencies around the world looking to protect their nations and track the progress of ISIS."
It added: "Taylor's numerous failures demonstrate the opportunities that can be gained through monitoring and tracking extremists via social media and telecommunications."
Timeline: The emergence of Isis

Show all 40
According to the New Zealand Herald, Taylor was arrested by Pakistan officials in 2009 after attempting to enter an Al Qa'ida and Taliban stronghold near the Afghanistan border. He was released without charge and subsequently subjected to travel restrictions by the New Zealand Government.
He left New Zealand again in May 2012 and worked in Indonesia as an English teacher for two years, before travelling to Syria via Turkey in June.
On Facebook he reportedly posted a photograph of him holding up his burned passport, but subsequently told the Aotearoa Independent Media Centre that he planned to return home.
Join our new commenting forum
Join thought-provoking conversations, follow other Independent readers and see their replies