OMG! Saudi Prince Alwaleed buys $300m stake in Twitter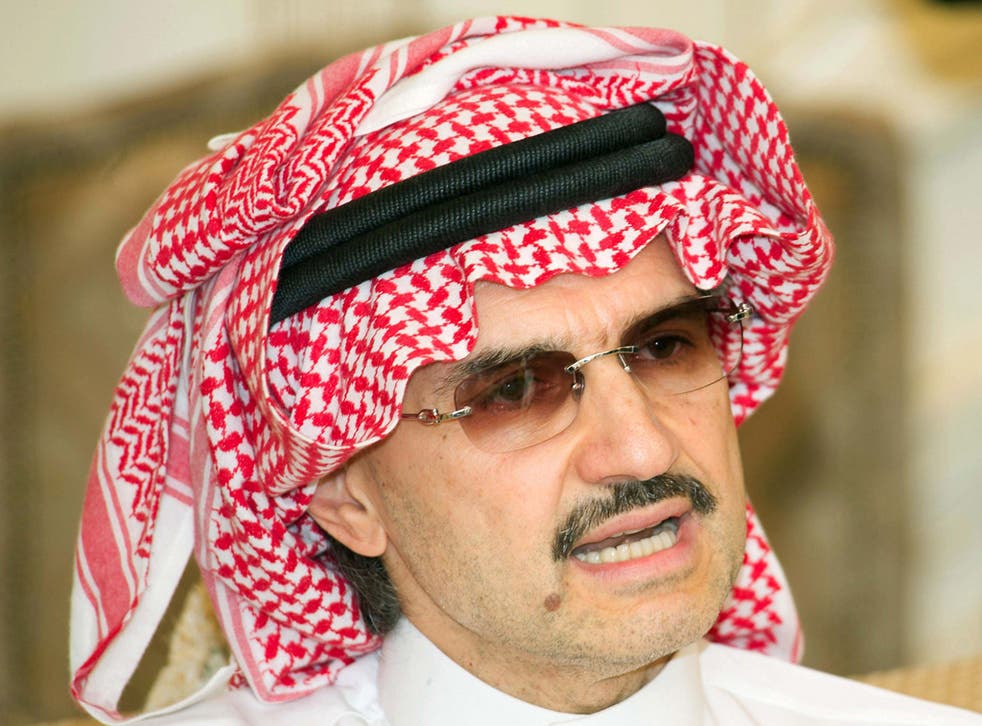 The Saudi billionaire, Prince Alwaleed bin Talal, has bought a $300m (£193m) stake in Twitter, the social-media site that was instrumental in spreading the pro-democracy message of the Arab Spring.
The deal is likely to raise eyebrows given Saudi Arabia's own frantic efforts to insulate itself from the Arab uprisings that have toppled autocratic leaders in Egypt, Tunisia and Libya in the past year.
Prince Alwaleed, one of the world's richest men, bought the stake jointly with his Kingdom Holding Co investment firm.
The Prince said in a statement that it was part of a strategy "to invest in promising, high-growth businesses with a global impact".
The deal will give him just under 4 per cent in Twitter – based on an $8bn valuation of the loss-making company earlier this year – and was hailed by analysts as a shrewd investment in a company that many believe will be transformative in social media.
But on Twitter, the reaction was mixed, with many people concerned about the billionaire's motives for investing, suggesting he might use his influence to curb its reach if mass protests roil the oil-rich kingdom.
Others saw it as ironic. Roger Cohen, a columnist with The New York Times, tweeted: "Saudi prince buys into Twitter, engine of Arab anti-autocratic upheaval. Umm, is he missing something?"
Twitter, a platform for members to post 140-character messages, has been widely credited as the driving force behind the Arab Spring, helping campaigners disseminate information and organise protests. In Syria, where international media has been largely barred from reporting, pro-democracy activists have used it to broadcast details of their struggle against the regime to the outside world.
"Twitter is a technology that has for the first time introduced a level of accountability. It has given people the ability to publicly question... those they feel are not treating them fairly," said Bernhard Warner, co-founder of Social Media Influence, which tracks social-media trends. "I'm sure there are members of the Saudi royal family who are shaking their head, [thinking]: 'We're capitalising this thing that could create further unrest in our country.'"
Saudi Arabia only witnessed small-scale protests this year, driven by calls for economic and political reform, but these soon fizzled out after a massive security presence and a $130bn (£83bn) social spending package.
Royal and reformer
The slick California-educated Prince, worth $19.6bn (£12.6bn), has been dubbed the Arabian Warren Buffett. His Kingdom Holding Company has stakes in companies from Apple to Rupert Murdoch's News Corp and owns numerous hotel chains. His media interests include Rotana Group, which broadcasts Fox channels in Saudi Arabia. He has announced the launch of a new pan-Arab 24-hour news channel that should be on air by the end of 2012. The head of the channel has said the Prince – one of the most reformist voices in the Saudi royal family – intends to use it to push his liberal agenda. loveday morris
Register for free to continue reading
Registration is a free and easy way to support our truly independent journalism
By registering, you will also enjoy limited access to Premium articles, exclusive newsletters, commenting, and virtual events with our leading journalists
Already have an account? sign in
Register for free to continue reading
Registration is a free and easy way to support our truly independent journalism
By registering, you will also enjoy limited access to Premium articles, exclusive newsletters, commenting, and virtual events with our leading journalists
Already have an account? sign in
Join our new commenting forum
Join thought-provoking conversations, follow other Independent readers and see their replies