'One of the first' female UAE fighter pilots leads attacks against Isis in Syria
Mariam Al Mansouri led the campaign on Monday night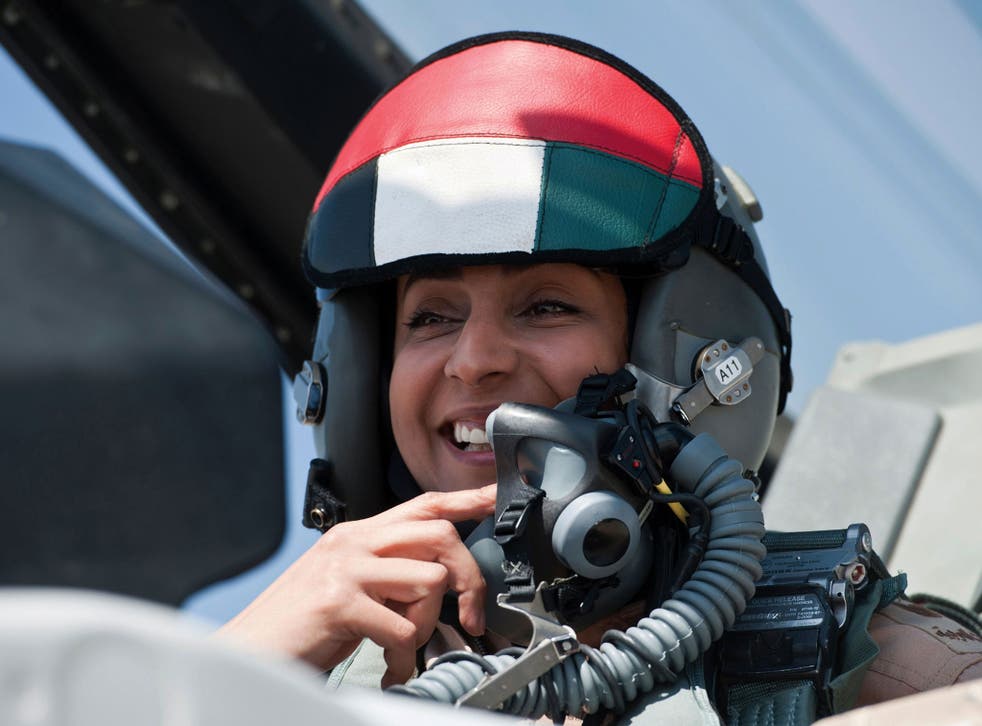 One of the first female fighter pilots in the UAE led its air strikes against Isis targets in Syria earlier this week.
Major Mariam Al Mansouri, reported to be the first female Emirati airforce pilot, "led the squadron" of UAE fighter jets on Tuesday in the US and Arab attacks on Isis.
Born in Abu Dhabi, Ms Mansouri graduated from the Khalifa bin Zayed Air College in 2008 and is now a veteran operations pilot, working with F-16 Block 60 aircraft, The National reports.
She worked for the General Command for several years before becoming one of the first women to join the air force when it allowed female members.
The 35-year-old has spoken previously about her experience as a female pilot, telling Deraa Al Watan magazine she "focused on competing with herself to improve her skills" during her training.
"Everybody is required to have the same high level of combat competence," she said.
The Saudi government has also released photos from strikes showing Saudi Prince Khaled bin Salman in the cockpit of an F15 fighter jet after taking part in a bombing run in Syria.
America continued its attacks overnight in Syria as warplanes targeted a dozen oil refineries, killing at least 14 Isis fighters.
The US military confirmed a total of 13 strikes had targeted 12 so-called small "modular oil refineries", which are used by Isis to fund its operations, finance its attacks and fuel its vehicles.
Register for free to continue reading
Registration is a free and easy way to support our truly independent journalism
By registering, you will also enjoy limited access to Premium articles, exclusive newsletters, commenting, and virtual events with our leading journalists
Already have an account? sign in
Register for free to continue reading
Registration is a free and easy way to support our truly independent journalism
By registering, you will also enjoy limited access to Premium articles, exclusive newsletters, commenting, and virtual events with our leading journalists
Already have an account? sign in
Join our new commenting forum
Join thought-provoking conversations, follow other Independent readers and see their replies