Open border is Israel's chance to lose responsibility for Gaza, says minister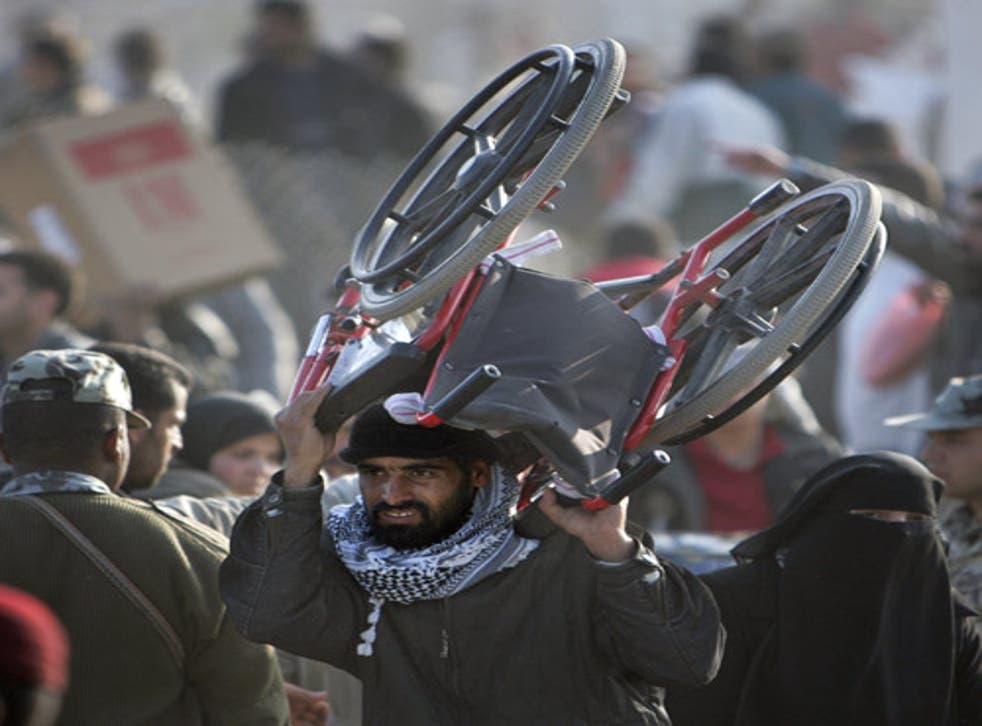 Israel sees the prospect of continuing free passage between Egypt and Gaza as an opportunity to rid itself of the responsibility for the Strip, the Israeli deputy defence minister suggested yesterday.
Matan Vilnai hinted that Israel would like to hand over – presumably to Egypt – the task of supplying Gaza with water, medicine and electricity, saying: "We need to understand that, when Gaza is open to the other side, we lose responsibility for it. So we want to disconnect from it."
His disclosure came as the Israeli government warned its citizens against travelling to the popular tourist destination of Sinai because of fears they might be kidnapped by Palestinian militants infiltrating the region through the breach in the Rafah border crossing. Tens of thousands of Gazans streamed across the border into Egypt for a second day yesterday after militants destroyed long stretches of the border fence.
A spokesman for the Israeli Prime Minister, Ehud Olmert, said: "Terrorists in Sinai are working to abduct Israelis in Sinai and convey them to the Gaza Strip. Therefore, the National Security Council recommends that Israelis avoid visiting Sinai, and that any Israelis currently there leave forthwith."
Mr Vilnai's remarks deviated somewhat from the official Israeli line that Egypt should use its security forces along the border to fulfil Cairo's obligation to operate the crossing under the terms agreed with Israel. From Hamas's enforced takeover of Gaza last June until this week, Egypt had given tangible, albeit tacit, practical support to Israel's desire to keep the border shut.
However, since the mass crossing by Palestinians began on Tuesday, Israeli officials have privately expressed the view that the breach could provide an "opportunity" for Israel to abandon its responsibilities for the 1.5 million residents of the Gaza Strip.
One official said the breach in the border had reinforced the threat of Hamas or Islamic Jihad militants bringing explosives, rockets and other weapons into Gaza. But he admitted that was already happening through a network of about 350 tunnels between Sinai and Gaza, and questioned whether it "makes much difference whether this is done overground or underground".
If Israel divested itself of its responsibilities in Gaza, the official added, it would "ease the pressure" from public opinion and international aid agencies and, on a deeper level, provide a "golden opportunity" for Israel to do what its former Prime Minister, Ariel Sharon, wanted when he ordered settlers and troops to withdraw from the Strip in 2005, saying the Israelis should "forget about Gaza". Israel has kept a relatively low profile since the wall was breached, with officials suggesting it is more of a problem for Egypt than Israel –not least because of Hamas's role as a "model" for dissident groups within Egypt such as the Muslim Brotherhood. Mr Olmert's government is adopting a "wait and see" policy over how Egypt will react. One Israeli official predicted, however, that Egypt was likely to seal the border soon.
Anticipating, negatively, the stance taken by Mr Vilnai, the Palestinian President Mahmoud Abbas said Israel might seize the chance to sever Gaza from the West Bank, which he insists are inseparable elements of a future Palestinian state. This could have grave consequences for the US-backed peace process initiated at last year's Annapolis summit, he warned.
Meanwhile, the de facto Hamas administration in Gaza called for talks between Hamas, the Palestinian Authority and Egypt to secure the Rafah border in the wake of Hamas's "victory" over the crossing. Officials did not rule out accepting a role for Mr Abbas's presidential guard in securing the border, and said such a deal could be a first step to a wider rapprochement between Hamas and Mr Abbas's Fatah movement. But despite the optimism expressed by Hamas, it was far from clear whether Mr Abbas, who was said to be dismayed that Hamas activists were able to cross in and out of Egypt, would accept three-way talks.
Nicholas Burns, the US Under Secretary of State for Political Affairs, said Washington was in touch with Cairo about the border and, without providing details, added that Israel was willing to work with the Egyptians to restore order. This, he said, was as necessary as the swift restoration of services to Gaza.
Managers of Gaza's only power station, which was shut down on Sunday night because of Israel's embargo on fuel supplies, said yesterday it had received seven large truckloads of fuel in the third of three daily deliveries since Tuesday.
At the breached border fence, thousands of Palestinians continued to slip in and out of the Egyptian border town of Rafah. Some drove lorries loaded with cement, which has been all but unobtainable in Gaza for the past few months.
Returning from a 4km trip on foot to buy food, Mirvat Zorab, 30, who lives near the barrier, said: "[The breach] was done by Hamas. We knew people had been cutting the fence for about two weeks but we didn't know they were going to use bombs as well."
Mrs Zorab, carrying her shopping in a cardboard box on her head, said she bought fish-bourri-milk and cheese. Fish, she explained, was selling on the Egyptian side of the border for about 45 Israeli shekels (£6.10) for 5kg, compared with 50 shekels (£6.80) for 1kg in Gaza.
Egyptian guards carrying truncheons and riot shields offered a more visible presence at the crossing yesterday but did not interfere with Palestinians walking in or out. However, some Western journalists who crossed to the Egyptian side – including The Independent's – were ordered back by a plain-clothed intelligence official.
Ahmed Youssef, a senior aide to Ismail Haniyeh, said the breach was a "total victory for Hamas and a moral victory for the people."
It was "no big deal" who actually broke down the border, he said, adding: "There are many Palestinian factions who have that goal."
Join our new commenting forum
Join thought-provoking conversations, follow other Independent readers and see their replies