Palestinian militant groups in Gaza announce ceasefire with Israel after worst fighting escalation in years
No immediate government response from Israel where hundreds of protesters gathered to protest against the truce deal which was lauded as a  "victory" in Gaza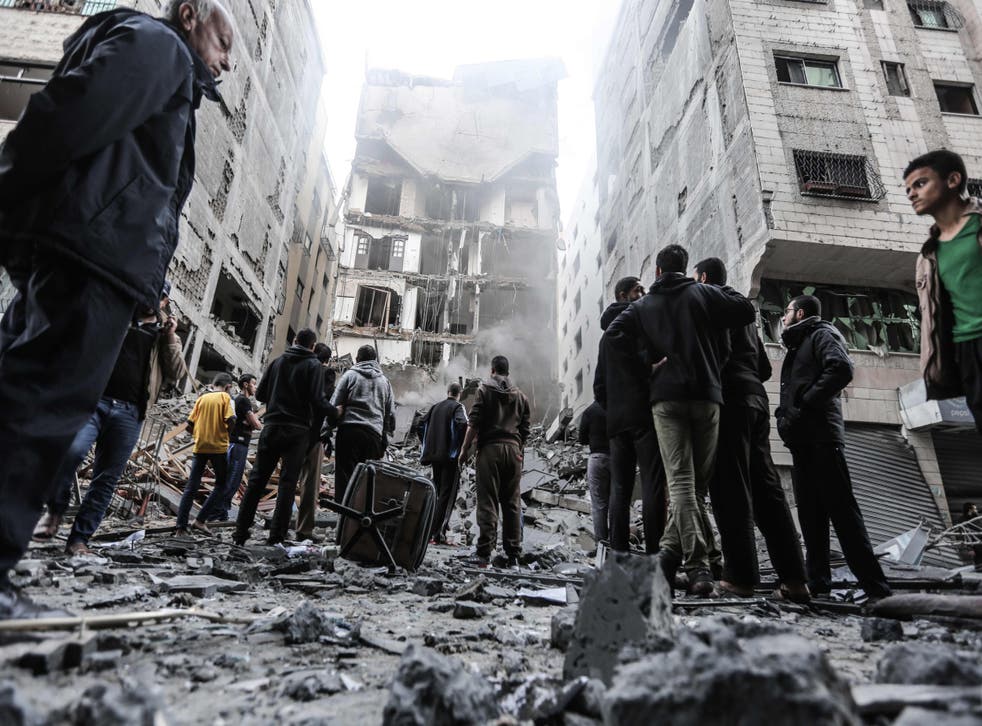 Palestinian militants in Gaza have announced an Egypt-brokered ceasefire with Israel, potentially pulling the two sides back from the brink of war, after the heaviest round of fighting since the last conflict in 2014.
The armed wing of Hamas, which runs Gaza, announced the truce in a joint statement with other military factions, declaring it to be a victory.
"Egypt's efforts have been able to achieve a ceasefire between the resistance and [Israel]," the statement read.
"The resistance will respect this declaration as long as [Israel] respects it."
There was no immediate response from Israeli Prime Minister Benjamin Netanyahu, the military or the government, which had indicated earlier that it would continue strikes on Gaza.
Israel's hardline defence minister, Avigdor Lieberman, issued a statement saying he did not support stopping the air raids.

However, senior Israeli diplomatic officials, speaking on condition of anonymity, hinted that an agreement may have been accepted, somewhat begrudgingly.
"Israel maintains its right to act," one official told local newspaper The Times of Israel. "Requests from Hamas for a ceasefire came through four different mediators. Israel responded that the events on the ground will decide [if a ceasefire will go into effect]."
Another Israeli official told left-leaning daily Haaretz that "only developments on the ground will determine Israeli reaction".
The announcement came just moments after a six-hour Israeli Security Cabinet meeting ended.
The cabinet had ordered the Israeli military to continue strikes in Gaza "as is necessary", but stopped short of ordering a renewed offensive.

Gaza's health ministry said on Tuesday that seven Palestinians in Gaza had been killed and 25 wounded in Israeli airstrikes since the fighting erupted on Monday evening.
Meanwhile, a barrage of rockets on Israel killed one person, a 48-year-old West Bank Palestinian man, and injured 27 Israelis, including three severely. Earlier, militants had fired an anti-tank missile at a bus near the border, severely injuring a 19-year-old soldier.
The news of a truce was met by boisterous celebrations in Gaza as thousands took to the street waving the Green Hamas flags and declaring it a victory for the resistance.
Across the border in Sderot, which has been pummelled by rockets, dozens of Israeli protesters burnt tyres, blocked traffic and chanted "disgrace", saying the government had caved into the militant violence.
The last 24 hours had seen the most intense flare-up of fighting since the last war, sparking fears the region was tumbling back into a protracted conflict.
It had apparently been triggered by a botched Israeli intelligence raid in southern Gaza on Sunday that resulted in a firefight between Israeli forces and Gaza militants that left seven Palestinians and one Israeli Lieutenant Colonel dead.
Shortly after funerals were held on Monday afternoon, Gaza militants began firing an intense barrage of rockets into Israel.
The Israeli army said on Tuesday evening that more than 460 rockets and mortar shells had been fired at southern Israel over the course of the past 25 hours – the "most intense" bombardment since the last conflict in 2014. Israel's powerful Iron Dome missile defence system intercepted more than 100 of them, but dozens managed to hit Israeli towns as militants forged new tactics, pounding specific areas with intense fire overwhelming the interceptors.
The Israeli army said it had targeted approximately 160 sites in Gaza in retaliation, destroying four key sites including Hamas's Al-Aqsa TV station and several military headquarters.
Despite the destruction, Hamas's supporters celebrated in front of the bombed out al-Aqsa building on Tuesday night, singing songs and praising Gaza's leadership.
Families at home, meanwhile, breathed a sigh of relief knowing they avoided what could have been the fourth war in just 10 years.

Nedal, 29, who is not a Hamas supporter, said: "Palestinians have nothing to lose, we could all die anyway. So for a lot of the youth here firing hundreds of rockets at Israel testing the capabilities of the Iron Dome and ending with a ceasefire on our terms is a victory."
In southern Israel near the border with Gaza, pressure mounted on Netanyahu as angry crowds gathered saying they felt betrayed by the government and chanting "Bibi go home", using a nickname for the prime minister. 

Maxine Dorot, 65, a former college lecturer in Ashkelon, told The Independent that residents had gone through the worst night of rocket fire in years and felt that backing down now, without any significant gains, would mean another round of violence was sure to come. 

"Here the tail is wagging the dog, everyone I know is disappointed in [Netanyahu] and his cabinet. We are now perceived as weak.  I don't know any country that would allow this to go on for so far," she said. 
Michael Herzog, a retired brigadier general in the Israeli army, said that many feared Israel's deterrence had been eroded if a ceasefire that meant nothing was reached. He warned that without concrete terms, it was only a matter of time before there was another round of violence.
"There is no desire to be dragged into a war every three years. People in the south are fed up. Hamas can now fire or provoke us at will whenever they feel the necessity to do so," he told The Independent.
"The ceasefire has to be complete no rockets, no balloons [tied with explosives], no attempts to breach the border fence, no tunnels. Hamas should know they stand to lose the benefits of a ceasefire if they do this."
Israel and Palestinian militants in Gaza have fought three wars since 2008, and protests and clashes along the Gaza border since 30 March have repeatedly raised fears of a fourth.
At least 234 Palestinians in Gaza have since been killed by Israeli fire, the majority during protests and clashes. Two Israeli soldiers have been killed over the same period.
Register for free to continue reading
Registration is a free and easy way to support our truly independent journalism
By registering, you will also enjoy limited access to Premium articles, exclusive newsletters, commenting, and virtual events with our leading journalists
Already have an account? sign in
Register for free to continue reading
Registration is a free and easy way to support our truly independent journalism
By registering, you will also enjoy limited access to Premium articles, exclusive newsletters, commenting, and virtual events with our leading journalists
Already have an account? sign in
Join our new commenting forum
Join thought-provoking conversations, follow other Independent readers and see their replies