Palestinian man sets himself on fire in protest over dire Gaza living conditions
Fathi Harb reportedly shouted 'damn Hamas' before dousing himself in petrol and setting it alight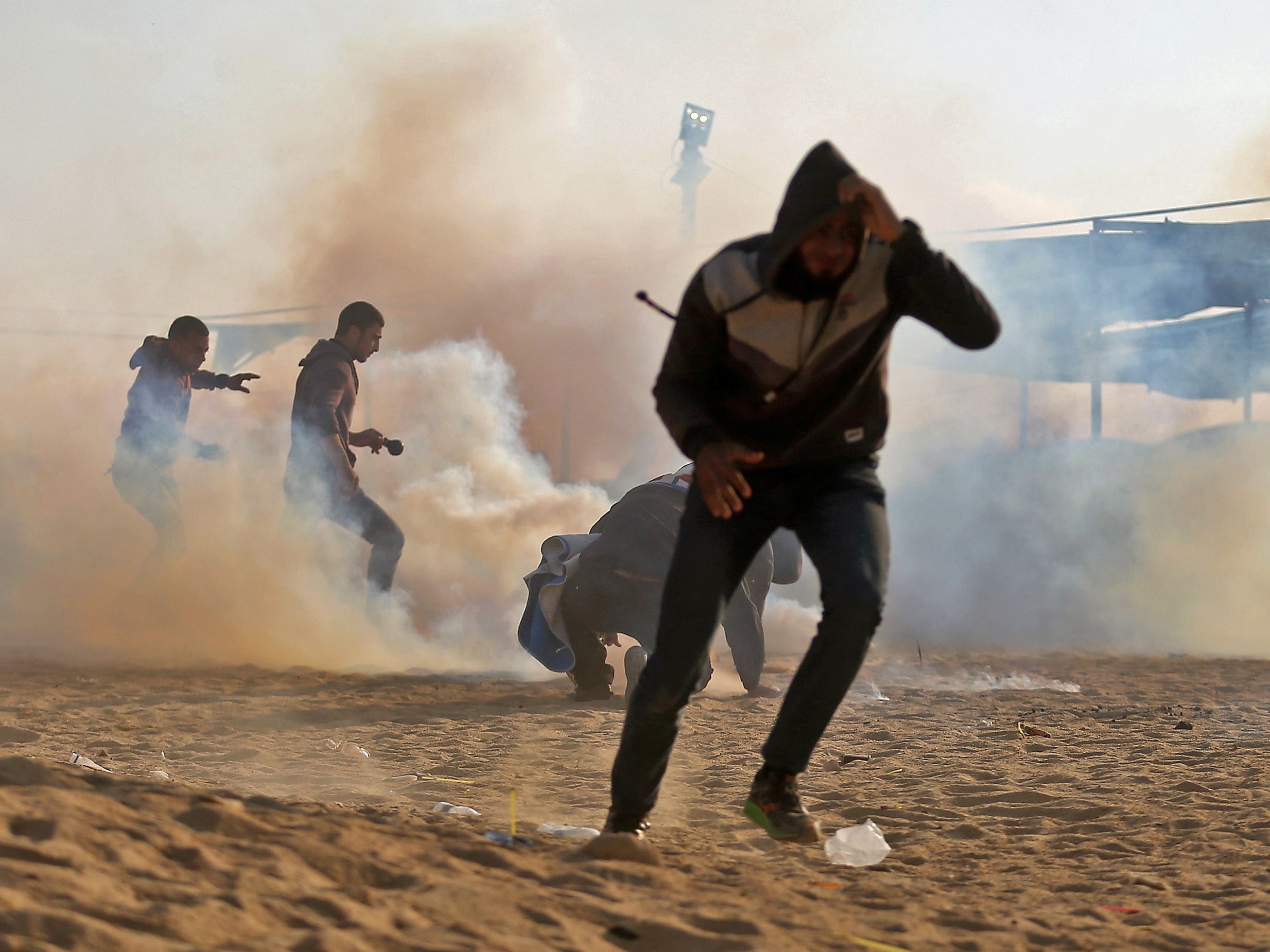 A 20-year-old Palestinian is in a critical condition after setting himself on fire in what is believed to have been a protest over the horrific living conditions in the blockaded Gaza Strip.
Fathi Harb reportedly shouted "damn Hamas" before dousing himself in petrol and setting it alight in Sheikh Radwan on Saturday night.
A graphic video of the incident shows Mr Harb lying on the ground screaming as onlookers attempt to put out the flames with rugs and buckets of water.
His family told media the young man suffered from "personal problems" and was despairing over the poverty inflicted by Hamas, the militant group that seized control of the territory in 2007.
His mother told the Associated Press her son was unable to find permanent employment and took whatever jobs he could find to support his wife and unborn first child. She said she had no idea of her son's intentions beforehand.
"What can a man do when his wife is giving birth and he has no money for a doctor, diapers and milk?" she said.
Israeli drones fire tear gas as clashes erupt at Gaza-Israel border protests
Suicide rates in Gaza have risen sharply in the past year, a phenomenon blamed on the increasing humanitarian crisis facing the strip a decade into a joint Israeli-Egyptian blockade on the area.
A 2017 report from the UN found that combined electricity and water crises, continued shortages of building materials and medical supplies, lack of freedom of movement and a collapsed economy where unemployment is running at 45 per cent has made the Gaza Strip "unliveable".
Both Israel and the West Bank's Palestinian Authority have been accused of escalating the humanitarian crisis in order to weaken Hamas's grip on the territory, squeezing the group financially.
Gazans protest as US embassy moves to Jerusalem – in pictures
Show all 37
Israel says the blockade – criticised as collective punishment for Gaza's two million residents – is necessary for security purposes.
The strip saw the worst violence since the last Hamas-Israel war in 2014 last week when Israeli forces shot and killed 60 people protesting at the border over both living conditions and the US embassy's move from Tel Aviv to Jerusalem.
Israel Defence Forces (IDF) troops were instructed to respond to attempts to break the blockade with live fire, a strategy widely condemned by rights groups and the international community.
Also over the weekend, 19 people were arrested for allegedly assaulting an officer during a protest against the violence in Gaza in the northern Israeli city of Haifa.
Prominent Arab Israeli rights activist Jafar Farah alleges police broke his knee during his detention.
A police investigation has been opened into the incident and a judge ordered the protesters' release on Monday.
Join our commenting forum
Join thought-provoking conversations, follow other Independent readers and see their replies