Palestinian orchestra takes centre stage at The Proms with Kennedy's support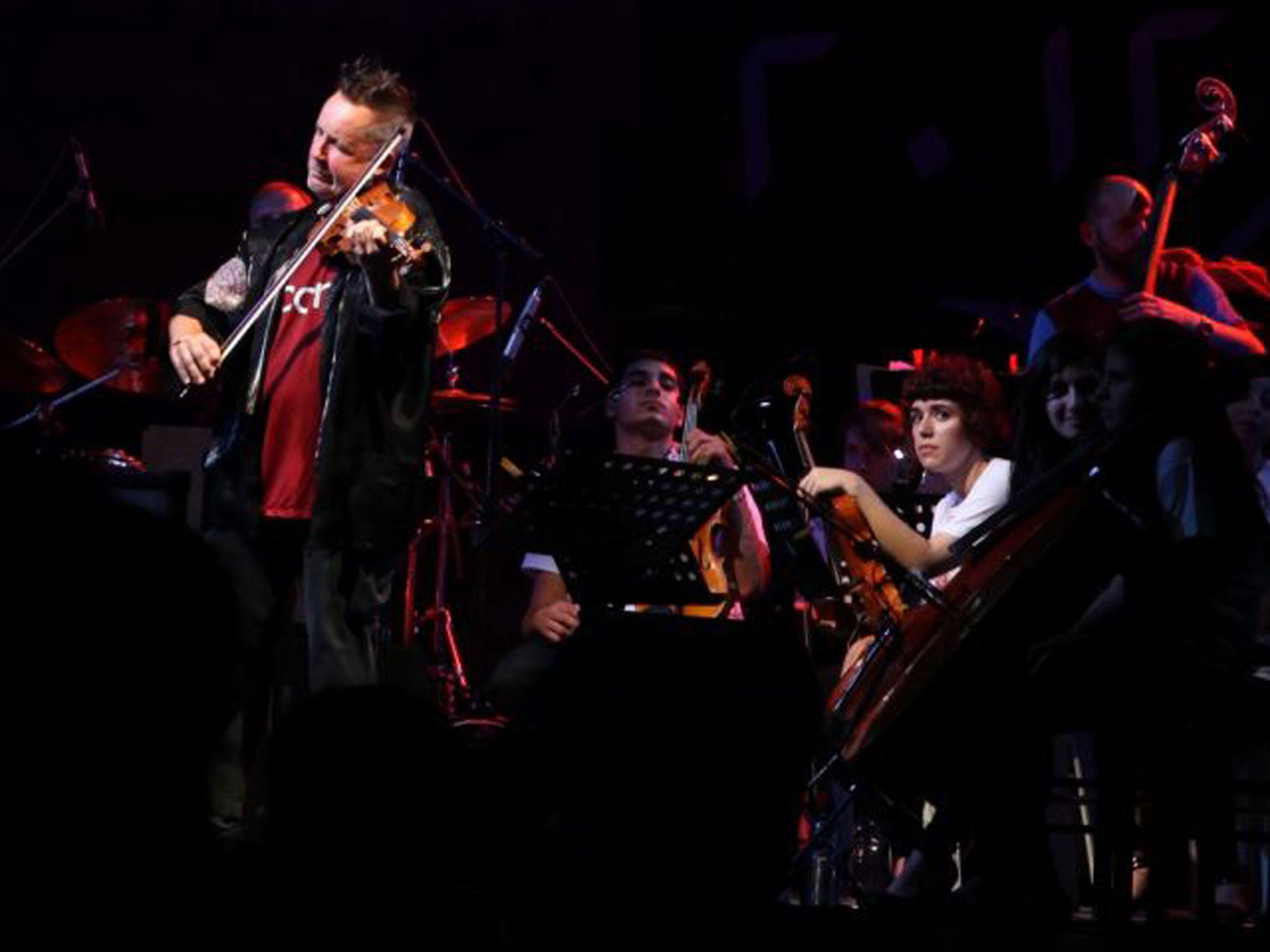 There is little that is more quintessentially British than the proms, but on Thursday the Royal Albert Hall will hear a youth orchestra from the Occupied Territories, which has been asked to perform alongside Nigel Kennedy. The Palestine Strings travelled to London today.
With members ranging from 12 to 23 years old and coming from all over the West Bank, the Strings will perform Vivaldi's Four Seasons.
Twenty year-old Layth Hambali is a violinist with the Strings. He has lived in London for the last nine years, but his family hails from Nablus. He comes back to the Occupied Territories to perform with the Strings, and with the larger Palestine Youth Orchestra.
"We are initially a play and dance group. Nigel Kennedy played a concert in [East] Jerusalem last year with the Strings, and that's when it became classical ensemble. He really liked performing with the Palestine Strings and really wanted to take the ensemble to the UK – he was invited to play at the Proms and he suggested that the Palestine Strings perform the Four Seasons with him instead."
As with most aspects of Palestinian society, politics is never far from the surface. While the Strings will be dressed in formal, black clothes, they hope to add a symbol of Palestinian resistance. "We are musicians, first and foremost when we perform at the Royal Albert Hall," said Layth. "But we're performing as the Palestine Strings, so there is an aspect of national identity. We all feel it's something that Palestine should be proud of – there is that element of representing Palestine culturally.
"We'll be in all black – very formal, and probably the kaffiyeh – it would be right for us. We wear it when we perform normally."
The Strings got a taste of performing in front of a British audience last week when they played for a small segment of the Four Seasons at the UK's consulate in East Jerusalem. On Thursday, it will be a more intimidating atmosphere. "We're told that there will be 3,500 people in the audience. We're try not to think about the several million on television as well, 3,500 is quite enough, It's an amazing opportunity, I think we're all feeling the nerves but it's mostly excitement – it's such an honour to have been invited."
Nigel Kennedy is no stranger to the conflict between the Palestinians and the Israelis. He has refused to play in Israel and in 2007 told the Israeli newspaper, Haaretz, "I was really shocked when I saw the wall [that divides the Israel and the West Bank] here. It's a new type of apartheid, barbaric behaviour. How can you impose collective punishment and divide people from one another? We are all residents of the same planet. I would think that the world learned something from South Africa. And the world should boycott a nation that didn't learn. That's why I won't perform in your country."
Join our commenting forum
Join thought-provoking conversations, follow other Independent readers and see their replies