Palestinians call for Pizza Hut boycott over Israeli advert 'mocking hunger strikers'
Pizza Hut apologises for 'completely inappropriate' post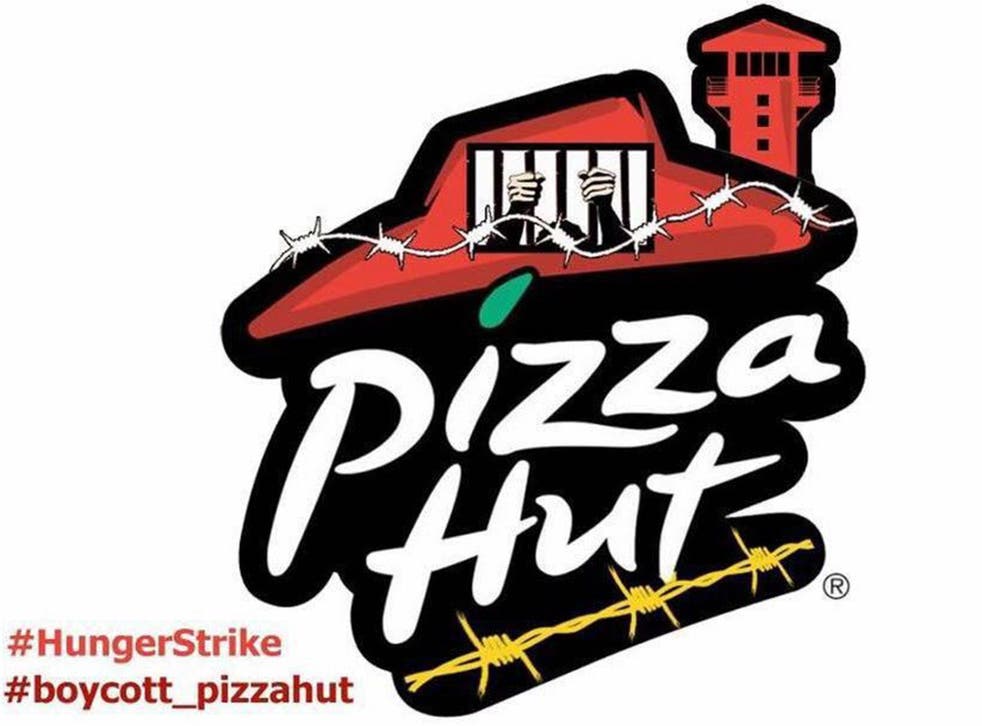 Palestinians and activists are calling for a boycott of Pizza Hutt after it ran an advert mocking the leader of a mass hunger strike taking place in Israeli prisons.
The restaurant's Israeli branch posted a picture released by Israeli police allegedly showing prisoner Marwan Barhgouti breaking his fast by eating a chocolate bar.
In Hebrew superimposed on the image, Israel's Pizza Hut wrote: "Barghouti, if you're going to break a strike, why not pizza?"
The chain also Photoshopped a pizza box onto the floor of the prison cell along with a slice of pizza in the sink.
More than 1,500 Palestinian prisoners went on hunger strike to call for an end to the Israeli practice of detention without trial, and to demand better conditions.
Palestinians and pro-Palestinian activists called for a global boycott of the chain on social media.
Some shared a modified version of the Pizza Hut logo featuring barbed wire and a prison.
The post has since been removed from Pizza Hut Israel's Facebook page.
Apologising on its international Facebook page, Pizza Hut said: "Pizza Hut International apologises for any offence caused by a recent post on Pizza Hut Israel's Facebook page.
"It was completely inappropriate and does not reflect the values of our brand. The local franchise in the country removed it immediately and the relationship with the agency that posted it was terminated, and we truly regret any hurt this may have caused."
A post on Pizza Hut Israel's page said: "It was intended to be a humorous post marketing Pizza Hut Israel's delivery services and was removed after a request from the management of the international chain."
The protest is led by Mr Barghouti, a leader from the Fatah movement of the Palestine Liberation Organisation, who is serving five life terms after being convicted of killing Israelis in the 2000-2005 uprising known as the Second Intifada.
He has reportedly gone without food since 17 April but Israeli prison authorities claim he broke the strike twice by eating cookies and a chocolate bar.
The Israeli–Palestinian conflict intensifies

Show all 10
An anonymous prison official told local media the video was obtained as part of a scheme to induce the leaders of the hunger strike to eat by hiding food in their cells.
Most of them resisted the temptation, the official added.
A representative of the Palestinian prisoners called the claims "false rumours" and an attempt by Israel at "psychological warfare".
The hunger strikers have already faced taunts from a far-right Israeli group holding a barbecue near the prison.
The group said the prisoners would "enjoy breathing in the smoke and suffer from the smell of the meat."
Leaders in the West Bank have warned of a "new intifada" if any of the striking inmates die.