Palestinian prisoner Khader Adnan ends hunger strike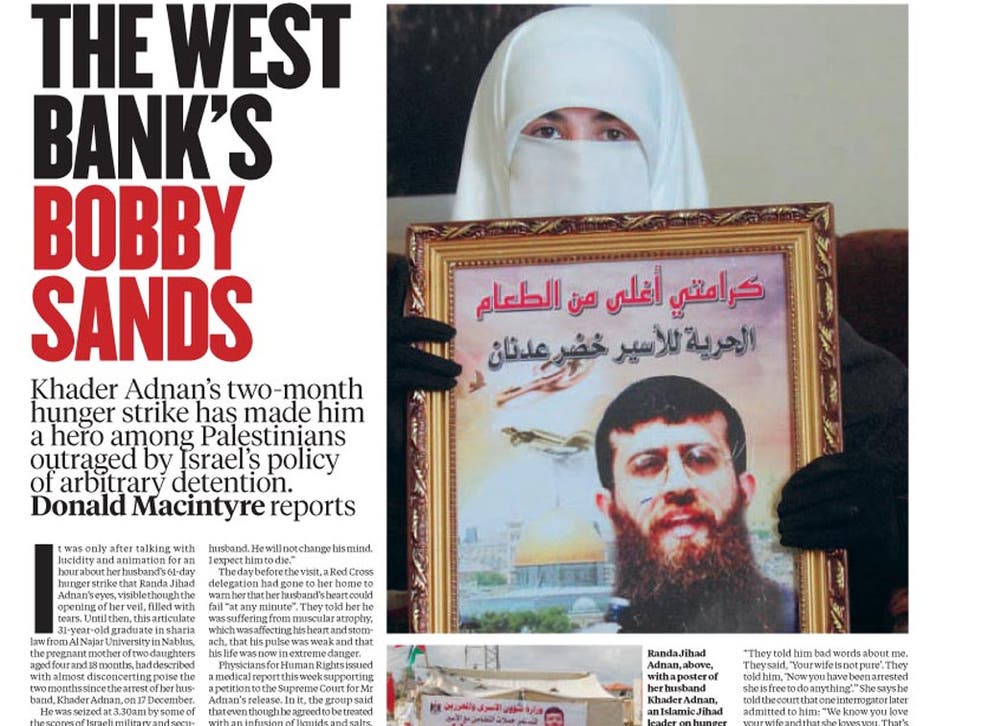 The Palestinian prisoner Khader Adnan ended his 66 day hunger strike yesterday after Israel agreed to release him in mid-April provided that no "significant" new evidence is found against him.
Under a deal struck by the Israeli authorities and signed by one of his lawyers, Mr Adnan, a member of Islamic Jihad, stands to be freed three weeks earlier than planned after conducting the longest ever hunger strike by a Palestinian prisoner.
The deal was struck shortly before Mr Adnan's case was due for an emergency hearing by the Israeli Supreme Court, which had been brought forward from Thursday because of deepening concerns about the critical condition of the detainee being held under guard in an Israeli hospital.
Mr Adnan's case had triggered protest demonstrations in the West Bank and Gaza, and token hunger strikes by Palestinian prisoners in Israeli gaols. It had also prompted mounting international concern.
Under the deal, Israeli authorities promised not to issue a new order to extend his four month administrative detention unless additional "new significant and substantive material" is found against him. And they have agreed to include the 21 days he initially spent under investigation within the four month detention period. This means the detention period will end on April 17 instead of May 8.
Mr Adnan's fast has focused fresh attention on the practice of administrative detention under which Palestinians are held without charge or trial and on the basis of secret evidence which can be shown to a military court but not to the defendant or his lawyers. The Israeli human rights group B'Tselem said yesterday that 309 Palestinians were currently held under the procedure, which it said violates the rights to liberty and due process. Furthermore, in December 2011, over 60 percent of those held had had their orders extended at least once, according to the rights group.
Israel's Justice Ministry yesterday said the Khader Adnan agreement came after the case was referred to the Attorney General, Yehuda Weinstein. Mr Weinstein's involvement is suggestive of serious concerns in Israel's government over the possible consequences of Mr Adnan's hunger strike continuing, including widespread unrest and international censure if he had died in detention.
Mr Adnan's sister Maali, speaking from the family home in the northern West Bank village of Arrabeh, said : "We are so happy that the hunger strike reached a good result." She added that it was a "victory" that the 21 day investigation period had now been included as part of the detention.
The Palestinian prisoners' rights organization Adameer yesterday repeated its calls for Mr Adnan's immediate release and warned it was still possible that the detention could be renewed on the basis of new secret material.
But Danny Danon, a senior MP in Israel's ruling Likud party, yesterday said the authorities had set a dangerous precedent, and "capitulated to terrorism". He added: "this deal renders the Israeli values system meaningless."
Mark Regev, spokesman for Israeli Prime Minister Benjamin Netanyahu said earlier this week that Mr Adnan was a "self professed leader" of Islamic Jihad which had been responsible for killing Israeli civilians and was recognized as a terrorist group not only by Israel but by many Western countries.
But Baroness Ashton, the EU's Foreign Affairs High Representative, said last weekend that the case was of "great concern" and that detainees had the right "to be informed about the charges underlying any detention and be subject to a fair trial"
Register for free to continue reading
Registration is a free and easy way to support our truly independent journalism
By registering, you will also enjoy limited access to Premium articles, exclusive newsletters, commenting, and virtual events with our leading journalists
Already have an account? sign in
Register for free to continue reading
Registration is a free and easy way to support our truly independent journalism
By registering, you will also enjoy limited access to Premium articles, exclusive newsletters, commenting, and virtual events with our leading journalists
Already have an account? sign in
Join our new commenting forum
Join thought-provoking conversations, follow other Independent readers and see their replies