Palestinian rivals unite to celebrate UN statehood vote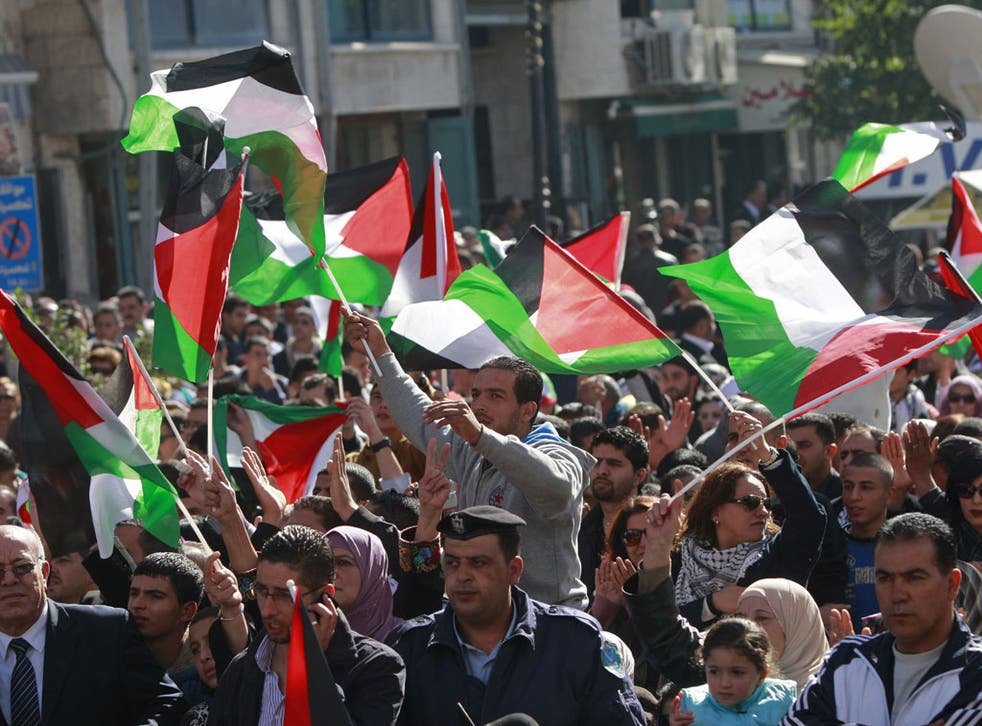 Thousands of Palestinians took to the streets throughout the West Bank and Gaza today to celebrate a United Nations General Assembly vote which was expected to indirectly recognise a Palestinian state, by upgrading the Palestinian Authority's status from that of observer to non-member state.
The rare diplomatic triumph united the governing Fatah party of President Mahmoud Abbas that dominates the West Bank and the rival Hamas Islamic Resistance Movement that rules Gaza. For the first time since Hamas seized control in 2007, warring factions joined forces in Gaza City, where Fatah staged a large, peaceful rally joined by representatives from across the spectrum of Palestinian politics.
By noon, hours before the vote in New York, crowds started gathering at open-air stages in towns throughout the West Bank to listen to music, poetry and political speeches and watch traditional Debka dancers.
A sense of history in the making increased as news filtered through of a growing number of Yes votes from European countries and Germany's switch from No to an abstention.
In Nablus, officials from Hamas and other groups joined senior members of the Fatah Revolutionary Council in a good-natured march through the city. "We carry a message to the whole world that says that we are capable of using all kinds of resistance. We are going to the UN, in order to protect our people, lands and prisoners," said Mahmud al-Aloul, a Fatah Central Committee member.
Thousands attended a similar rally in Hebron. In Bethlehem, residents prepared to stay up past midnight to watch President Abbas's speech and the UN vote projected on to an Israeli security wall near Rachel's Tomb.
In Ramallah, bright sunshine brought hundreds of people of all ages to an open-air stage in Yasser Arafat Square adorned with a huge banner proclaiming "UN: State of Palestine". Eight-year-old Hala Rihan and her brother Mohammed, six, proudly waved Palestinian flags. Their mother Shireen, a 29-year-old civil servant, said she was their age when Yasser Arafat first declared a Palestinian state and she wanted them to remember this day "for the rest of their lives".
"My children must learn when they are still young that we have our own country. I feel good today and I have great hope for our future – for the future of two countries, Israel and Palestine. We must learn to live with each other," she said.
Wasef Eriqat, 66, was the commander of PLO artillery forces in Lebanon during the 88-day Israeli siege of Beirut in 1982. A former Brigadier-General in the Jordanian army, he returned to his home village of Abu Dis in East Jerusalem after the signing of the Oslo Peace Accords in 1995.
"I feel very good today," Mr Eriqat told The Independent. "Israel is always saying that Palestinians are terrorists but, with this victory at the United Nations, we are showing the whole world that we are seeking peace and we want to be full members of the international community … If Israel seeks peace, we will stop all the fighting. If not, we will have to continue our struggle," he said.
Ziad Abu Ein, Palestinian deputy minister for prisoners' affairs, told The Independent that Britain's lobbying against non-member status, which ended only this week, had cast a pall over UK-Palestinian relations. "Britain is the country most responsible for the occupation, the most responsible for Palestinian suffering from this occupation. The British failure to vote for the resolution will lose them a lot of support in the Middle East," he said.
In New York, the UN Secretary General, Ban Ki-moon, reiterated the importance of reviving the Middle East peace process. Speaking hours before the vote, he said: "Achieving the two-state solution, to which Israel and the Palestinians have committed, is long overdue." Mr Ban said the vote was a matter for member states, but added: "The goal remains realising the just and lasting peace for which generations of Palestinians and Israelis have been longing – a peace that will end the occupation that started in 1967, end the conflict and ensure that an independent, viable and sovereign State of Palestine lives side by side with a secure State of Israel."
In Jerusalem the Israeli Prime Minister, Benjamin Netanyahu, said Israel was "prepared to live in peace with a Palestinian state" but Israeli security must be protected.
Timeline: A century of conflict
1917 The Balfour Declaration, on a home for the Jewish people
1947 UN votes for partition
1948 First Arab-Israeli war. Becomes known to the Palestinians as al-Nakba, the "Catastrophe"
1959 Yasser Arafat forms Fatah
1967 The Six-Day War
1973 Yom Kippur war
1979 Israel-Egypt peace treaty
1987 First intifada
1993 Oslo Peace Accord, signed by Arafat and Israel's PM Yitzhak Rabin
1994 Arafat returns from exile
1995 Rabin is assassinated
2000 Camp David talks collapse; second intifada
2006 Israel–Lebanon war
2008 Operation Cast Lead
Join our new commenting forum
Join thought-provoking conversations, follow other Independent readers and see their replies