MPs urged to help Palestinian student denied exit visa from Gaza to take up place at Goldsmiths
Exclusive Mohammed Awad's approved window of entry to the UK will expire soon as Israeli authorities drag heels on travel permissions
Friday 29 September 2017 13:59 BST
Comments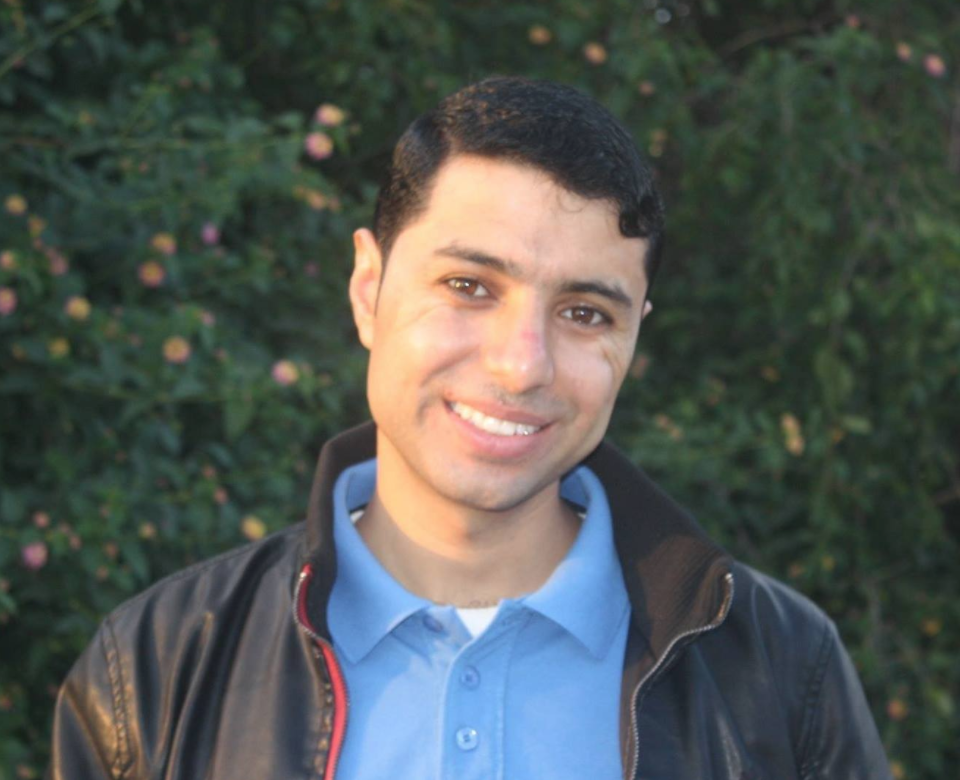 A Palestinian scholarship student due to begin a masters programme at Goldsmiths, University of London is worried that he may have to forfeit his place on the course thanks to the delay of his travel papers from the Israeli authorities.
Mohammed Awad, 28, was delighted to be accepted for a fully-funded place on the MA in Multilingualism, Linguistics, & Education at Goldsmiths' New Cross campus, beginning 1 October.
The young man had applied for 10 different scholarships which would enable him to leave the Gaza Strip for the first time and fulfil his academic potential.
One million Palestinian children in 'unlivable' conditions amid power shortages
Words "couldn't describe [his] happiness" when Mr Awad won one of two annual Goldsmiths Humanitarian Scholarships for Palestinian postgraduates, he told The Independent.
"I worked hard for such an opportunity. It took one year of dedicated focus, attention and interest... I bought my suitcase and packed my luggage," said the student from Jabalia, north of Gaza City.
However, subsequent red tape and lengthy delays at Cogat (Coordination of Government Activities in the Territories, the body responsible for implementing Israeli policy in occupied areas) in processing his application to leave Gaza mean that just a few days before his course begins, Mr Awad is still stranded in the coastal enclave without the necessary paperwork.
He now faces missing out on the beginning of the term - and in a worst case scenario, having to give up his place due to a lack of time and funds to restart the visa process again.
Mr Awad applied for a visa to exit Gaza through the Erez crossing in order to travel overland to Amman, where he would fly to London.
His UK student visa gives him a window of time in which to enter the country, which expires on 13 October. At this point it seems unlikely he will be allowed to leave before 24 October at the earliest.
It will cost Mr Awad $1300 (£967) to extend the entry period of his UK visa - funds which the student, who currently works as an English lecturer, says he does not have.
"My family cannot afford to finance my master's degree because my father was a worker in Israel and since the closure of border, he's unemployed most of the time. I have a big family, I have four brothers and four sisters. They work to support for my family and survive instead.
Ground: Ten years of the Palestinian conflict in pictures
Show all 10
"My family has a lot of responsibilities beyond my dream to study in the UK," Mr Awad added.
If he does not make it to London by 1st November, Goldsmiths will be forced to cancel his place.
"We work flexibly to provide any student facing these kind of difficulties with help and support and do everything we can to ensure that those with an offer who want to come to study at Goldsmiths are able to," a spokesperson for the university said.
Mr Awad is not alone: according to Gisha, the Israeli NGO which helps protect Palestinians' freedom of movement, 342 Gazans who have won places at colleges and universities abroad have applied to leave the Strip since January 2017. Only 73 have been granted permission, while seven were outright refused, 50 were returned or placed under review and 239 applications remain pending.
The Palestinian Civil Affairs Committee in Gaza (PCAC) advises students to allow 50 business days for applications filed to them to be passed on to Cogat and a decision made, but even that amount of processing time is often not adequate thanks to the Israeli body's processing delays.
When contacted by The Independent Cogat provided a form showing that Mr Awad's application had been submitted by the PCAC dated for 14 November.
Gisha, which has been helping the student, disputed this, saying that PCAC is often instructed by Cogat to date applications over a block period covering up to 70 days and there is no standardised timeframe guidance. Gisha also pointed out that the student's application clearly stated his desire to travel by 14 September.
"It shouldn't be a surprise to us if the PCAC are following the orders given to them by Cogat," Gisha spokesperson Shai Grunberg said. "What should be a surprise to us is that COGAT blames the PCAC for doing so."
"Mohammed Awad submitted his application for a permit as soon as he received his UK visa. Late by Cogat's timeframe, but Cogat knows full well he had no other option," the organisation said in a statement on its Facebook page.
Cogat did not respond when asked what its instructions to the PCAC had been.
Under the realities of the 10-year-old Israeli blockade, permission to leave Gaza is notoriously difficult to obtain for the enclave's two million residents. There is no clear guidance issued by Cogat and the system is often described as 'Kafkaesque'.
There are three checkpoints out: two into Israel, and one at Rafah, the crossing with Egypt, which has largely been closed since Hamas, the militant organisation which rules Gaza, seized control of the Strip in 2007.
"Since Rafah has remained closed for extensive periods of time, Israel has come under pressure to allow students from Gaza to travel abroad via Erez Crossing and Allenby Bridge, and from Jordan to their destinations abroad. However, the policy on this issue is not fixed, and changes unpredictably and arbitrarily," Ms Grunberg said.
"The result of the strict travel restrictions Israel imposes on Gaza residents is that many times approvals of exits, if received at all, are provided late, after the applicants' visas expired, or after the academic year has already begun.There are no guarantees a student from Gaza will be able to reach his/her destination on time, or even at all," she continued.
In an letter to MPs urging them to intervene in Mr Awad's case, Gary Spedding, a cross-party consultant on Israel and the Palestinian Territories, said he could not "stress enough" "the value of bringing Palestinians from the Occupied Palestinian Territory, particularly that of the Gaza Strip, over to the United Kingdom for studies."
"Despite being one of the most horrific places on earth in terms of humanitarian crisis at present, there is an impressive level of education in Gaza which is something that can definitely be harnessed in a future push for a just peace between Israelis and Palestinians. For people like Mohammed, this kind of educational opportunity is a chance in a lifetime," Mr Spedding added.
Mr Awad is losing hope. He missed the chance to study in France in 2014 because of a delayed Cogat decision, as well as a professional development course in the West Bank last year.
"Israel and Egypt are killing my dream and the dreams of Palestinians," he wrote on Facebook on Wednesday, after being told security clearance could take up to another 60 days.
How you can help
Write to your MP, asking them to raise Mohammed Awad's case with the Home Office and Foreign and Commonwealth Office. They can also write to Cogat asking for his exit permit to be expedited.
Your representative and their contact details can be found here.
Join our commenting forum
Join thought-provoking conversations, follow other Independent readers and see their replies