Little town of Bethlehem: Palestinians at Christmas fear move to the right as early elections loom in Israel
Prime Minister Benjamin Netanyahu's coalition government agrees to hold early poll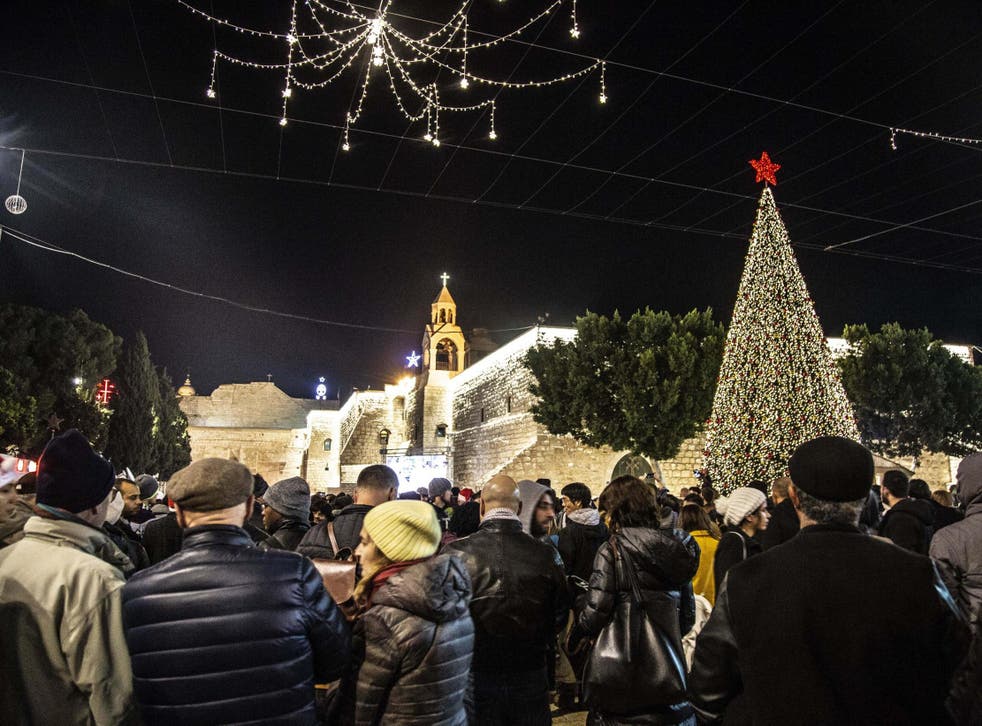 Amid the sea of Santa hats and selfie sticks, Sami, a Palestinian Christian in Bethlehem, is learning of the fresh elections looming in neighbouring Israel. He knows the vote will have a direct impact on his life.
The father of four always joins the crowds from across the world who converge each year for Christmas Mass in Manger Square, the alleged birthplace of Jesus Christ.
But this year the famed gathering is only half full and there is a muted despair edging the celebrations. It has been a particularly hard year for the Israeli-Palestinian conflict, and the spectre of new elections in Israel have only added anxiety about everyone's futures.
There have already been fears of a fourth war between Israel and Gaza in less than a decade after intense cross-border exchanges of fire this year.
In the last month many have speculated there may even be a third Intifada after Palestinian shooters in the occupied West Bank killed at least five Israelis, sparking mass raids by security forces.
"Peace is far from being achieved, I really feel that the void between the Palestinians and Israelis has never been so wide, it's the worst year yet," Sami told The Independent, close by a towering Christmas tree in holy city.
"And now we have to hold our breath for the Israeli elections. I hope the left win as that is our last chance of there being some form of peace. If the right win we will never see a Palestinian state ever," he added.
Embattled rightwing Israeli prime minister Benjamin Netanyahu has tried to rule Israel with a knife edge one-seat parliamentary majority since November, when defence minister Avigdor Lieberman quit – taking his political party and seats from the ruling coalition with him.
Mr Lieberman left his job over Mr Netanyahu's decision to accept a tentative ceasefire with militants in Gaza to stop another war.
But on Monday, Christmas Eve, heads of parties in Mr Netanyahu's coalition agreed to hold early polls in April "in the name of budgetary and national responsibility".
Mr Netanyahu, eager to portray the move as positive, said he hoped Israel would be led by a similar coalition to the current one, seen as the most rightwing in Israel's history.
"The current coalition is, in my eyes, the core of the next coalition," Mr Netanyahu said.
"We ask for a clear mandate from the voter to continue to lead the state of Israel in our own way."
At the Christmas celebrations in Bethlehem they fear the next administration will only be more right-leaning and more hawkish, leading to a more aggressive policy of settlement building in the West Bank, and a less peaceful stance towards Gaza.
This year was marred by president Donald Trump's May decision to move the US embassy in Israel from Tel Aviv to Jerusalem, thereby recognising the contested city as the Israeli capital.
It sparked 10 months of protests in Gaza along the Israel Gaza border during which over 200 Palestinians were killed.
Israeli soldiers defended their use of force saying that the Palestinians were launching incendiary kites and balloons laced with explosives at Israeli land.
At the end of the year violence also exploded in the West Bank eroding hopes of a peace deal. Little have faith in Mr Trump's promise of a "deal of the century" agreement which has been postponed multiple times into next year.
World news in pictures

Show all 50
Meanwhile there are problems among the Palestinians as tensions have heightened between Fatah, the largely-secular party that rules the West Bank and dominates the Palestinian Authority, and Hamas, the militant group that runs Gaza.
In arguably the most famous Christian city in the world, Bethlehem, inhabitants said they feared there would have to be a three-state solution with the West Bank, Gaza and Israel separated.
Amid this maelstrom, civilians said that the ongoing violence has had a massive impact on their livelihoods and they have little hope that will change.
"My earnings have plunged by more than half over the last two years, people are scared to visit Bethlehem, the political upheaval makes it harder for us financially," said Bassem Giacaman, 40, whose family have owned an olive wood shop off Manger Square since the 1920s.
"In a nutshell – there is no way we are going to see peace. Every year gets worse and that is the way it is," he added.
Support free-thinking journalism and attend Independent events
Across the square Ahmed, 25 who works with the Palestinian Red Crescent agreed. "I feel like we have got to the point where we are so far apart, we are speaking in entirely different languages," he said. "I just can't see how we can move on from here," he adds.
Mohamed, 24, a Muslim who joined the Bethlehem celebrations to show solidarity for his Christian friends, says he cannot see a solution to the crisis. "You can't make two states out of one, and the Israelis won't give us any space," he concluded.
"I'm against the shootings in the West Bank, I'm against violence. I'm for peace, but how we can build this."
Join our new commenting forum
Join thought-provoking conversations, follow other Independent readers and see their replies