Palestinians slam Benjamin Netanyahu's threat to take away their residency rights in east Jerusalem
Mr Netanyahu said he is looking at stripping the resident status of inhabitants of the Palestinian neighbourhoods that lie beyond the separation barrier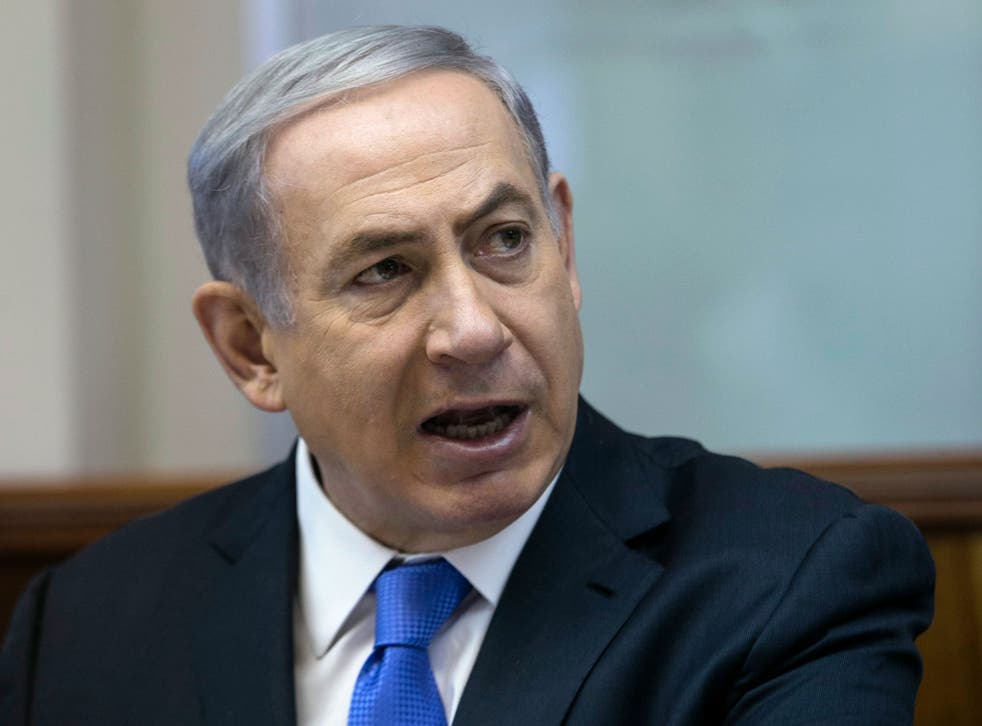 Fadia Abu Shalbak, 30, has lived in Jerusalem all her life. Her parents live in the city, her children go to school there, her husband's work is there.
But now the Israeli Prime Minister, Benjamin Netanyahu, is considering cancelling her Jerusalem residency and revoking her Israeli identity card - along with those of 80,000 to 100,000 other East Jerusalem Palestinians. It is a step that would wreak havoc among people who would no longer be able to enter Israel for work or education, or retain their Israeli medical insurance and social security benefits.
Mr Netanyahu, seemingly manipulating public fears about a wave of Israeli-Palestinian violence that began a month ago, said he is looking at stripping the resident status of inhabitants of the Palestinian neighbourhoods that lie within Jerusalem's municipal borders - but are beyond the separation barrier Israel erected in 2004. They make up at least a 10th of the city's population and roughly a quarter of its Palestinian inhabitants.
"All of our life will turn topsy turvy and Netanyahu will not care,'' said Ms Abu Shalbak. "We will be besieged in a small area and not be able to function as human beings.'' Fathallah Nabulsi, a retired businessman, was stoic. "We can live under any conditions, '' he said. But, after thinking about it, he added: "I need my identity card. I'm being treated in Israeli hospital. I have a heart condition.'' At the end of October, Israel's Channel Two TV reported that Mr Netanyahu raised the idea of revoking residency during a security cabinet meeting two weeks earlier. Yudith Oppenheimer, who directs the Israeli NGO Ir Amim, which supports equality in the city, believes it would be the most aggressive, drastic step against East Jerusalem Palestinians since Israel annexed the area after the 1967 Middle East war.
"He's saying he wants Jerusalem only for the Jews," she said. Even just broaching the idea is "so dangerous to daily life in Jerusalem .... You are pushing people to a dead end, people who already live in despair and poverty.'' Channel Two quoted Mr Netanyahu as saying: "We need to examine the possibility of canceling their residency. There needs to be a discussion about it." Offi-cials in the PM's office confirmed to the Haaretz newspaper that Mr Netanyahu had raised the matter with the security cabinet. The next day he also referred to it at the Knesset's foreign affairs and defence committee meeting, said The Times of Israel.
The Israeli–Palestinian conflict intensifies

Show all 10
An Israeli official who asked for anonymity told The Independent on Sunday, that Mr Netanyahu had made no mention to the security cabinet of revoking residencies. But when pressed, added that during the meeting, the Prime Minister had indeed said that it is a problem that residents of the neighbourhoods beyond the separation barrier could travel freely inside Israel using their Israeli ID cards. The official confirmed that Mr Netanyahu had decided a full deliberation should be held on the status of the neighbourhoods beyond the separation barrier. That has yet to be done.
The official linked the need for such deliberation to the recent violence, including Palestinian stabbing attacks in Jerusalem and elsewhere, although most of the Jerusalem attacks have not been carried out by residents of the targeted neighbourhoods.
In the latest incident, Israeli security forces said they had shot and killed a Palestinian who ran at them with a knife at a checkpoint in the occupied West Bank. "We need to look at the reasons for the violence and what can be done to calm things,'' the official said. "These areas are legally part of Israel [but] ... the situation is that there is no effective law and order, there is a vacuum - and extremist and criminal elements are exploiting this. It's unsustainable."
But that unsustainability is a result of years of neglect by Israel, which levies municipal taxes on residents but fails to provide the most basic services - sanitation, education, and planning, Ir Amim and Palestinians say. In the Ras Khamis area, with a population of more than 30,000, there is only one municipal school - in a building that was once a goat pen, according to an Ir Amim report.
Raw sewage and rubbish in the streets, potholes and broken traf-fic lights were everywhere on a drive through the Kufr Aqab neighbourhood. The Jerusalem municipality says it cannot provide services because it is unsafe for its personnel to travel there.
A small part of Kufr Aqab falls under the jurisdiction of the Palestinian Authority ministry of local government. Its village council head, Basam Maswadeh, said he tries to also provide help to the area. But he added that he has scant resources and no authority to do this. "How can you live here with this rubbish and lakes in the streets?'' asked Mr Maswadeh, who fills his post as a volunteer and also works as a building contractor inside Israel.
"If the Israelis take away people's identity cards, what will they do without work? It will only increase crime and drugs. It will turn people into criminals.''
Join our new commenting forum
Join thought-provoking conversations, follow other Independent readers and see their replies