Paraguay decision to return embassy to Tel Aviv 'historic' say Palestinians
Palestinian leadership hopes more countries will return their embassies to Tel Aviv, while Israelis threaten backlash to Paraguay's move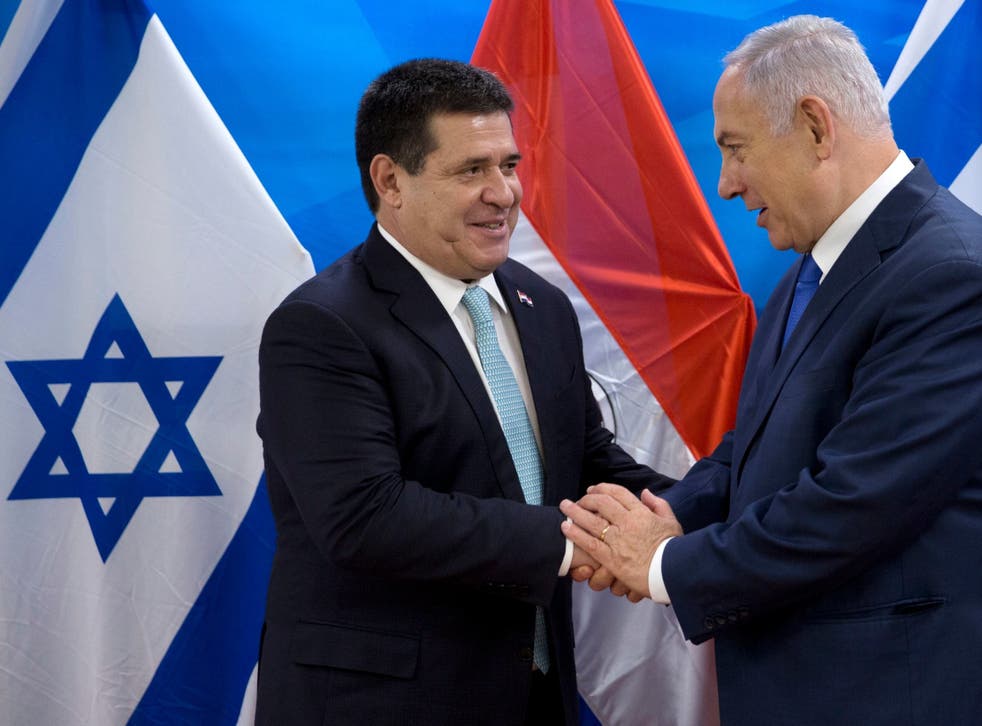 Palestinians have hailed as "historic" Paraguay's decision to move its embassy from the contested city of Jerusalem back to Tel Aviv, as Israel warned that it cast a shadow over relations.
Paraguay's new president Mario Abdo Benitez, who took office in mid-August, decided to relocate the embassy away from Jerusalem, reversing a decision made by his predecessor Horacio Cartes less than four months ago.
The fight over Jerusalem is at the heart of the Israeli-Palestine conflict, with both sides claiming it as their capital. Most countries, including the UK, believe the final status of the city should be determined by both sides in a peace deal.
US president Donald Trump sparked uproar in May when he moved his embassy to Jerusalem declaring it to be Israel's capital. Paraguay and Guatemala had shortly followed suit.
On Thursday Palestinian leaders lauded Mr Benitez's decision saying it was in "line with international law and security council resolutions".
"This is huge and historic and a trend we want to continue," Riyad Mansour, the Palestinian representative to the UN told The Independent.
"The next target is Guatemala. We need to use our collective effort," he added.
Hanan Ashrawi, a member of the PLO Executive Committee, said it came at an important time due to worsening relations with the United States.
"It sends a message [to the US] that even a small vulnerable country is not afraid to stand up, resist pressure and admit it made a mistake. It is important as it comes at a time when Israeli is exploiting us," she said.
World news in pictures

Show all 50
Palestinian Foreign Affairs Minister Riyad al-Maliki said Palestinian authorities reacted by deciding to "immediately" open an embassy in Paraguay's capital Asuncion.
The Arab League, meanwhile, said it would serve as a model for other countries.
But the Israelis hit back warning that it would seriously jeopardise relations between the two countries. Israeli prime minister Benjamin Netanyahu said Israel would close its embassy in Paraguay and recall its ambassadors for consultations.
"Israel views with utmost gravity the extraordinary decision by Paraguay, which will cloud bilateral relations," his office wrote on Twitter.
Mr Netanyahu had hoped more countries would open embassies in Jerusalem. On Wednesday he thanked Bulgarian prime minister Boyko Borissov for his decision to open an honorary consulate in Jerusalem. "I hope, I hope, I hope it's the first step towards establishing the Bulgarian embassy in Jerusalem," Mr Netanyahu said.
Guatemala's president Horacio Cartes made the decision to move the diplomatic site to Jerusalem without consulting Mr Benitez who at the time was already president elect and had questioned the decision.
Mr Cartes even joined Mr Netanyahu at the new embassy's opening ceremony in May.
Explaining the new Paraguayan move, the country's foreign minister, Luis Alberto Castiglioni, said: "Paraguay wants to contribute to an intensification of regional diplomatic efforts to achieve a broad, fair and lasting peace in the Middle East."
He added "I don't think this should annoy our Israeli brothers and friends. There are more than 85 countries that have kept their embassies in Tel Aviv and we're historic allies of Israel." He said Paraguay's vote was the decisive vote in the creation of Israel.
The Trump administration broke decades of bipartisan consensus and US policy when it moved the American embassy to Jerusalem on 14 May, infuriating Palestinians and intensifying protests on the Gaza border, with 60 killed in clashes with Israeli forces that day.
The following week, Mr Cartes travelled to Israel to inaugurate the new embassy personally and Paraguay became the third country to set its mission in Jerusalem.
Mr Trump has promised his administration will soon deliver a peace deal for Israel-Palestine dubbed "the deal of the century" but has been rejected as a peace broker by the Palestinians over a slew of recent unpopular decisions he has made that the Palestinians claim are pro-Israeli.
Dr Ashrawi said Palestinian relations with the US have never been so bad.
"Now is the worst in terms of the US position which has shifted from being a biased peace broker to being a partner in crime," with Israel, she said.
Last week Mr Trump ordered a halt to all funding for Unrwa, an organisation that has repeatedly clashed with Israel. It came after top US officials questioned the UN's figure of five million Palestinian refugees, insisting it was too high. On Thursday US officials signalled that they may be close to formally recognising the annexed Golan Heights, which was once part of Syria, as belonging to Israeli another key demand of Netanyahu's government.
US ambassador to Israel David Friedman said in an interview: "I cannot imagine a situation in which the Golan Heights is returned to Syria. I frankly cannot imagine a situation in which the Golan Heights is not part of Israel forever."
Register for free to continue reading
Registration is a free and easy way to support our truly independent journalism
By registering, you will also enjoy limited access to Premium articles, exclusive newsletters, commenting, and virtual events with our leading journalists
Already have an account? sign in
Join our new commenting forum
Join thought-provoking conversations, follow other Independent readers and see their replies