Petra monument discovery: Archaeologists discover massive ancient structure 'hiding in plain sight'
Satellite imagery and drone photography was used to reveal the monument, which is buried under the sand
Katie Forster
Saturday 11 June 2016 15:08 Comments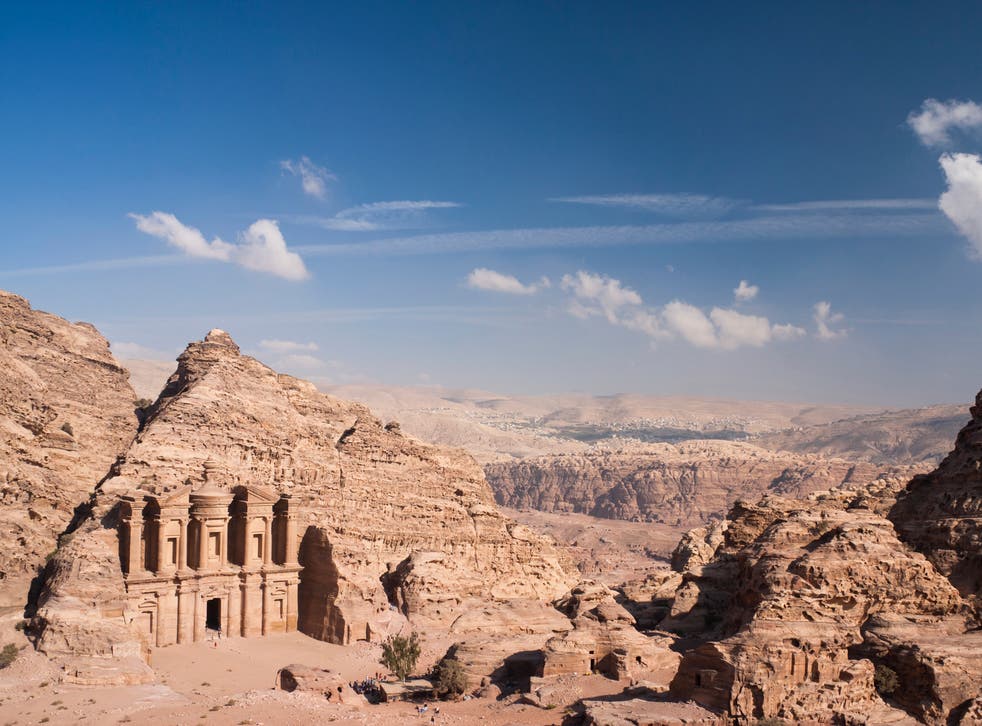 An enormous ceremonial platform which could be more than 2,000-years-old has been discovered at the ancient city of Petra in Jordan.
Satellite imagery and drone photography was used to reveal the monument, which is buried under the sand and measures 184x161ft – roughly the length and twice the breadth of an Olympic swimming pool.
"Petra is an outstanding site to test new survey technologies," wrote archaeologists Sarah Parcak and Christopher Tuttle in a report titled Hiding in Plain Sight.
"Even after two centuries of fieldwork in Petra and its environs, new discoveries and identifications of monumental structures continue to be made."
The archaeologists studied aerial images to distinguish details of the structure's past glory, such as a huge staircase descending to the east and a wall of columns on one side.
And the oldest pottery found scattered around the site suggests the structure could be more than 2,150-years-old.
The monument is less than a kilometre south of Petra, the main city in southwest Jordan, which was named one of the seven new wonders of the world in 2007.
Discoveries that change the way you see the world

Show all 30
"I knew something was there and other archaeologists – who have worked in Petra for the last, God knows, 100 years at least," Mr Tuttle told The Guardian. He said he knew of at least one other expert that had noticed something at the site.
But nobody paid attention to the structure's sides, as they resembled terrace walls common to the city, he said.
More than half a million tourists visit Petra each year, a city partly carved into red, pink and white cliff faces, which has been inhabited since prehistoric times.
It was the capital of the Nabataean empire from 400 BC to 106 AD and remained unknown to the western world until the early 19th century.
Cargo of ancient shipwreck found in Caesarea
More recently, the city provided the backdrop for the 1989 film Indiana Jones and the Last Crusade.
Register for free to continue reading
Registration is a free and easy way to support our truly independent journalism
By registering, you will also enjoy limited access to Premium articles, exclusive newsletters, commenting, and virtual events with our leading journalists
Already have an account? sign in
Join our new commenting forum
Join thought-provoking conversations, follow other Independent readers and see their replies