Pope Francis: Aleppo bombers will 'face God's judgement'
The Pope urged warring parties to stop harming civilians in the 'already martyred' Syrian city
Wednesday 28 September 2016 15:50
Comments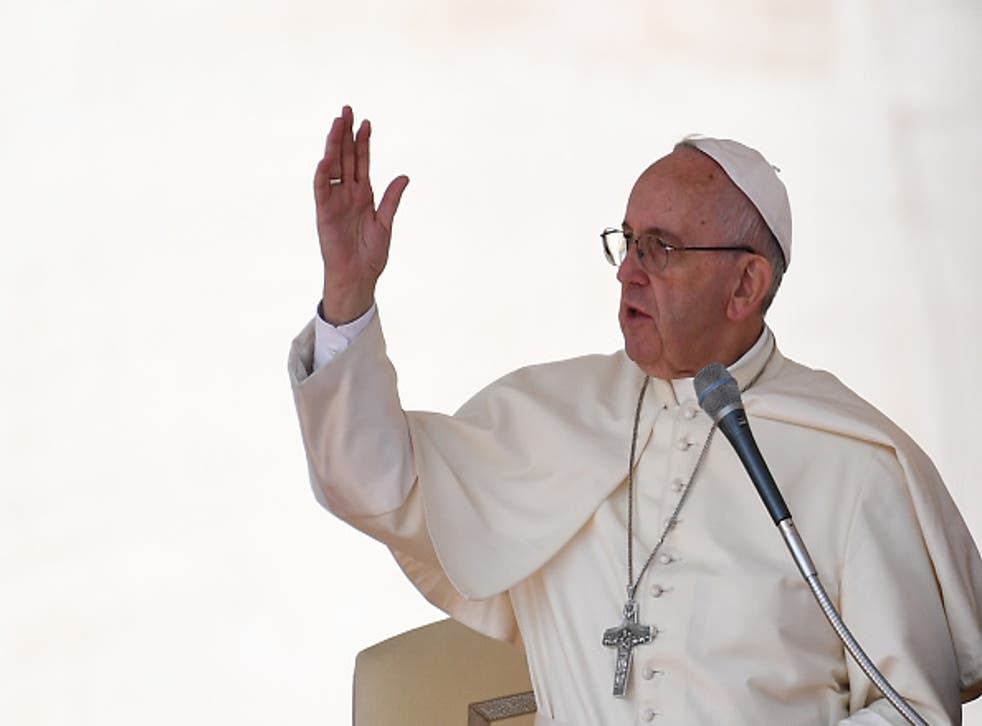 Pope Francis has urged the forces bombing the trapped residents of east Aleppo to stop and "protect civilians" instead.
Addressing a crowd of thousands in St Peter's Square in the Vatican on Wednesday, the Pope did not name any perpetrators, but warned that those who are carrying out the indiscriminate air strikes on the 250,000 people besieged in rebel neighbourhoods will one day have to account to God for their crimes.
"In expressing my deep sorrow and lively concern for what is happening in that already martyred city - where children, the elderly, the sick, young and old, all are dying - I renew my appeal to everyone to commit themselves with all their strength to the protection of civilians as an imperative and urgent obligation," Pope Francis said during his weekly address.
"This is an imperative and urgent obligation. I appeal to the consciences of those responsible for the bombings, who will one day will have to account to God," he said.
The Syrian and Russian governments mounted a huge air strike operation on opposition held areas of the northern city last Thursday, after the breakdown of an internationally brokered ceasefire.
Residents on the ground say the assault is the worst bombing they've ever experienced, and has included the use of ground-penetrating bombs, cluster munitions, and napalm.
The air assault was followed up with a ground operation by the Syrian army and allied militias in four areas of the city on Tuesday.
Aleppo residents plead for help as Syria fighting rages
A military official speaking on condition of anonymity told the AP that the offensive will continue daily on all fronts until the "terrorists" in east Aleppo are "wiped out".
Pope Francis' address came a few hours after fresh strikes destroyed a bakery and two major hospitals in east Aleppo, in what a medical aid worker described as deliberate attacks.
The rebel-held side of the city now has just three hospitals with functioning emergency units and 30 doctors to treat the rising numbers of casualties.
A civil defence service volunteer in Aleppo estimated that 500 civilians have died since strikes began in earnest last Thursday, and more than 2,000 people have life-threatening injuries.
Register for free to continue reading
Registration is a free and easy way to support our truly independent journalism
By registering, you will also enjoy limited access to Premium articles, exclusive newsletters, commenting, and virtual events with our leading journalists
Already have an account? sign in
Register for free to continue reading
Registration is a free and easy way to support our truly independent journalism
By registering, you will also enjoy limited access to Premium articles, exclusive newsletters, commenting, and virtual events with our leading journalists
Already have an account? sign in
Join our new commenting forum
Join thought-provoking conversations, follow other Independent readers and see their replies