President Assad says journalist Marie Colvin was 'responsible' for own death as she was acting 'illegally'
US reporter and French photographer Remi Ochlik died in an air strike in Homs in 2012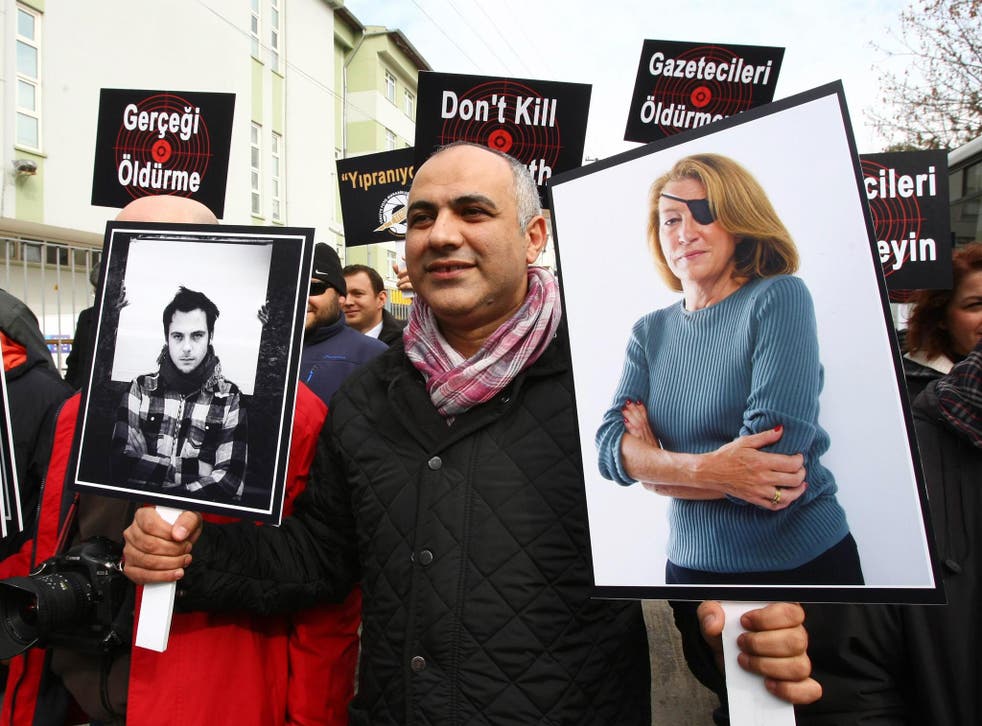 An American journalist allegedly killed by a government air strike in Syria was "responsible" for her own death as she was acting "illegally" and "working with terrorists", the country's president Bashar al-Assad has said.
Marie Colvin, a veteran reporter for The Sunday Times, died in February 2012 when rockets hit a house she was staying at in the Baba Amr region of Homs, western Syria.
"It's a war and she came illegally to Syria. She worked with terrorists, and because she came illegally, she's been responsible of everything that befall on her," Mr Assad said in an interview with NBC News, denying government forces had been responsible for the attack.
"The army forces didn't know that Marie Colvin existed somewhere because before that we hadn't known about Marie Colvin. Why single out this person in order to kill her? There is no reason.
"Nobody knows whether she was killed by a missile, what kind [of rocket], and where it was fired from. No one has any proof, these are just allegations."
Last week Colvin's family announced they were bringing a lawsuit against the Syrian government, in which it is alleged the reporter was tracked on her passage from Lebanon before being targeted for assassination "deliberately and with premeditation".
Court documents alleged Syrian government forces had intelligence sources keeping track of foreign journalists traveling from Lebanon to Syria, as punishment for reporting on atrocities committed by the Assad regime.
French journalist Remi Ochlik also died in the strike, while British photographer Paul Conroy, Syrian activist Wael al-Omar and French journalist Edith Bouvier were left critically injured.
Palmyra recaptured by Syrian government forces

Show all 10
It is alleged that it was the first time a direct order was given to kill foreign journalists operating in Syria. As many as 100 journalists are thought to have been killed in the country since 2011, the majority of them Syrian.
Colvin's sister Cathleen, who brought the case to court, said: "We are seeking truth and justice not just for her, but for thousands of innocent Syrians tortured or killed under the Assad dictatorship."
Colvin was 56 years old when she was killed and had previously worked for the BBC, Channel 4 and CNN during a long and distinguished career in the world's most dangerous war zones.
She wore a black eye patch after losing her right eye in a grenade blast while reporting on Sri Lanka's civil war in 2001
Register for free to continue reading
Registration is a free and easy way to support our truly independent journalism
By registering, you will also enjoy limited access to Premium articles, exclusive newsletters, commenting, and virtual events with our leading journalists
Already have an account? sign in
Register for free to continue reading
Registration is a free and easy way to support our truly independent journalism
By registering, you will also enjoy limited access to Premium articles, exclusive newsletters, commenting, and virtual events with our leading journalists
Already have an account? sign in
Join our new commenting forum
Join thought-provoking conversations, follow other Independent readers and see their replies