President Erdogan: Turkey intervened in Syria to end the 'rule of the cruel Assad'
Rather than fighting soldiers loyal to Assad, Turkey's military has battled Isis and Syrian Kurds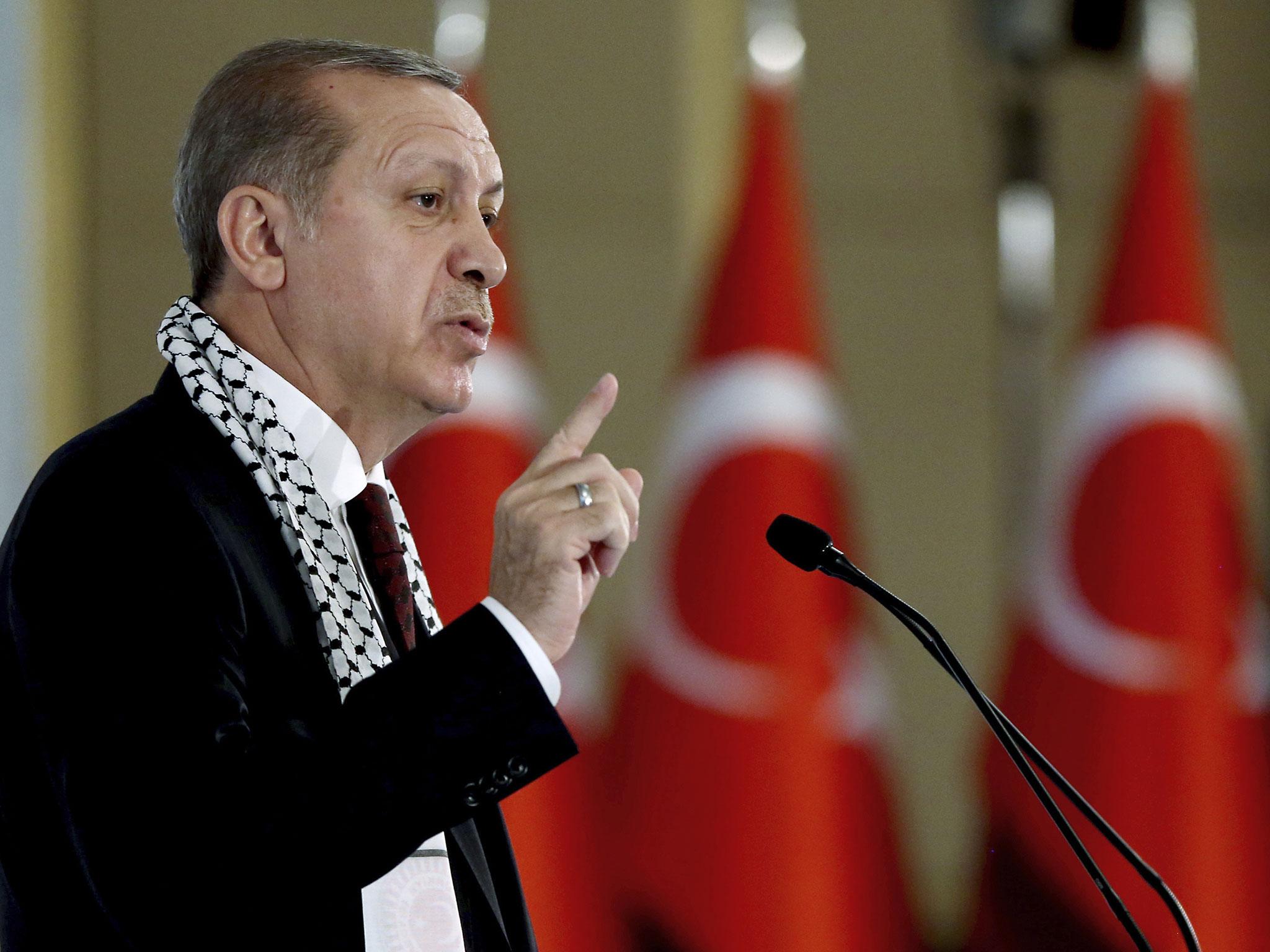 Turkish forces intervened in Syria's civil war to "end the rule of the cruel Assad," President Recep Tayyip Erdogan has said.
Mr Erdogan condemned what he described as the failure of the United Nations in Syria and defended sending tanks, special forces units and fighter jets across the border in August.
"Close to one million people died in Syria, and they continue dying," he said in a speech on Tuesday. "Where is the UN? What are they doing?
"We kept saying 'patience, patience, patience' but could not take it any more and entered Syria."
In pictures: Turkey launches operation in Syria
Show all 9
He said Turkey had "no interest in Syrian territory" and added: "We are there to bring justice. We are there to end the rule of the cruel Assad, who has been spreading state terror."
However, rather than engaging soldiers loyal to the Assad regime, Turkey's Operation Euphrates Shield has mainly sought to dislodge Isis from the border between the two countries and prevent the expansion of Syrian Kurdish militias.
Mr Erdogan's speech made no mention of the besieged city of Aleppo, which the UN has warned is experiencing a "descent into hell" as Syrian regime forces backed by Russian air strikes continue their brutal assault.
Aftermath of airstrike in Aleppo
A senior official from one of the Turkmen rebel brigades backed by Turkey told Reuters around 60 per cent of Turkmen fighters pulled out of Aleppo to take part in Euphrates Shield, withdrawing from the front line against regime forces.
He said "perhaps Aleppo could have resisted more" had the rebels not withdrawn, but added they "did not have much of a chance" with their limited weapons against the regime and the Russians, who "have used everything from barrel bombs to warplanes".
The Kremlin said Mr Erdogan's statement came as a surprise and it expected an explanation from Ankara.
"It is a very serious statement and one which differs from previous ones and with our understanding of the situation," Kremlin spokesman Dmitry Peskov said.
"We hope that our Turkish partners will provide us with some kind of explanation about this."
Turkey has been one of the main backers of the Free Syrian Army since the start of the country's five-and-a-half year civil war, which has killed thousands of people and displaced 11 million others.
Join our commenting forum
Join thought-provoking conversations, follow other Independent readers and see their replies