Dubai royal family say missing Princess Latifa being 'cared for at home'
The statement was released after the princess accused her father of holding her hostage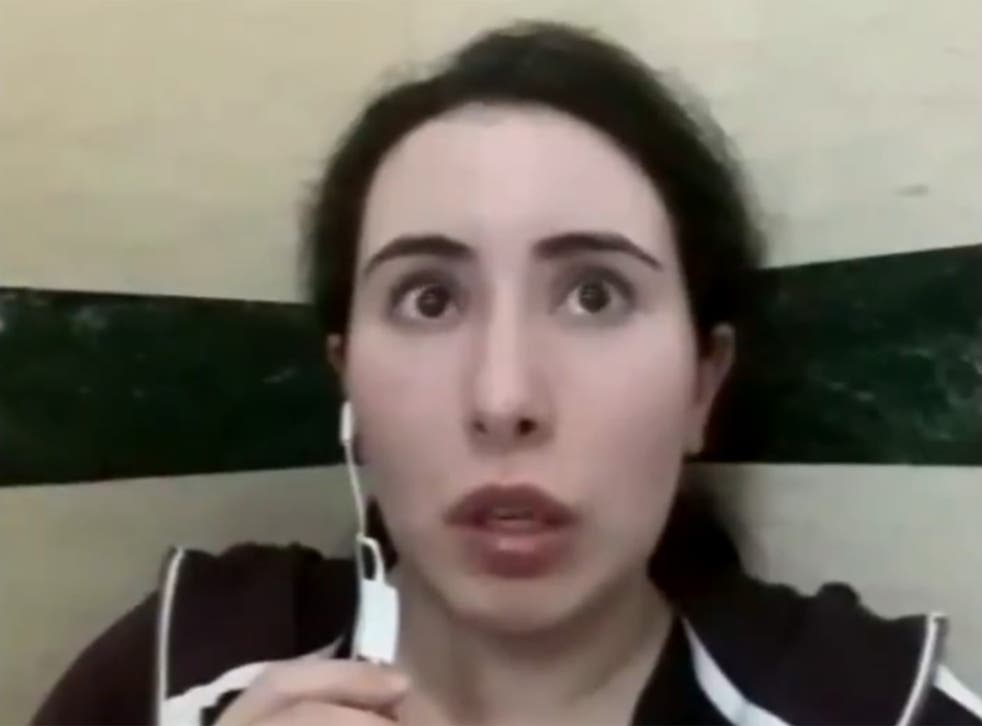 Princess Latifa is "being cared for at home" her family has said, days after videos emerged in which she accused her father – the ruler of Dubai – of holding her hostage.
The statement sent by the United Arab Emirates embassy in London said the family wanted to thank those who have expressed concern for her wellbeing but said that was "not reflective of the actual position".
Videos apparently smuggled out to her friends and shared with news networks this week showed Princess Latifa accusing her powerful father,  Dubai ruler Sheikh Mohammed bin Rashid Al Maktoum of holding her hostage in a "jail villa" in Dubai after she tried to flee the Emirates in 2018.
The video sparked global uproar.
The United Nations has said it will raise her detention with Sheikh Mohammed bin Rashid Al Maktoum, also the vice-president of the UAE and one of the richest leaders in the world.
British foreign secretary Dominic Raab has called it "deeply troubling". There have been growing calls for a UN investigation.
Sheikh Mohammed has repeatedly denied the allegations and said he was acting in his daughter's best interests. 
However a UK High Court, ruled against the 71-year-old billionaire in 2020 and refuted what he said.
The UK family court found that the powerful ruler had orchestrated the kidnappings of his two daughters Latifa and her elder sister Shamsa and "continues to maintain a regime whereby both these two young women are deprived of their liberty".
Princess Latifa's plight was first brought to the world's attention when she appeared in a video released in 2018 detailing how she wanted to escape Dubai and had previously attempted it in 2002. 
She then tried again to escape with her friend Tiina Jauhiainen, a fitness instructor.
Jauhiainen told The Independent that in February 2018 the pair in took a dinghy and then jet skied dozens of miles out to sea to a boat owned by French businessman Herve Jaubert, who had successfully escaped Dubai after being convinced in absentia of embezzlement years before.
They had planned to head towards India. But several days into the journey the boat was boarded by Indian Special Forces and Princess Latifa was forcibly taken back to Dubai. 
After the video, nothing was seen of her until she was photographed in mid-December 2018, with her stepmother Princess Haya of Jordan, and former UN human rights commissioner Mary Robinson, attending a now controversial lunch.
Robinson said she had been told by Princess Haya that Latifa had psychiatric problems and was unwell.
Princess Haya later escaped to the UK and, according to Robinson, told her she had been tricked about Latifa's condition.
In the latest videos released by Tiina Jauhiainen, who had contact with Princess Latifa via a smuggled phone, the princess says she is being held in a "jail villa" in Dubai and poorly treated. 
The UAE Embassy in London said: "In response to media reports regarding Sheikha Latifa, we want to thank those who have expressed concern for her wellbeing, despite the coverage which certainly is not reflective of the actual position."
A UK high court ruled that Princess Latifa's elder sister Shamsa was unlawfully abducted from the UK in 2000, when she tried to escape as a teenager. She has not been seen in public ever since.
The judge also ruled that Sheikh Mohammed had conducted a sustained campaign of fear and intimidation against his ex-wife Princess Haya who fled to the UK in 2019 with her two children.
It was "aimed at intimidating and frightening the mother, and that he has encouraged others to do so on his behalf", the ruling read.
Register for free to continue reading
Registration is a free and easy way to support our truly independent journalism
By registering, you will also enjoy limited access to Premium articles, exclusive newsletters, commenting, and virtual events with our leading journalists
Already have an account? sign in
Register for free to continue reading
Registration is a free and easy way to support our truly independent journalism
By registering, you will also enjoy limited access to Premium articles, exclusive newsletters, commenting, and virtual events with our leading journalists
Already have an account? sign in
Join our new commenting forum
Join thought-provoking conversations, follow other Independent readers and see their replies