Prisoners in Yemen say they are being subjected to mass sexual abuse from Emirati officers
Smuggled letters and drawings from inmates detail the horrors they say are unfolding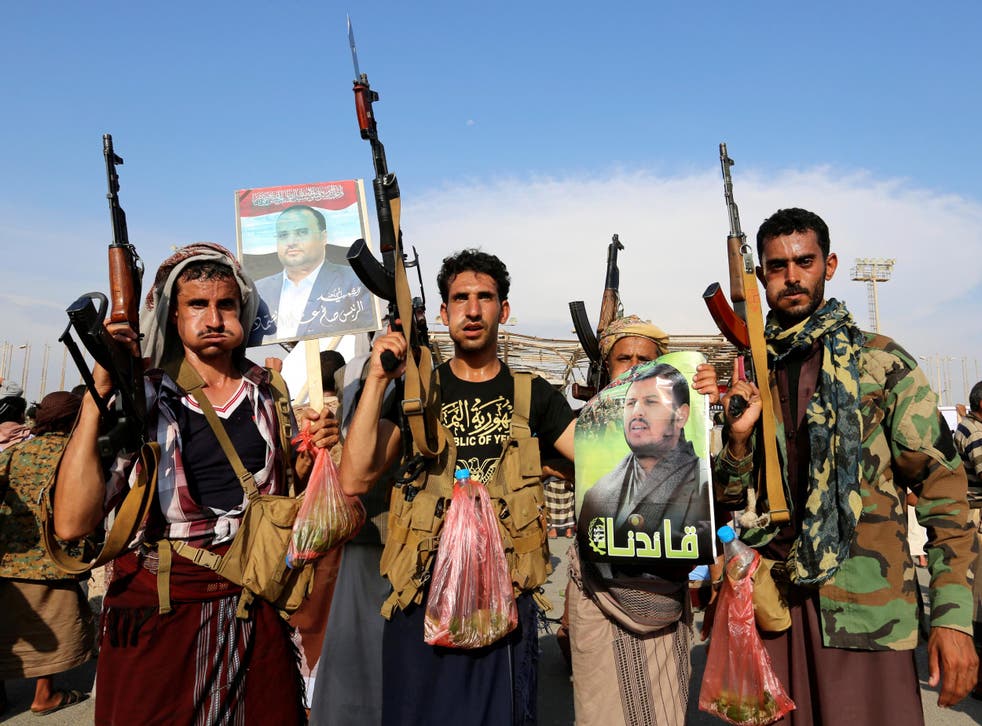 Prisoners in Yemen, who are being held without trial, have said they are being subjected to mass sexual abuse from Emirati officers.
Clandestine prisons are being run by the United Arab Emirates and smuggled letters and drawings from inmates have detailed the horrors they say are currently unfolding.
Officers lined up detainees and ordered them to undress and lie down before searching their anal cavities, claiming that they were looking for contraband, according to the documents, obtained by the Associated Press.
Those who resisted were threatened with barking dogs and beaten until they bled.
Detainees have also reportedly been raped while other guards filmed the assaults. Their genitals have been electrocuted or rocks have been hung from their testicles. Guards sexually violated others with wooden and steel poles, the prisoners allege.
"They strip you naked, then tie your hands to a steel pole from the right and the left so you are spread open in front of them. Then the sodomizing starts," said one father of four.
In Yemen's three-year civil war, UAE forces, purportedly fighting on behalf of the Yemeni government, have overtaken wide swaths of territory, towns and cities in the south.
They have swept up hundreds of men into a network of at least 18 hidden prisons on suspicion of being al-Qaeda or Isis militants.
The prisoners are held without charges or trials.
From inside the prison in Aden, detainees smuggled letters and drawings about the sexual abuse to the AP. The drawings were made on plastic plates with pen.
One, an artist, said he had been detained for the last year and had been in three different prisons. "They tortured me without even accusing me of anything. Sometimes I wish they would give me a charge so I can confess and end this pain.
"The worst thing about it is that I wish for death every day and I can't find it."
Sexual torture and humiliation like this is happening at least five prisons in the country, detainees reported.
The UAE is a key US ally and despite well-documented reports of torture, human rights groups and even the United Nations, Marine Major Adrian Rankine-Galloway, a Pentagon spokesman, said the US had seen no evidence of detainee abuse in Yemen.
"US forces are required to report credible allegations of detainee abuse," he said. "We have received no credible allegations that would substantiate the allegations put forth in your line of question/story."
World news in pictures

Show all 50
US officials have acknowledged that American forces receive intelligence from UAE partners and have participated in interrogations in Yemen. But Mr Rankine-Galloway said he could not comment on intelligence sharing with partners.
"Department of Defense personnel are expected to adhere to the highest standards of personal and professional conduct," he said.
Labour's Middle East Spokesperson, Fabian Hamilton MP, said: "These are extremely serious and disturbing allegations. Saudi-led coalition forces, including the United States, must work with the UN to urgently investigate these allegations, as any form of torture or sexual abuse of prisoners is a clear violation of international law.
"If the allegations are proven to be true, those responsible must be held to account by the United Nations and the international community."
UAE officials did not respond to requests for comment.
Agencies contributed to this report
Register for free to continue reading
Registration is a free and easy way to support our truly independent journalism
By registering, you will also enjoy limited access to Premium articles, exclusive newsletters, commenting, and virtual events with our leading journalists
Already have an account? sign in
Register for free to continue reading
Registration is a free and easy way to support our truly independent journalism
By registering, you will also enjoy limited access to Premium articles, exclusive newsletters, commenting, and virtual events with our leading journalists
Already have an account? sign in
Join our new commenting forum
Join thought-provoking conversations, follow other Independent readers and see their replies