US criticises Qatar over extremism while trying to calm escalating Gulf row
Saudi Arabia and other Gulf nations have implemented a diplomatic blockade, and want concessions for it to be lifted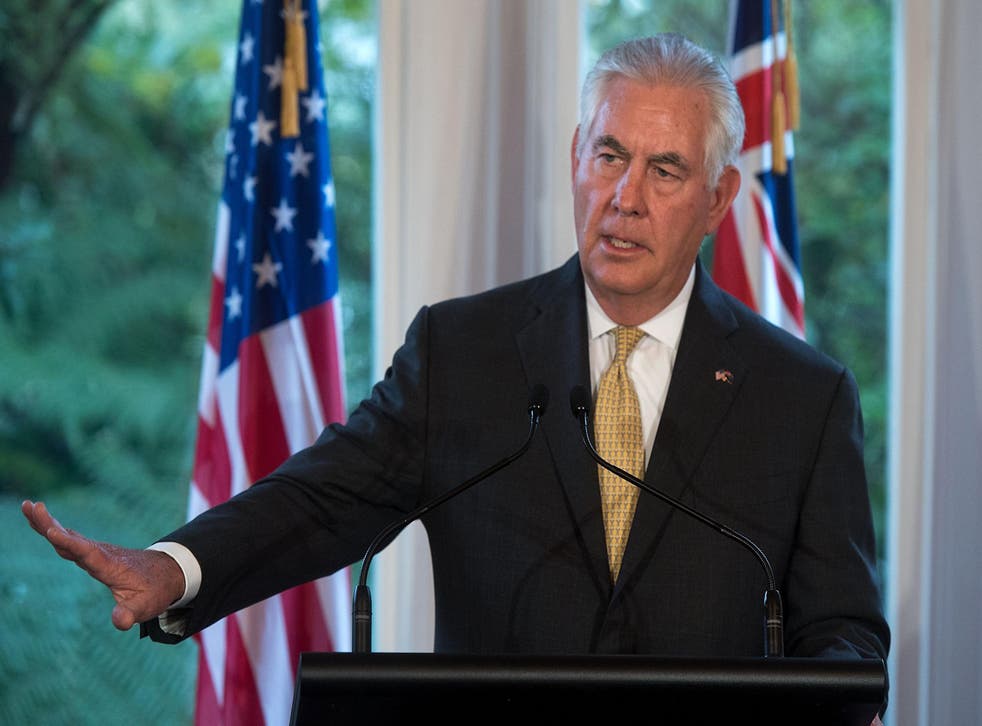 US Secretary of State Rex Tillerson has told Gulf allies to lay off Qatar, but says that the small Middle Eastern country would do well to respond quicker to extremism.
Mr Tillerson said that a diplomatic blockade placed on Qatar by several Gulf nations has "humanitarian consequences" and that it hinders America's military efforts. Qatar is the home of the Al Udeid Air Base, which is the main regional centre for American air strikes against Isis.
The Gulf countries should "immediately take steps to de-escalate the situation and make a good faith effort to resolve the grievances they have with each other," Mr Tillerson said during a statement at the State Department.
The governments in Saudi Arabia, the United Arab Emirates, Egypt, and Bahrain cut diplomatic ties with Qatar this week, after the government's state-owned media published an interview with the country's emir. During that interview — which the Qatari government disputes as inaccurate — the emir criticised hostility to Iran, sympathised with three Islamist groups, and accused Saudi Arabia of adopting extremist ideology that encourages terrorism. He also said that US President Donald Trump wouldn't last long in the Oval Office.
Mr Trump initially expressed support of the blockade, but changed his tone just a day later to align better with Mr Tillerson.
Criticism of Qatar for supporting Islamist groups like the Muslim brotherhood are long-standing. Since the blockade was established, Saudi Arabia has demanded that Qatar meet a list of 10 demands. That wish list includes cutting off all links to Iran, as well as expelling resident members of the Palestinian militant group Hamas and the Muslim Brotherhood. Saudi officials have also demanded that Qatar stop funding terrorist organisations.
World news in pictures

Show all 50
Still, Qatar is a critical military point for the American military. The US's largest military base in the region is located there, and it remains an important strategic location.
Join our new commenting forum
Join thought-provoking conversations, follow other Independent readers and see their replies