Saudi Arabia and Gulf allies 'to lift years-long blockade on Qatar, reopen border'
Riyadh has agreed to reopen its airspace, land and sea borders with Doha, signalling the end of a dispute stretching back to June 2017, report Bel Trew and Borzou Daragahi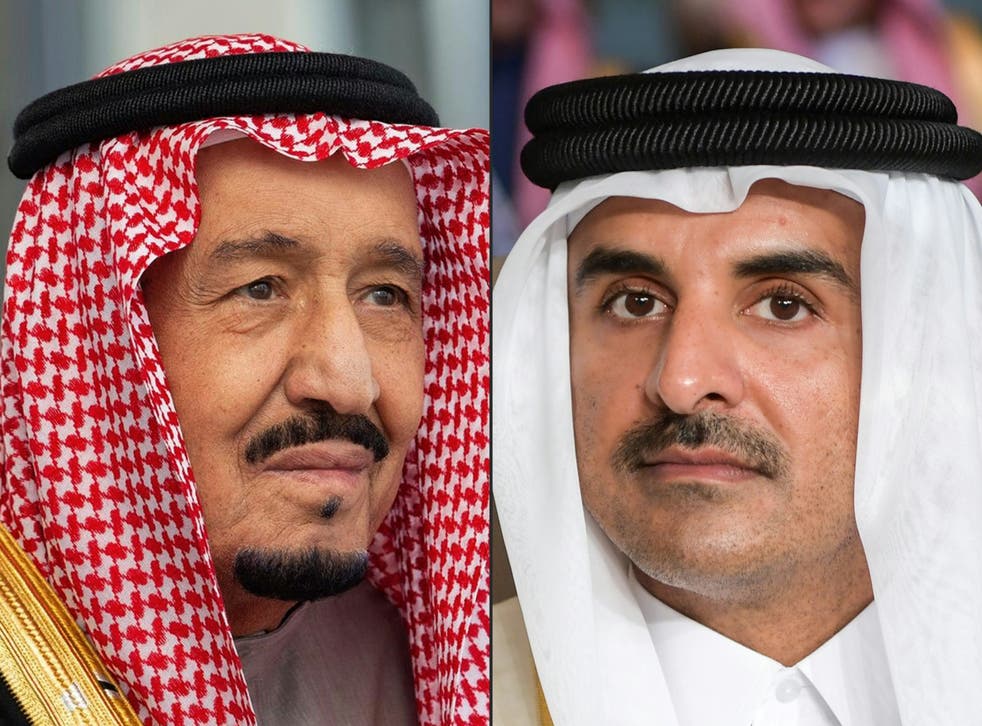 Saudi Arabia and its regional allies will end a years-long crippling blockade of Qatar and re-open its borders in a breakthrough agreement, due to be signed on Tuesday.
The deal, first reported by both United States and Kuwaiti officials, looks set to heal a bitter rift between Gulf Cooperation Council countries that has torn the region apart.  
Kuwait's foreign minister, who reportedly travelled to Doha on Monday,  said in a televised comment that Riyadh had agreed to reopen its airspace, land and sea border to its tiny Gulf neighbour as of Monday.
Under the emerging agreement, the four countries will end the blockade of Qatar, and in exchange, Doha will not pursue lawsuits related to the blockade.
"We've had a breakthrough in the Gulf Cooperation Council rift," a senior US official said.
The official added that the agreement will be signed at Tuesday's annual GCC summit.
The development is the latest in a series of Middle East deals brokered by Washington aimed at bringing together its allies to build a united front against Iran. Most recently they involved Gulf and Arab countries recognising Israel, Washington's closest regional ally.
Since June 2017, Saudi Arabia, the United Arab Emirates, Bahrain and Egypt imposed a diplomatic, trade and travel embargo on Qatar, accusing it of supporting terrorism largely because of its ties Islamist groups in the region and friendly relations with Iran.
Qatar denies the allegations and says the embargo aims to undermine its sovereignty.
Its only land border has mostly been closed since that time and its aircraft have been unable to fly over Saudi airspace, massively impacting the country.
The blockading countries issued a set 13 of demands, including losing its flagship television network Al Jazeera,shuttering a Turkish base in Qatar,cutting links to the Muslim Brotherhood and downgrading ties with Iran.
The latest detente offers another diplomatic win for the White House in the closing weeks of the administration of Donald Trump, which has stepped up its reconciliation efforts over recent months, and has been described by analysts and diplomats as a gesture of goodwill to the incoming administration of President-elect Joe Biden. 
All of the countries involved in Tuesday's expected agreement are close US allies. Qatar hosts the region's largest US military base, Bahrain is home to the US Navy's Fifth Fleet, and Saudi Arabia and the UAE host US troops.
White House senior adviser Jared Kushner, assigned to work on the dispute by his father-in-law Mr Trump, reportedly helped negotiate the final parts of the deal, working on it until the early hours of Monday morning, a Trump official told Reuters.
Kuwait, which alongside the US has been negotiating between the Arab countries for years, also announced details of the deal, including that Saudi airspace and borders would be opened on Monday. Kuwait's foreign minister Kuwaiti Foreign Minister Ahmad Nasser al-Sabah said on state television that the Kuwaiti emir had also spoken with Qatar's emir and Saudi Arabia's crown prince.
He added that the conversations "emphasised that everyone was keen on reunification", and that the agreement, which promises to "usher in a bright page of brotherly relations", would be signed at Tuesday's summit, in Saudi's desert city of AlUla. The summit, chaired by King Salman, was postponed from its usual December date as Riyadh pushed for an agreement towards ending the rift.
While the move to reopen airspace will help ease civilian life and commerce between the Gulf states and deny Iran billions in overflight revenues from Qatari flights, analysts cautioned that the issues underlying the dispute had yet to be addressed.
Before the blockade on Qatar was imposed, Saudi and the UAE sought to punish Doha in 2014, when tensions came to ahead. The disagreements were seemingly resolved only to burst open again three years later.
"This is definitely a step forward in the right direction to resolve some of the tensions that have plagued the Gulf," said Becca Wasser, a Middle East military specialist at the Centre for a New American Security, a Washington think tank. "It remains to be seen if this is merely window dressing or a real resolution of some of the issues that caused this rift to happen not once but twice. Until that happens, the Gulf is setting itself up to have it again."
Ms Wasser said that at the heart of the rift is the perception by Saudi leaders and the UAE's Crown Prince Mohammed bin Zayed that Qatar does not know its place in the Gulf pecking order, and has constantly been attempting to punch above its weight. Qatar's support for Al Jazeera television, which rails against Gulf monarchies, and the Muslim Brotherhood, whose brand of populist Islam is opposed by the UAE and Egypt, are major sticking points, along with Doha's partnership with Turkey and ties with Iran, with which it shares the world's largest natural gas field.
Adding to the tensions, Qatar, unlike Iran or Turkey, is a fellow Arabian Peninsula state, making it more difficult to deal with it as an ordinary adversary.
"At least for the UAE, this is one of their own -- one of their own GCC brethren stepping outside of the fold and not complying with unspoken rules," Ms Wasser said.
News of the deal was welcomed with cautious optimism in the Gulf. Saudi analysts warned that while the agreement was an "important step forward" for the GCC, it will have to be "backed by actions".
But one of the issues generating friction appeared to be addressed in the deal hammered out by Kuwait. Qatar has not indicated at all whether it would pressure Al Jazeera to tone down its coverage of Middle East affairs, reduce support for the Muslim Brotherhood and its associated groups, or rethink its deepening partnership with Turkey.
"Qatar had signed similar pledges before 2017 and failed to abide by them. Hopefully that will now end given the higher stakes," Ali Shihabi, a Saudi businessman and analyst who is close to the leadership in Riyadh, wrote on Twitter.
In a sign of warming ties, last month Qatar's leader, Sheikh Tamim bin Hamad Al Thani, received a formal invitation from King Salman to the January 5 summit meeting of the six-nation GCC. Doha said he will attend.
Saudi state agency SPA quoted Saudi Arabia's de facto ruler Crown Prince Mohammed bin Salman as saying the annual gathering of Gulf leaders would unite Gulf ranks "in the face of challenges facing the region".
Register for free to continue reading
Registration is a free and easy way to support our truly independent journalism
By registering, you will also enjoy limited access to Premium articles, exclusive newsletters, commenting, and virtual events with our leading journalists
Already have an account? sign in
Register for free to continue reading
Registration is a free and easy way to support our truly independent journalism
By registering, you will also enjoy limited access to Premium articles, exclusive newsletters, commenting, and virtual events with our leading journalists
Already have an account? sign in
Join our new commenting forum
Join thought-provoking conversations, follow other Independent readers and see their replies