Quds Day 2018: What is the anti-Israel protest and why are demonstrators burning effigies of Donald Trump?
Rallies express support for displaced Palestinians but are frequently defined by inflammatory rhetoric and denounced as antisemitic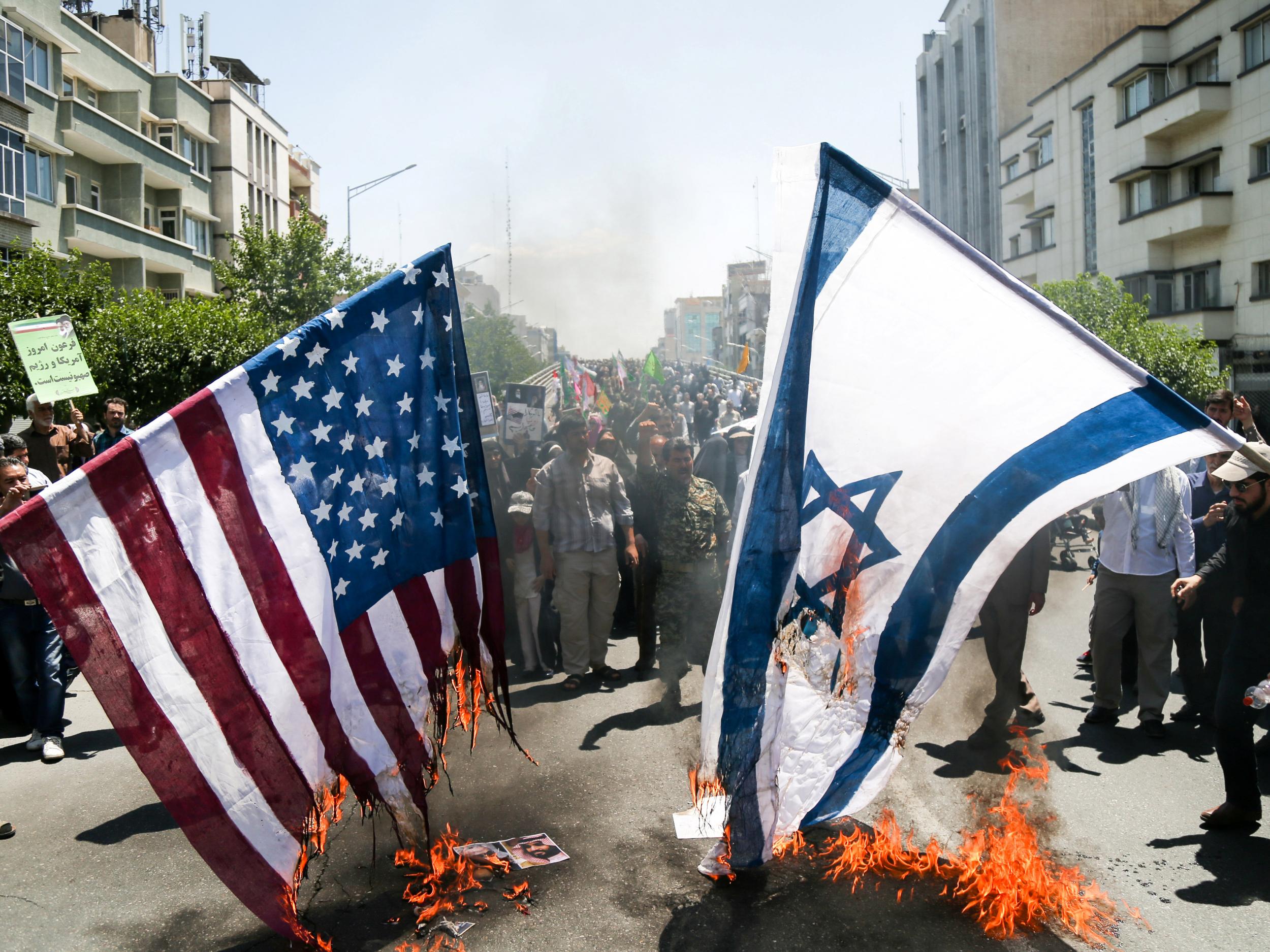 Quds Day is a controversial date observed on the last Friday of Ramadan every year to express support for displaced Palestinians.
Taking its name from the Arabic word for Jerusalem, commemorations typically take the form of marches in which the participants denounce Israel and Zionism, the occupation of the holy city and the presence of Jewish settlements in Israeli-occupied territories.
Originating in Iran with the Islamic revolution of 1979, the day was first proposed by foreign minister Ebrahim Yazdi and enthusiastically adopted by Ayatollah Khomeini.
It is now marked in Muslim countries across the Middle East and further afield, with around 3,000 people commonly coming together in London to demonstrate their support.
In Iran, fiery speeches are given by political leaders calling for the elimination of the Jewish state, which Tehran refuses to officially recognise.
Critics have argued that Quds Day is antisemitic by definition and its rallies are commonly met with bitter counter-demonstrations.
This year's Quds Day has already proved tense, with protesters burning Israeli and American flags and an effigy of the US president, Donald Trump, on the streets of Tehran in response to his decision to relocate his country's embassy to Jerusalem from Tel Aviv, acknowledging it as the true Israeli capital in America's eyes.
Tear gas has been deployed on the Israeli-Gaza border to disperse demonstrators.
The Iranian president, Hassan Rouhani, has done much to stoke regional tensions.
"This year's Quds Day is special," he said. "This year, in addition to being the 70th anniversary of the occupation of Palestinian land, we are witnessing that Jerusalem, which is respected by all Muslims, has been announced as the capital of the occupying Zionist Regime by the United States against all international rules and regulations.
"This year, we are also witnessing more tyranny and crimes against the oppressed people of Palestine, especially the residents of Gaza."
President Rouhani was alluding to the 59 Palestinian protesters killed and 2,700 injured by Israel Defence Forces troops on the border of the Hamas-controlled region in mid-May on Nakba Day, Palestinians' own day to mark the "catastrophe" of their exodus from Israel.
The "massacre" brought international condemnation and the promise of a UN war crimes investigation but Israel insisted it had no choice but to defend its border.
Mr Rouhani also urged "all people throughout our dear Iran, regardless of their thoughts and beliefs, to attend Quds Day demonstrations, sending this message to the usurper Zionist Regime that they have not forgotten the Palestinian land and the Holy Quds and the freedom of the Holy Quds is still the holy cause of the Iranian people and all Muslims".
He added: "The day when the noble people of Palestine will go back to their homes and Muslims can say prayers in Quds is not far."
Palestinian protesters clash with Israeli troops: in pictures
Show all 15
Violence has broken out on Quds Day many times in the past. At least 78 were killed and 326 wounded by bombs and long-range missiles in 1985 during the Iran-Iraq War.
More recently, the day was hijacked by opposition protesters in 2009 to vent their frustration at Mahmoud Ahmadinejad, the former Iranian president, over disputed election results.
Mr Ahmadinejad was particularly vehement in expressing his opposition to Israel, telling a million-strong crowd on Quds Day 2012 that "the Zionist regime is a tool to dominate the Middle East" and that its leaders were "thirsty for Iranian blood".
Join our commenting forum
Join thought-provoking conversations, follow other Independent readers and see their replies