Man on hunger strike outside Bahrain embassy asks Queen to help save his father
'I would like to ask your majesty to use the influence and strong friendship'
Bethan McKernan
Beirut
Wednesday 22 August 2018 19:36 Comments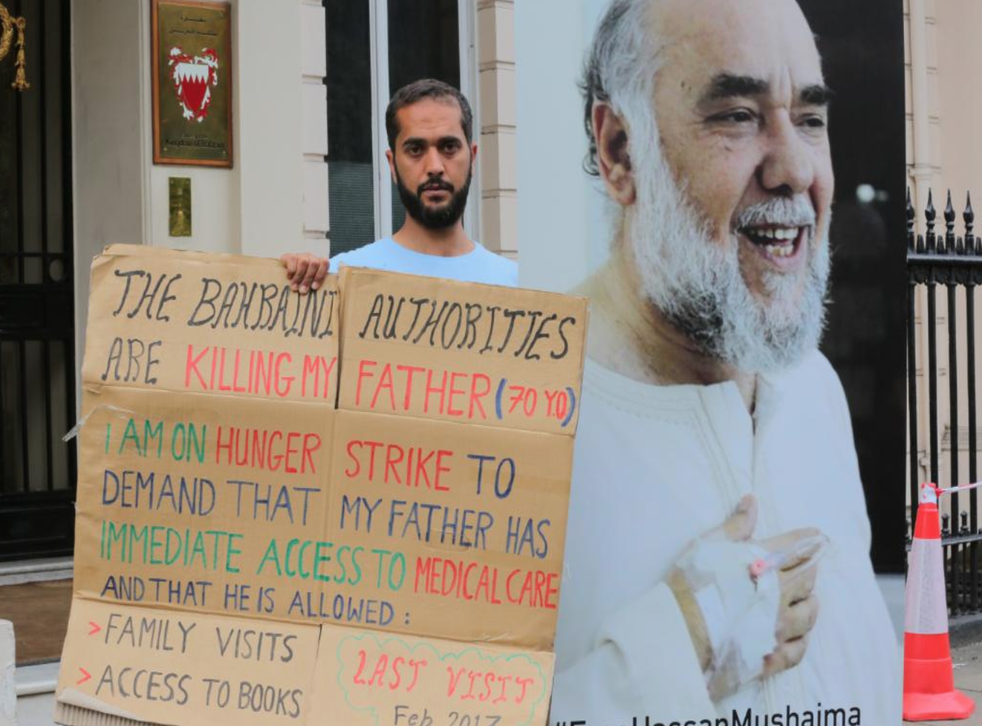 An activist who has been on hunger strike for four weeks to protest against the Bahraini government's treatment of his imprisoned father has asked Britain's Queen for help.
Ali Mushaima began his protest outside Bahrain's embassy in Knightsbridge, London on 1 August over the detention of his 70-year-old father, opposition leader Hassan Mushaima, whom rights groups say is being denied proper medical care.
Hassan was arrested in 2011 along with dozens of other Shia leaders over his role in anti-government protests during the height of the Arab Spring uprisings across the region.
The queen's friendship with Bahrain's King Hamad is well documented. The pair share a love of horses and the queen often hosts her Bahraini counterpart at the Royal Windsor Horse Show.
The UK's gift of a three-year-old stallion to the king last year was met with outrage from human rights groups, which accused the government of turning a blind eye to the Bahraini authorities' escalating crackdown on dissent.
Ali is nonetheless hoping the queen might leverage this friendship to help his cause.
In an open letter to the royal, he wrote: "This week I will be celebrating Eid in Belgrave Square rather than at home, with my beloved wife and four-month-old daughter. While I will only be denied the comfort of home on this special day, at least I will be celebrating as a free man. My father, instead, is being forced to spend yet another Eid behind bars.
"I would like to ask your majesty to use the influence and strong friendship with the king of Bahrain to help me save my father. All I ask for is for him to be treated humanely, including access to adequate medical treatment, books, and family visitation without subjecting him to humiliating measures."
No End to Torture in Bahrain - Human Rights Watch
The royal household did not immediately respond to The Independent's request for comment.
As a constitutional monarch, the queen must stay neutral on political matters. But Ali said he wrote the symbolic letter after growing frustrated at a lack of response to his demands so far.
Now in the fourth week of a hunger strike, he said his doctor has expressed concern at his rapid weight loss, but he has nonetheless vowed to stop intaking sugars and salts next week if Bahraini officials do not improve his father's conditions.
Hassan needs regular check ups to ensure a cancer from a decade ago has not returned, as well as treatment from high blood pressure, diabetes and a urinary tract infection, his son said.
Bahrain's secret terror

Show all 2
His medication is running out and authorities had not supplied him with new pills, Ali said, and he has not been allowed visits from his family since February 2017 or access to books.
Earlier this month the Bahraini embassy in London denied Hassan was being mistreated, saying he had been to the prison medical clinic 16 times since the beginning of 2018.
Ali himself has been resident in London since 2006. He was tried by Bahraini courts in absentia, sentenced to 45 years in jail and has had his citizenship revoked.
"We believe that only by working with Bahrain can we hope to bring about the changes we would like to see," the UK foreign office said in a statement.
Register for free to continue reading
Registration is a free and easy way to support our truly independent journalism
By registering, you will also enjoy limited access to Premium articles, exclusive newsletters, commenting, and virtual events with our leading journalists
Already have an account? sign in
Join our new commenting forum
Join thought-provoking conversations, follow other Independent readers and see their replies