Raif Badawi: Saudi blogger could be subjected to another 50 lashes, defying doctor's orders
The 31-year-old has been sentenced to 10 years in prison and 1,000 lashes for using his blog to criticise Saudi Arabia's clerics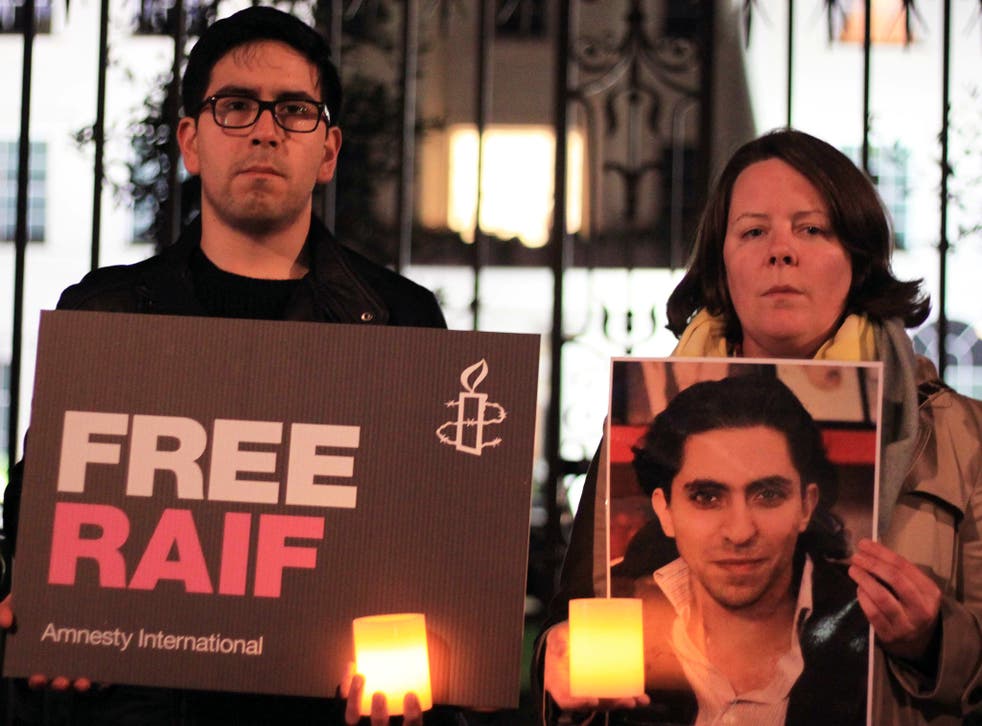 The Saudi Arabian blogger Raif Badawi could be subjected to a second round of 50 lashes tomorrow despite the advice of eight doctors, human rights campaigners have warned.
The 31-year-old has been sentenced to 10 years in prison and 1,000 lashes – of which so far only 50 have been carried out – for using his liberal blog to criticise Saudi Arabia's clerics. His case has prompted an international outcry over freedom of speech in the country.
After examining Mr Badawi's existing wounds, a medical committee of eight doctors recommended today that he should not undergo a second round of lashes on health grounds. But Said Boumedouha, Amnesty International's Middle East and North Africa deputy director, said he was "still at risk".
"There is no way of knowing whether the Saudi Arabian authorities will disregard the medical advice and allow the flogging to go ahead," he said.
"Instead of continuing to torment Raif Badawi by dragging out his ordeal with repeated assessments, the authorities should publicly announce an end to his flogging and release him immediately and unconditionally."
Philip Hammond, the Foreign Secretary, has said he "deplores" Mr Badawi's punishment and promised to raise the subject with the Saudi Arabian deputy foreign minister during a counter-terrorism conference held in London yesterday. Amnesty has accused the Government of "wearing the Saudi muzzle" over the issue.
Meanwhile Mr Badawi's wife Ensaf Haidar, who has been forced to flee to Canada where she lives with the couple's three young children, has spoken of her fears that he will not be able to withstand another flogging.
"Being separated from the children is the most difficult thing for him," she said. "He wonders what age they will be when he sees them again – 20 years old? 30 years old? The thought is unbearable."
Earlier this week Amnesty held a conference of medical health professionals in which the ethical challenges facing doctors who had to confront torture were discussed. Tom Davies, the group's Stop Torture campaign manager, said: "Why are doctors in Saudi Arabia taking any part in a process that is clearly a vicious act of cruelty?
"Rather than providing pre-flogging medical assessments, prison doctors in Saudi Arabia should refuse to participate in the calculated cruelty of Raif Badawi's punishment."
Register for free to continue reading
Registration is a free and easy way to support our truly independent journalism
By registering, you will also enjoy limited access to Premium articles, exclusive newsletters, commenting, and virtual events with our leading journalists
Already have an account? sign in
Register for free to continue reading
Registration is a free and easy way to support our truly independent journalism
By registering, you will also enjoy limited access to Premium articles, exclusive newsletters, commenting, and virtual events with our leading journalists
Already have an account? sign in
Join our new commenting forum
Join thought-provoking conversations, follow other Independent readers and see their replies