Raif Badawi: Wife of jailed blogger pleads Saudi royals for 'amnesty' allowing him to rejoin family in Canada
Exclusive: Ensaf Haidar said her husband had been locked up merely because he was 'a man of thought who conveyed that thought in writing'
Chris Green
Wednesday 06 May 2015 21:54 Comments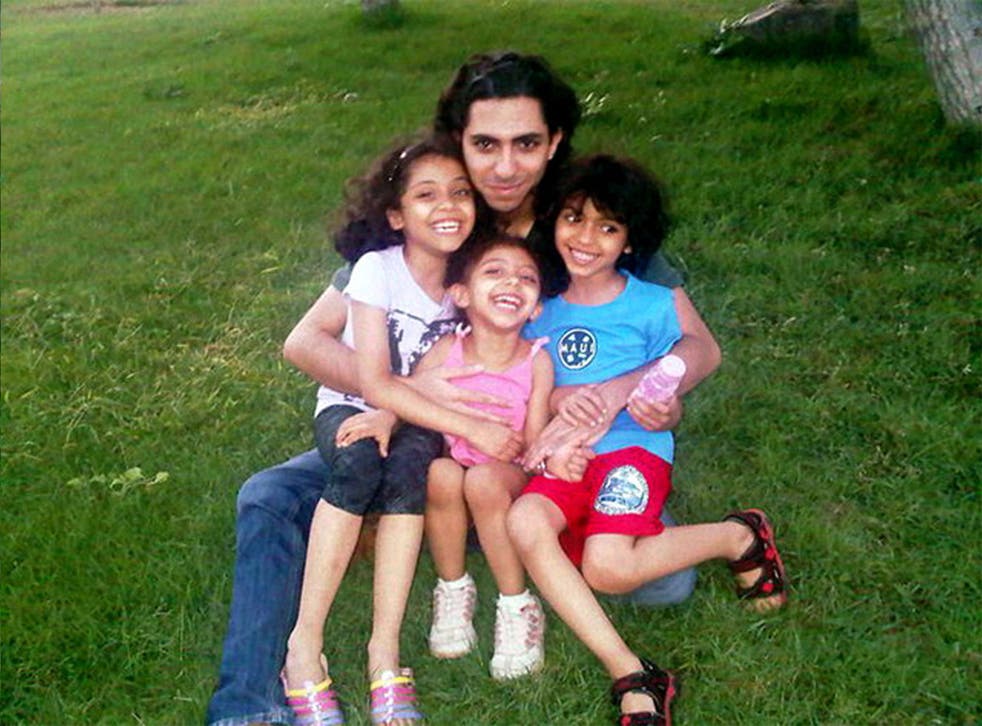 The wife of the jailed blogger Raif Badawi has called on Saudi Arabia's powerful royal family to grant him an "amnesty", allowing him to leave the country and rejoin his young family in Canada.
In an emotional appeal published by The Independent exactly a year after her husband was sentenced to a decade in prison and 1,000 lashes by Jeddah's Criminal Court, Ensaf Haidar said he had been locked up merely because he was "a man of thought who conveyed that thought in writing".
Writing in her native Arabic, she accused Saudi Arabia of treating her husband "like a criminal deserving of punishment, floggings and imprisonment" simply because he had spoken his mind through his liberal blog and wanted his country to respect people's differences.
However, she said their efforts to silence him had failed. "Voicing his thoughts loudly annoyed the Saudi authorities but they have made him into an icon of freedom – not only in Saudi Arabia, but throughout the world," she wrote.
Ms Haidar, who now lives in Quebec after being forced to flee Saudi Arabia with the couple's three children, said that despite being separated from her husband she was "standing strong and filled with happiness" because she knew the world recognised his bravery.
To mark the anniversary of his sentencing on 7 May, thousands of Mr Badawi's supporters are planning to converge on Saudi Arabian embassy buildings across the world, staging protests and demanding his release.
In pictures: Raif Badawi release protests

Show all 15
His wife concluded her letter with a direct appeal to the conservative kingdom's rulers. "I appeal to the respected Saudi Crown Prince and his successor to grant Raif amnesty and allow him to leave Saudi Arabia for Canada, where we, his family, live," she wrote.
Mr Badawi was arrested in June 2012 after criticising the kingdom's clerics through his Saudi Arabian Liberals website. The severity of his punishment, handed down two years later, caused an international outcry and prompted more than a million people to sign an Amnesty International petition calling for his release.
Although he has only been subjected to one round of 50 lashes since then, his jail sentence has not been reduced. A judge in the country's Supreme Court is currently studying his case, but it is unclear when he will issue a ruling or what it might say.
While he has been in prison, the 31-year-old activist has received a number of awards for promoting freedom of expression and has been nominated for the Nobel Peace Prize. Last night, human rights groups called for a concerted international effort to secure his freedom.
"The international spotlight has moved away from Saudi Arabia, but Raif Badawi is still exactly where he was at the start of the year: still in jail and still haunted by the prospect of being taken out into a public square and lashed," said Allan Hogarth, Amnesty International UK's head of policy and government affairs.
David Mepham, the UK director of Human Rights Watch, added: "A year on from Badawi's sentence, the international community should be pressing for the unconditional release of all peaceful activists convicted for speech-related crimes and for fundamental reform of Saudi's flawed and unfair justice system."
Mr Hogarth said the British Government had been "far too quiet" on the issue, accusing it of doing only the "bare minimum" to press the Saudi authorities for his release. The efforts of the British Ambassador to the kingdom were "not good enough", he added.
However, a Foreign Office spokeswoman said ministers had "repeatedly" raised Mr Badawi's case with the Saudis, adding: "The UK is a strong supporter of freedom of expression around the world, we deplore the use of corporal punishment and we speak out against violations of human rights wherever they occur."
In January, Ms Haidar told The Independent her husband was mentally "very strong". But Susan Munroe, the chief executive of Freedom From Torture, said the threat of another public lashing was likely to be taking a severe psychological toll on him.
"Mr Badawi has to live in the shadow of knowing that he could have to endure the pain and humiliation of further floggings," she said. "The mental impact of this psychological trauma can take years of therapy to put right. One year on, it is unthinkable that Raif Badawi is still stuck in this intolerable situation."
Ensaf Haidar's letter in full
"Join together your hands so we can ignite the light.
On this day I am standing strong and filled with happiness by the world's recognition today of my husband Raif Badawi, imprisoned for his opinion and mind.
Raif was never a criminal, a gangster or drug dealer, but the Saudi authorities dealt with him like a criminal deserving of punishment, floggings and imprisonment for a long unspecified period.
Raif was just a man of thought who conveyed that thought in writing. He was dreaming of and aspiring towards a beautiful world. He wanted us, in a country of one opinion, one way of thinking and one religion, to respect difference.
Voicing his thoughts loudly annoyed the Saudi authorities but they have made him into an icon of freedom – not only in Saudi Arabia, but throughout the world. On this day, hundreds of Raif's sympathisers stand in front of Saudi embassies across the four corners of the world demanding Raif's freedom.
My companion Raif Badawi, imprisoned for his opinion, has now served almost three years of his life in confinement and is still threatened with more bloodshed, for the sake of what he believed (a Saudi-liberal network).
Two days ago Raif gained three prestigious international awards: these awards send a clear message of shame and error that must be corrected to the Saudi regime who continue Raif's imprisonment.
I appeal to the respected Saudi Crown Prince and his successor to grant Raif amnesty and allow him to leave Saudi Arabia for Canada, where we, his family, live."
Register for free to continue reading
Registration is a free and easy way to support our truly independent journalism
By registering, you will also enjoy limited access to Premium articles, exclusive newsletters, commenting, and virtual events with our leading journalists
Already have an account? sign in
Join our new commenting forum
Join thought-provoking conversations, follow other Independent readers and see their replies