Raqqa offensive: US-led coalition air strikes killing 'staggering' number of civilians, say UN war crimes investigators
UN warns defeat of Isis must not come at 'expense of civilians' trapped under group's control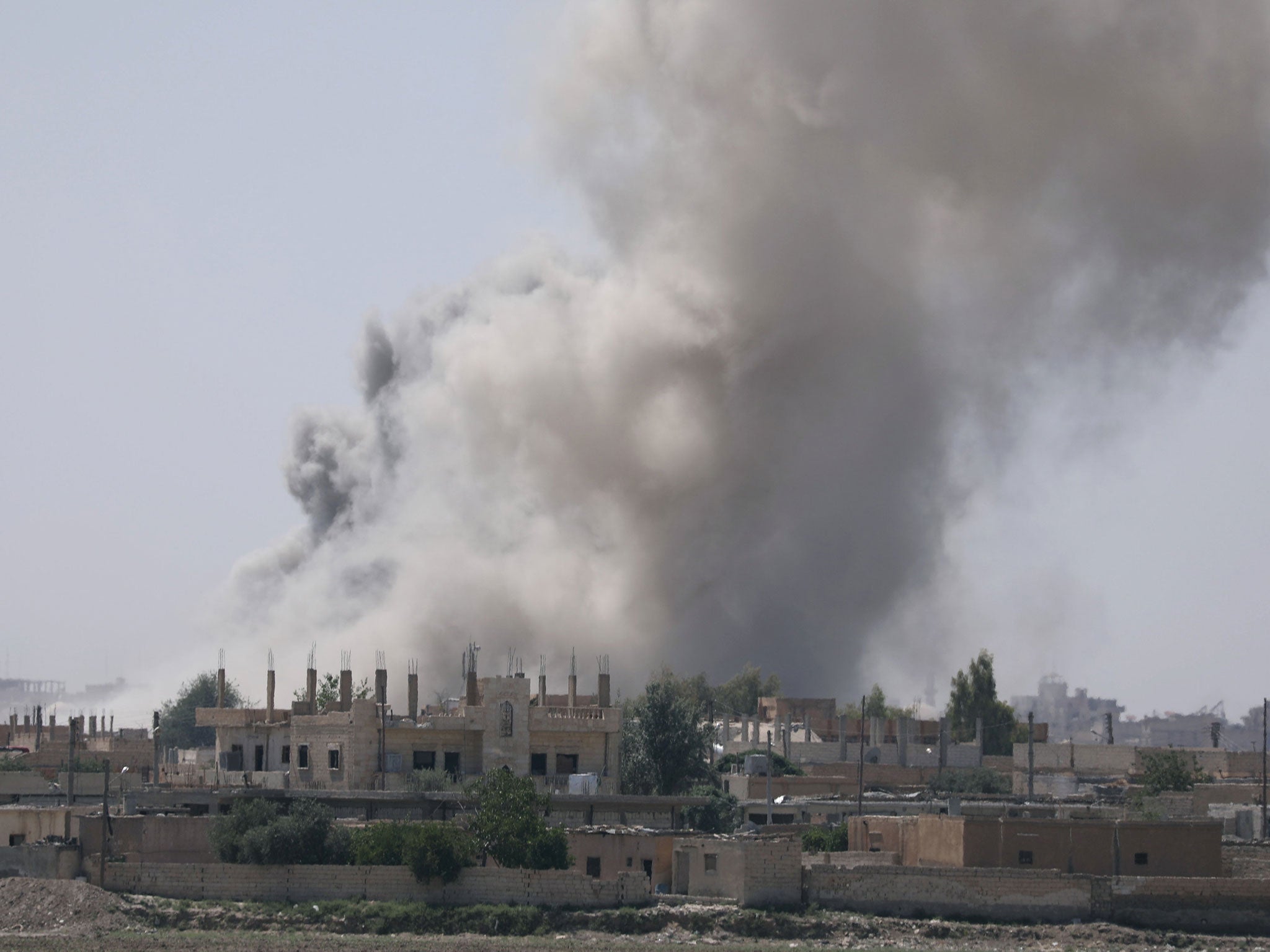 US-led air strikes against Isis in Syria are causing "staggering" numbers of civilian deaths, a UN war crimes investigator has warned as the Raqqa offensive intensifies.
Ground forces in the Kurdish-led Syrian Democratic Forces (SDF) coalition are advancing on Isis's largest remaining stronghold under a hail of bombardment including incendiary weapons.
After months of pushes through surrounding countryside and villages, fighting is now hitting densely populated areas where jihadis are holding hundreds of thousands of men, women and children as human shields.
Paulo Pinheiro, chair of the Independent International Commission of Inquiry on Syria, told the UN Human Rights Council the imperative to fight terrorism must not come "at the expense of civilians who unwillingly find themselves living in areas where Isis is present".
"We are gravely concerned with the mounting number of civilians who perish during air strikes," he said.
"We note in particular that the intensification of air strikes, which have paved the ground for an SDF advance in Raqqa, has resulted not only in staggering loss of civilian life, but has also led to 160,000 civilians fleeing their homes and becoming internally displaced."
Mr Pinheiro said all warring parties must abide by international humanitarian law, which requires them to properly distinguish between fighters and civilians, take precautions against the unnecessary loss of life and act "proportionately".
Families escaping Raqqa have told of being caught under fire from both sides, with Isis using megaphones to order them not to leave and shooting anyone caught trying to flee, setting fire to their cars.
Residents said fighters had been mining streets, booby trapping houses and digging tunnels between civilian homes in preparation for the battle ahead.
Rows of flat blocks have been flattened along Seif al-Dawla street, a man road into Raqqa, while at least three mosques were reported to have been hit.
Hassan Kirfou, one of more than 10,000 residents arriving at a camp for displaced people in nearby Ain Issa, said an air strike hit the mosque where he works just a few hours after he closed it for the night
"I saw three dead teenagers on top of each other outside the Nour mosque," he added.
"I don't know why they shot these areas. As far as I know there were only a few Daesh [Isis] snipers left there."€
Theresa May refuses three times to say if she would join US in a strike against Syria
Abu Hamoud, another man escaping Raqqa city, said: "The coalition strikes destroyed a four-storey apartment building.
"I saw 10 people trapped underneath. They used phosphorus."
Human Rights Watch expressed concern over the use of the incendiary weapon by the US-led coalition, saying it "raises serious questions about the protection of civilians" and should never be used in populated areas.
"No matter how white phosphorus is used, it poses a high risk of horrific and long-lasting harm in crowded cities like Raqqa and Mosul and any other areas with concentrations of civilians," said Steve Goose, arms director at HRW.
"US-led forces should take all feasible precautions to minimise civilian harm when using white phosphorus in Iraq and Syria."
The material can also be used for signalling and marking, or as a smokescreen for advancing troops or fleeing civilians, but humanitarian groups said its use in densely populated Mosul and Raqqa was "unclear".
A video allegedly shot in Raqqa on 8 June shows the use of ground-fired missiles containing white phosphorus, with Isis propaganda channels sharing footage of several other alleged incidents of its use.
If it comes into contact with the skin, white phosphorus can also burn people to the bone, reactivating on re-exposure to oxygen, and can enter the bloodstream to cause multiple organ failure.
Russian forces have also been using incendiary weapons, including cluster munitions, over rebel-held areas of Syria.
UN war crimes investigators said the air campaign in Raqqa has killed at least 300 civilians so far in the city, which was captured by Isis in 2014 and became its de-facto capital.
The US-led coalition's official toll of civilian deaths from its almost three-year-long operations in Iraq and Syria stands at 484, although several incidents are under investigation.
The figure spiked after the start of the advance on Isis's main Iraqi stronghold of Mosul, and humanitarian groups have long been warning of the carnage being repeated in Raqqa.
US Central Command (CentCom) insisted it "takes extraordinary efforts to strike military targets in a manner that minimises the risk of civilian casualties" and in accordance with international law, but claimed: "In some incidents casualties are unavoidable."
Independent monitoring group Airwars found the US-led coalition killed between 348 and 521 civilians in May alone, a rise of almost 20 per cent on the previous month.
The group said that as Russian air strikes in Syria declined in number, America and its allies were killing two and a half times more civilians than Moscow according to its count.
The vast majority of incidents recorded by Airwars last month occurred in and around Raqqa, prompting warnings that "alarm bells should be ringing".
The coalition estimates that 3,000-4,000 Isis fighters are holed up in the city, although residents warned that some militants were hiding among civilians to flee.
In pictures: Children play underground in Syria
Show all 8
Mr Pinheiro said operations against the terror group had caused it to lose territory rapidly, freeing civilians including Yazidi sex slaves from its oppressive and genocidal rule, but added: "As the operation is gaining pace very rapidly, civilians are caught up in the city under the oppressive rule of Isis, while facing extreme danger associated with movement due to excessive air strikes."
Elsewhere in Syria, he said a "de-escalation zones" agreement guaranteed by President Bashar al-Assad's allies Russia, Turkey and Iran had resulted in a "discernible" reduction in violence in Idlib and western Aleppo provinces.
Mr Pinheiro said that initiative and UN-facilitated talks were a "step in the right direction" but the bloodshed in areas including Homs, Damascus and Daraa continues, including air strikes on residential areas, chemical attacks, the targeting of hospitals, suicide bombings and terror attacks.
In what remains of Syria's cities and towns, the UN estimates 600,000 people remain under siege by mainly pro-government forces, being denied humanitarian aid and facing starvation as infrastructure is decimated.
"Ultimately, the only way to end civilian suffering is to end this war," Mr Pinheiro said.
"Time and time again, warring parties and influential states have failed to capitalise on the opportunities presented by respites from hostilities.
"And time and again, Syrian men, women and children pay the price for the continuation of the war."
To bring lasting peace, he called for war crimes investigations leading to "meaningful accountability for the catalogue of horrors" documented by the UN.
Additional reporting by Reuters
Join our commenting forum
Join thought-provoking conversations, follow other Independent readers and see their replies