As US-backed forces seize Raqqa's Old City from Isis, UN condemns price of air strikes for civilians
Syrian Democratic Forces announce recapture of historic district on edge of jihadists' most entrenched positions amid Eid festivities across the region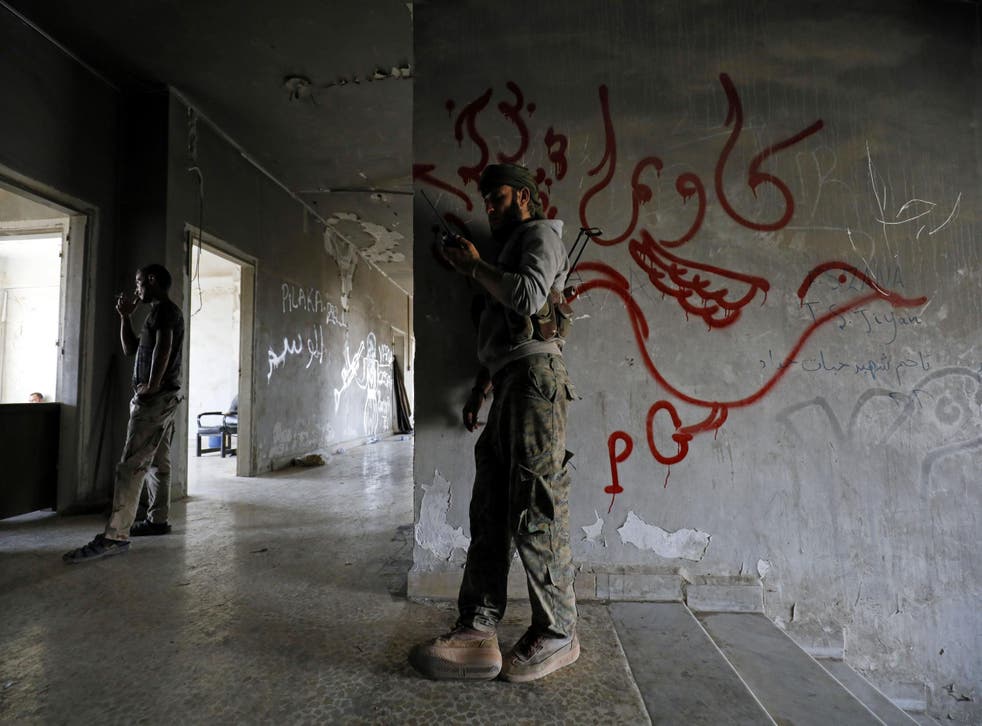 The US-backed alliance of Kurdish and Arab fighters battling to oust Isis from Raqqa in northern Syria has managed to push the militants out of their de facto capital's Old City, a spokesperson has said.
"Our forces today seized full control of the Old City in Raqqa after clashes with [Isis]," Syrian Democratic Forces (SDF) spokesperson Talal Sello said on Friday.
"We are on the edges of [Isis's] security quarter in the city centre, where most of its main bases are," he added.
The recapture of the historic neighbourhood brings the US-backed fighters another step closer to the militants' most well-defended positions. The fight to remove Isis from the city completely could still take another two months, a senior SDF commander told Reuters earlier this week.
The announcement – no doubt timed to raise morale during the Eid al-Adha holiday – also comes after criticism from the UN and rights groups over the mounting civilian casualties in the fight for the city caused by ground fighting and US-led coalition air strikes.
Civilians are paying an "unacceptable" price in the battle thanks to siege conditions which have left the 20,000 civilians trapped in the city running out of food and water, as well as the danger of being killed by Isis sniper fire and US-led coalition bombing.
US backed fighters make progress in driving Isis out of Raqqa
A dramatic increase in international coalition bombing in recent weeks could be in violation of international law, Zeid Ra'ad al-Hussein, the UN's high commissioner for human rights, told reporters on Thursday.
His office estimated at least 151 civilians have been killed by US-led air strikes in August alone.
"Given the extremely high number of reports of civilian casualties this month and the intensity of the air strikes on Raqqa, coupled with [Isis's] use of civilians as human shields, I am deeply concerned that civilians – who should be protected at all times – are paying an unacceptable price and that forces involved in battling [Isis] are losing sight of the ultimate goal of this battle," Mr Hussein said in a statement.
In pictures: Isis' weapons factories

Show all 11
"I am extremely concerned that in its conduct of hostilities, the attacking forces may be failing to abide by the international humanitarian law principles of precautions, distinction and proportionality," he added.
"Meanwhile [Isis] fighters continue to prevent civilians from fleeing the area, although some manage to leave after paying large amounts of money to smugglers."
While the US-led coalition operating across both Syria and Iraq says it takes "all possible measures" to avoid unnecessary casualties, rights groups have repeatedly criticised the campaign for causing unnecessary loss of civilian life.
The official acknowledged death toll is 624 people in both countries since strikes began in 2014, but activists and rights groups claim thousands have died.
The fight to reclaim Raqqa launched in earnest in June this year after SDF ground forces managed to completely surround the city.
Isis has lost swathes of territory across its so-called caliphate in both Syria and Iraq since the height of its powers in 2015.
Mosul, its de facto Iraqi capital and the largest city under the jihadists' control, fell to Iraqi coalition forces in July after a gruelling nine-month-long battle.
While Isis' days as a land-holding force are numbered, observers expect the militants to launch a ferocious insurgency campaign in both countries and step up terror attacks elsewhere around the world.
Register for free to continue reading
Registration is a free and easy way to support our truly independent journalism
By registering, you will also enjoy limited access to Premium articles, exclusive newsletters, commenting, and virtual events with our leading journalists
Already have an account? sign in
Register for free to continue reading
Registration is a free and easy way to support our truly independent journalism
By registering, you will also enjoy limited access to Premium articles, exclusive newsletters, commenting, and virtual events with our leading journalists
Already have an account? sign in
Join our new commenting forum
Join thought-provoking conversations, follow other Independent readers and see their replies