Rebels claim UN peacekeepers were rescued not kidnapped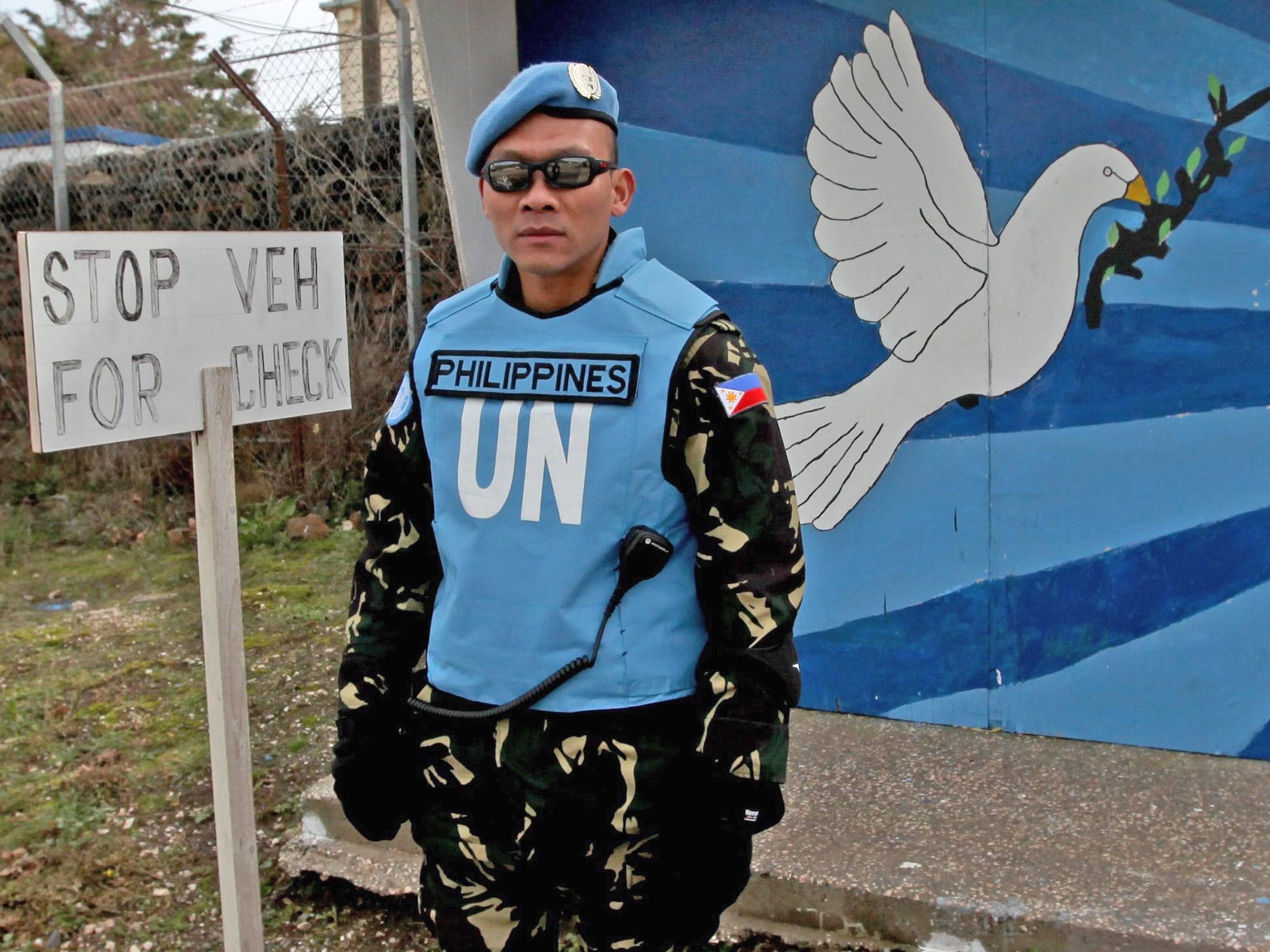 Syrian rebels who claimed to have kidnapped a group of UN peacekeepers did an about-face as they said they were in fact rescuing them from danger, in an incident that has thrown a light on escalating violence in a supposed demilitarised zone on the Israeli border.
The Yarmouk Martyrs' Brigade distanced itself from earlier statements which had accused the 21 unarmed Filipino observers of being "Zionist agents" assisting President Bashar al-Assad's regime, and called on the UN to send a team to retrieve them. Shortly after six of the men appeared in a video posted online, where one said that "civilians helped us for our safety" and were giving them safe accommodation, food and water.
The members of the United Nations Disengagement Observer Forces were seized just a few kilometres from the Israeli border inside a demilitarised zone in the disputed Golan Heights region, throwing the future of the observer mission along the ceasefire line between Syria and Israel into question. The abductions come as rebels report intense fighting in the area, and is likely to cause further uneasiness in Tel Aviv just days after it warned the UN that it would not "stand idle" as the war encroaches on its borders.
Israel, however, appeared reluctant to involve itself in the incident as Amos Gilad, a senior defence ministry official, said his government would leave it to the UN to persuade fighters to release the peacekeeping troops. The UN Security Council condemned the abductions and demanded the immediate release of the men.
In a video posted online, rebels claiming to be members of the Yarmouk Martyrs Brigade appeared alongside UN-marked vehicles, demanding President Assad's forces pull back from the nearby village of Jamlah, where clashes were reported again yesterday. The video was later removed, and a statement was issued saying the brigade had saved the men from a "barbaric bombing offensive" by the regime. "We disassociate ourselves from all prior statements," it said.
Free Syrian Army fighters have told The Independent that there has been a sharp upsurge in violence in the demilitarised zone since the beginning of the month, with particularly fierce fighting in Jamlah and the town of Jubata Al Khashab. UN Secretary General Ban Ki-moon has raised concerns about incursions into the area.
The UN and the Philippines government were last night negotiating to ensure the swift release of the team. It is the second incident involving the peacekeeping mission, with a Canadian observer reported missing last week.
Join our commenting forum
Join thought-provoking conversations, follow other Independent readers and see their replies