Recep Tayyip Erdogan: Turkey to 'review ties' with EU following April referendum
Amid strained relations all political and administrative links to EU are on the table, president says, including landmark 2015 refugee deal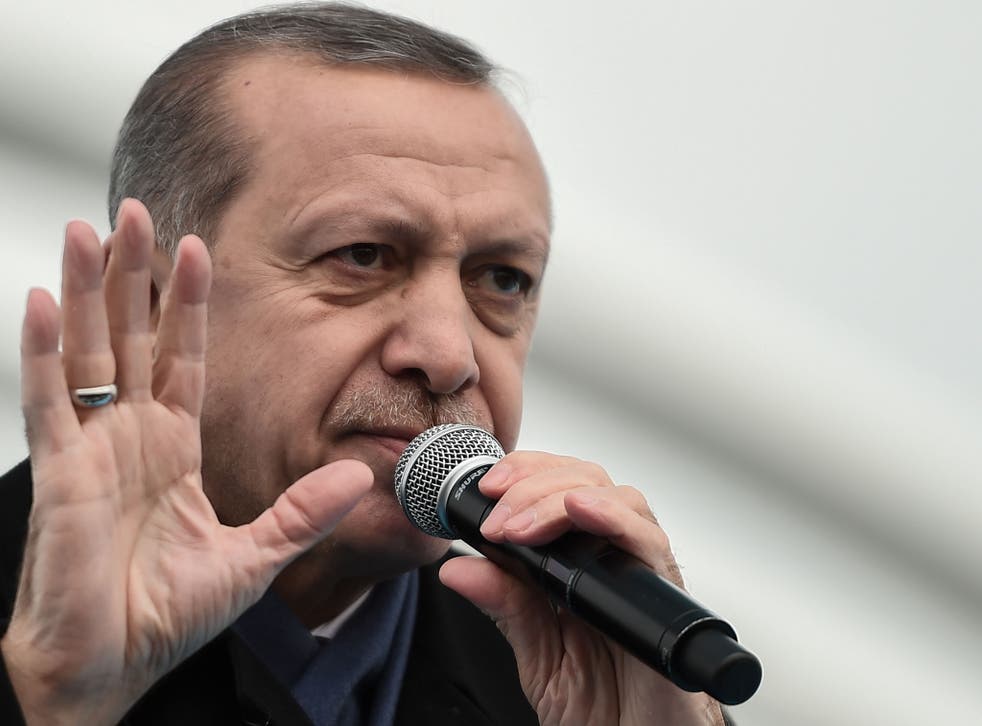 ​Turkey will review its relationship with the European Union regardless of the outcome of an April referendum on constitutional reform, President Recep Tayyip Erdogan has said.
In an interview with CNN Turk broadcast on Thursday, Mr Erdogan said everything "from A to Z" would be up for renegotiation after the country wide vote on extending his executive powers on April 16.
He also said he would like to conduct "face to face" meetings with the new US administration in May, where talks will focus on Ankara's dislike of its Nato ally's continued support for Kurdish militias in Syria it views as terrorists.
Turkey's Erdogan steps up anti-Europe rhetoric
The assessment would include reevaluating the 2015 deal struck between the EU and Turkish government to return refugees who crossed the Mediterranean to Turkey, in exchange for three billion euros (£2.6bn) in financial aid and promises to speed up Turkey's decades-long bid to join the economic bloc.
The numbers of those making the trip to Greece have decreased since the agreement went into place in March last year, but it has been heavily criticised by rights groups as trapping migrants in "appalling conditions."
More than 5,000 minors are living in squalid camps where conditions are so bad some are being driven to self-harm and suicide, Save the Children has said.
Turkey protests: Erdoğan is Turkey's Mrs Thatcher - and he's not for turning either

Show all 3
Mr Erdogan's comments come in the wake of strained relations between Turkey and several EU member states including Germany and The Netherlands, both of which cancelled planned 'yes' campaign rallies on their soil for dual nationals.
Both countries said the rallies were cancelled due to security concerns, but Mr Erdogan accused them of impeding free speech and using "Nazi methods."
"You get disturbed when we say it is fascism, it's Nazism, but what you are doing fits in that definition," he repeated on Thursday.
Under the proposed far-reaching changes to the executive branch of government that will be voted on next month, the power to appoint and dismiss government ministers would become the purview of the president rather than the prime minister.
The reform would also allow Mr Erdogan to once again rule the lead the ruling party while in office, and possibly stay in power for another 12 years.
Turkey's opposition parties protest that Mr Erdogan has already consolidated his control over all branches of government since his election in 2014.
Erdogan accuses Merkel of Nazi practices: Any country that harms a Turk will "face the consequences"
There has been a particular crackdown on members of the political opposition, academics, journalists and rights activists since a failed military coup in July last year, after which the government declared a state of emergency.
Turkey has also been incensed by this week's UK and US bans on electronic devices bigger than mobile phones on inbound flights and certain carriers from Muslim countries, including Turkey.
The president said he hoped the "mistake would be corrected soon" as it has "damaged mutual confidence."
Join our new commenting forum
Join thought-provoking conversations, follow other Independent readers and see their replies