Recep Tayyip Erdogan signs emergency decree on laser hair removal to win votes in Turkish referendum
President's eleventh-hour attempts to galvanise the 'yes' camp in upcoming vote on constitutional reform surprises supporters and critics alike
Tuesday 11 April 2017 16:08 Comments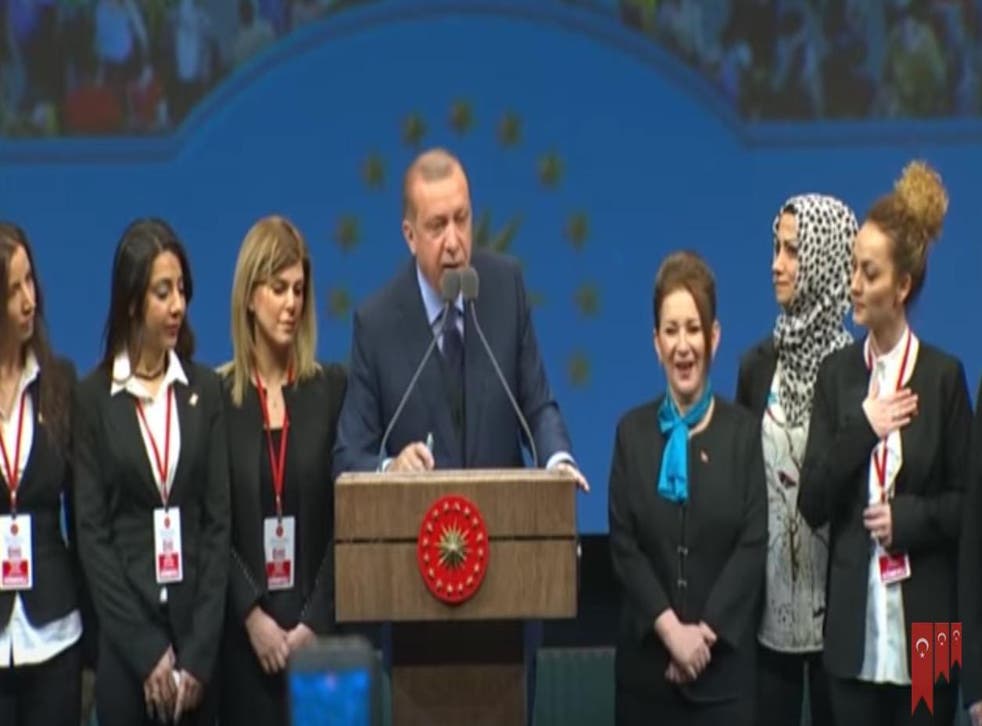 As the campaign period before Turkey's referendum on April 16 reaches its final stretch, President Recep Tayyip Erdogan is pulling out all the stops to attract 'yes' voters.
One such move that has baffled supporters and critics alike has been to sign an emergency decree into law which gives beauty industry workers the "right to operate certain tools to perform laser hair removal," al-Monitor reports.
People from Turkey's beauty industry chamber of commerce were invited to an auditorium at Mr Erdogan's $615 million (£495 million) palace on March 29, where he delivered a rally broadcast live on national television - titled "For a beautiful Turkey, of course, yes" - and then signed the legislation. He was cheered on for around an hour by a crowd of beauticians and other industry workers.
Turkey's Erdogan steps up anti-Europe rhetoric
Turkey is still technically in a state of emergency following last July's failed military coup, which gave Mr Erdogan the power to bypass parliament in passing the law.
Before the new bill was signed, the Turkish Health Ministry said that only medical staff were permitted to operate laser hair removal machinery because of thousands of burns cases caused by improper use.
The move, while criticised by some dermatologists, is expected to boost job creation in Turkey's beauty industry, which has grown six per cent since 2014.
In pictures: Turkey coup attempt

Show all 17
Many Turks took to social media to express their disbelief that Mr Erdogan was allegedly using the country's state of emergency to canvass votes.
While the president has broad support among more conservative sections of Turkish society, several theologians pointed out that the hair removal decree is not likely to go down well with deeply religious people, since the Quran goes into detail about how changing one's God-given image for the purposes of vanity is frowned upon.
Turkey's public will vote on constitutional reform on Saturday April 16, with current polls pointing towards a very narrow 'no' win.
The proposed changes – which proponents in Mr Erdogan's ruling AK party say are necessary to deal with Turkey's fragile economic and security situations – would abolish the position of the prime minister, giving the sitting president the power to appoint and dismiss ministers, to once again become head of a political party, and possibly govern until 2029.
Opposition politicians and democracy activists have said the bill is dangerously close to a form of authoritarianism.
Register for free to continue reading
Registration is a free and easy way to support our truly independent journalism
By registering, you will also enjoy limited access to Premium articles, exclusive newsletters, commenting, and virtual events with our leading journalists
Already have an account? sign in
Join our new commenting forum
Join thought-provoking conversations, follow other Independent readers and see their replies