Turkish border guards 'kill 11 Syrian refugees' in indiscriminate shooting
Syrian groups condemn 'massacre' – but Turkey denies reports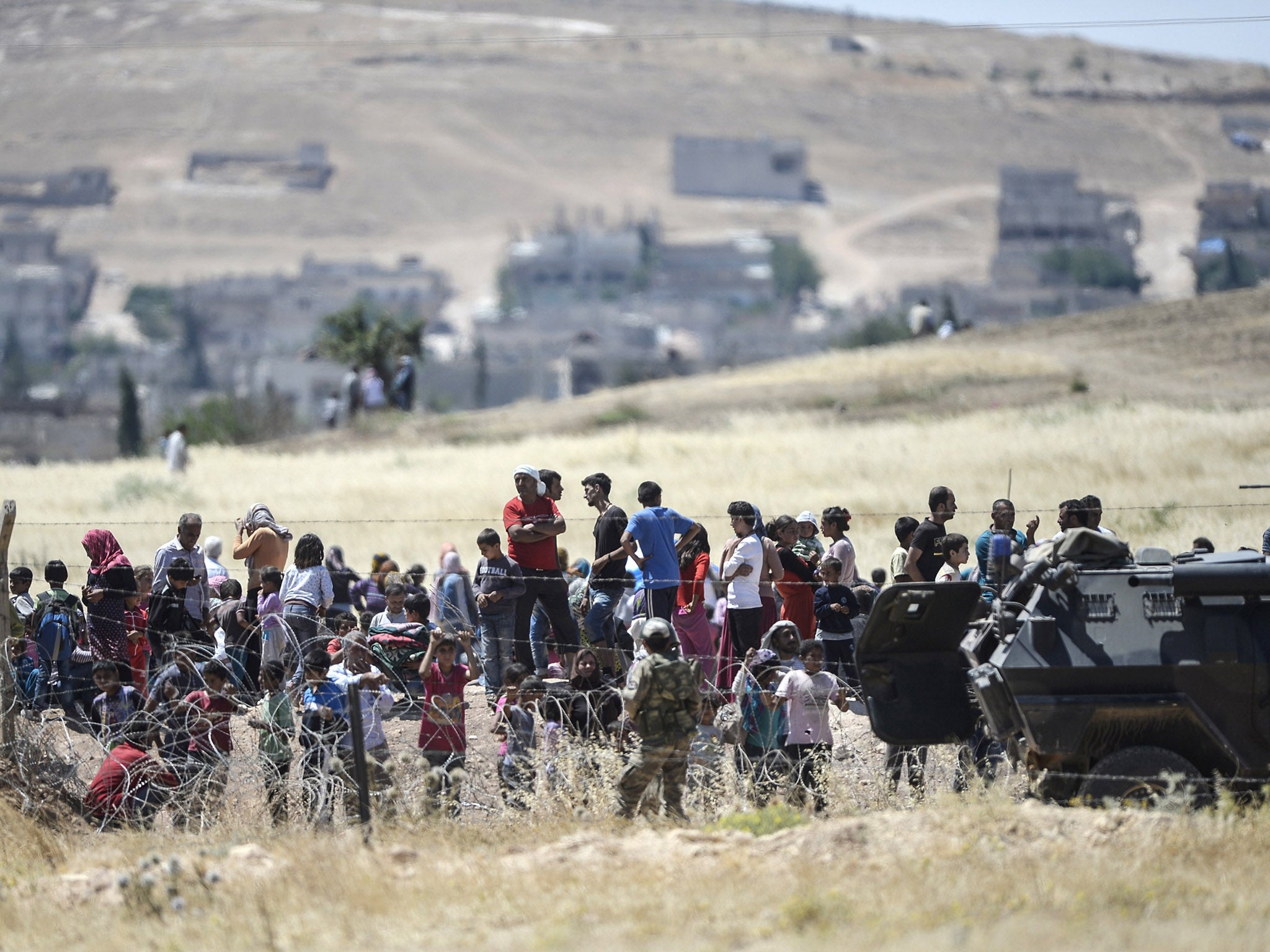 Turkish border guards have killed at least eight Syrian refugees, including several children, as families were "fired on indiscriminately" after attempting to cross into the country, the Syrian Observatory for Human Rights has said.
At least eight others were injured, according to the UK-based violence monitor, with the death toll likely to rise due to the number of people in "critical" condition.
The Observatory said in a statement: "Turkish border guards have committed and are committing massacres against several refugees fleeing from the brutality of the regime and its bombardment since the beginning of the year.
The Syrian National Coalition, an opposition group based in Istanbul and supported by Turkey, gave a higher death toll of 11. It said many of the victims had recently fled the northern Isis-held town of Jarabulus.
In a statement, the Coalition expressed its "surprise and condemnation after this terrible tragedy against our brothers fleeing the regime".
It added: "The deaths of defenceless Syrians contradicts the hospitality of the Turkish government and the Turkish people."
The shooting reportedly took place at the unofficial Khirbet al-Jouz crossing north of the Syrian town of Jisr al-Shugour, which is controlled by jihadist groups.
The Turkish military rejected the claims, maintaining they were "not true".
It said in a statement: "Last night there was an attempt to cross the border illegally but no shots were fired directly on people.
"After warning shots, a group of seven to eight people ran towards the woods." Since the beginning of 2016, nearly 60 civilians have been shot while trying to flee across the border from Syria into Turkey, the Observatory says.
Turkey currently houses around 2.7 million registered Syrian refugees – 280,000 of whom live in camps. The country has now closed its borders to Syrians.
A Human Rights Watch report released last month accused Turkish border guards of regularly shooting and beating Syrian asylum seekers.
Gerry Simpson, a senior refugee researcher at Human Rights Watch, wrote: "While senior Turkish officials claim they are welcoming Syrian refugees with open borders and open arms, their border guards are killing and beating them.
Turkey's two million Syrian refugees
Show all 11
"Firing at traumatised men, women, and children fleeing fighting and indiscriminate warfare is truly appalling."
Earlier this year, families who fled the worsening violence in Aleppo told The Independent that Turkish police were regularly opening fire.
Join our commenting forum
Join thought-provoking conversations, follow other Independent readers and see their replies